The partial government shutdown was over the night the opening celebration for "Yoga: The Art of Transformation" was supposed to take place at the Smithsonian's Sackler Gallery.
But it would be too late to change the logistics for the annual fundraising gala. The event would go on with some Hollywood star power -- Hilaria and Alec Baldwin co-chaired the event.
Alec's wife turned him onto yoga. Hilaria says she saw it initially as an exercise alternative in which she fell in love immediately: "(Yoga) has helped me to connect my mind and my body on a much deeper level than I ever had before."
The following Tuesday, the museum folks held a delayed media preview on the exhibit, the first visual history of yoga. Gone were the public relations people in coffee shops around town and back towards their federally-funded cubicles.
According to a spokesperson, of 4,200 Smithsonian federal employees, all but 600 folks were furloughed for a few weeks. Dozens of outside groups also had to switch venues for their gatherings outside the Smithsonian. And we won't know until the end of the month how much revenue was lost from shops, cafeterias and theaters. Last year the Sackler itself saw more than 350,000 visitors. This calendar year's numbers will be no doubt be affected.
During the back and forth, I met one furloughed federal employee during my own practice at a D.C. studio -- at the end of the class, an employee from Lululemon gave her a free yoga mat. It was a small token of appreciation for a missing paycheck.
In yoga, there's the concept that action produces results aka karma. On Capitol Hill, inaction ended with stress.
If Washington is an institution, the Smithsonian should be the jewel. It's hard to pit public safety to the arts, but they both got caught in the web of politics. Now that everyone's back in business, we've learned to grateful for it all.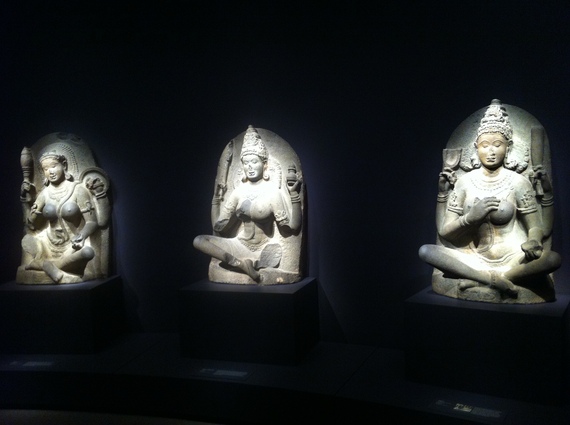 So if you're not in the nation's capital, find another museum, statue or park near you.
Take advantage of free, public services, take a breath and take it all in -- and maybe the juxtaposition of stillness and movement will carry you to newfound enlightenment.