"It was my life - like all lives, mysterious and irrevocable and sacred. So very close, so very present, so very belonging to me. How wild it was, to let it be." -- Cheryl Strayed, Wild
I woke up in the darkness starting All Souls' Day, after all the ghoulish party animals retreated to their homes in the city of angels. I filled up the tank and picked up some gas station coffee on the way to Azusa, California, where a sizable group gathered as a slight drizzle came down from a mysteriously grey sky. Together, led by Bungee America, we waded through slow-rushing creeks surrounded by yucca plants, young and dead.
I grew up on Guam, where we used to go navigate the jungle with machetes for science class field trips. I don't like rocks and hills and definitely don't willingly go on a stair master at the gym -- I prefer floating like a seal in the water or doing slow-flow yoga. A friend from home who now lives in Pomona promised me this trek was "flat" -- it was more of a flat lie, although on the difficulty scale I'd measure this two-hour-plus trek maybe three out of five. Still, I committed myself to the challenge of reaching the Bridge to Nowhere. My late grandfather was an avid hiker -- he looked peaceful posing in those pictures up high. I remember quietly accompanying him once in Chinju, a quaint city in the south of South Korea. He's now buried on a hillside my knee-sore grandmother he left behind in middle earth has trouble reaching. Today's bungee jump would be for my own bucket list; I decided to dedicate the rest to him.
Away from L.A's smog, someone behind me commented on the fresh, crisp morning air. We past Sheep Mountain and climbed higher to a place where you weren't going to be blah nor boring but suspended and tethered. Meantime, I started to worry I wouldn't be able to find my way back down alone but was told to just follow the river in an otherwise drought-stricken state.
I was first the go. The plunge was quick -- including the countdown, except when I started to lift off laterally Superwoman-style, it felt as though I were in slow-motion movie effect, the way time seems to come to a standstill when you're in a car accident while spinning out of control and how life seems to flash before your eyes. After all that buildup, I bounced up and down for a few seconds, setting a good example for anyone to follow me. To be inspirational was a gift, a high in and of itself.
I started a slow jog down the canyon to catch my next flight out of LAX when something pulled me back. I get goosebumps recalling this. I stopped in my tracks, took in my surroundings surrounded by no one it appeared... and talked to my grandfather.
Grandfather, I called out in Korean with no echo effect. It's me, KoWoon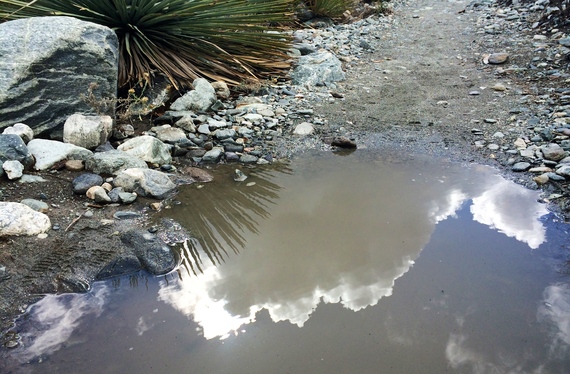 He named me fine and pure -- I'd never asked why and I wish I had now. The sun came out from behind the clouds. I sensed his spirit in the slight breeze gracing my cheeks. I tried to make my eardrum into a conch shell from the ocean, wondering if his aura was around me before returning to my hurried steps. I'd brushed a rock with my fingertips as if leaving my mark on the place, almost tearing up at the beauty of the moment.
I bid good morning and good luck to others heading in the opposite direction. I passed one man who had given up, and asked him to holler if I seemed to be going in the wrong direction. He thought I was intentionally picking the hard way slipping down rocks on purpose instead of looking up and ahead for flatter ground.
They say walking is good for you -- hikes are conducive for reflection, too. I thought about how on physical and figurative journeys, we get so laser-focused on the destination. On my descent I noticed so many more forks on the road. As in life, there's no real reason to ask how far away you are because it won't get you there any faster. It doesn't matter if you're lost unless you're about to encounter a mountain lion. We all take our own path, even if it's the same trail because like fingerprints, no combination of steps will ever be the same. We can prepare all we want and still end up tripping here and there. But in an age where we can Google Earth our way to any place, we can stop and marvel at nature's unknowns, knowing that our bodies are our welcome vehicles.
I can now better understand my grandfather's draw to the outdoors and his easygoing nature.
When I reached the gated entrance into the parking lot, I glanced over my shoulder back at the mountain, where the Bridge to Nowhere led me back to somewhere more significant.