Excited about the upcoming Sound of Music cast reunion?
Get in the Von Trapp family spirit over at Emerson College's beautifully restored Paramount Theater in Boston, where Doug Elkins's playful take on the movie, Fräulein Maria, is running through October 3.
The Bessie Award-winning show, a dance revue of the classic film's soundtrack that originally appeared at Joe's Pub in New York in 2006, brings Rodgers and Hammerstein's 1965 classic's infectious songs into the 21st century with a combination of contemporary dance, clever stage tricks, drag, and cheeky winks at the film's iconography and modern dance heavyweights.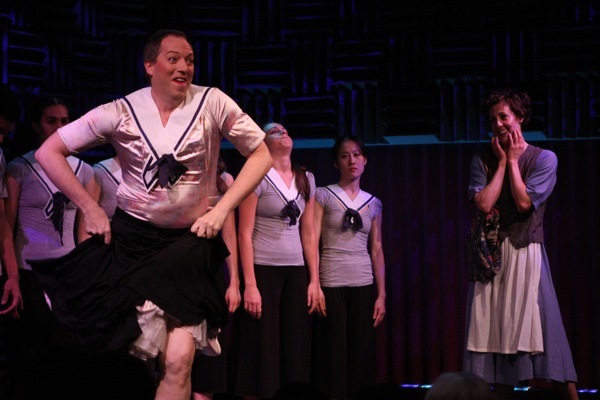 Maria meets her new charges. Photo: Steven Schreiber
Here, the nuns at Maria's convent appear as a co-ed troupe of dancers in dark hoodies, Maria herself is embodied by three dancers, one of whom is male, and the Von Trapp children are introduced not by tones on a whistle but by b-boy-inspired combinations of steps.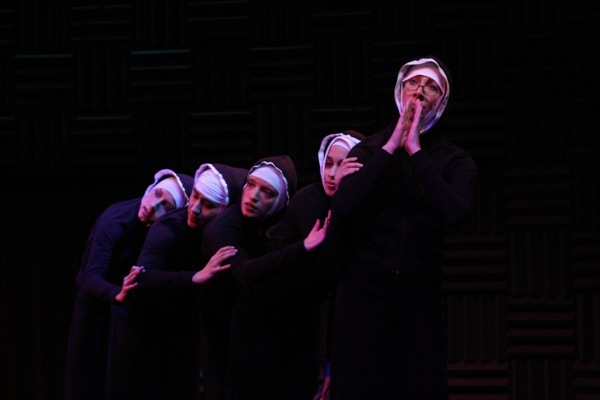 Nuns! Photo: Steven Schreiber
The lovely Liesl is played by a pasty, paunchy middle-aged man who gamely glides through "Sixteen Going on Seventeen" like the dreamiest of teenagers, "Climb Every Mountain" is the anthem not of a Mother Superior but of an angsty popping-and-locking b-boy, and "Something Good," in which Maria and Captain Von Trapp confess their love, features three pairs of lovers, two of them same-gender. At the end, a female Maria catches a male Captain Von Trapp in her arms in a reversal of a classic movie trope.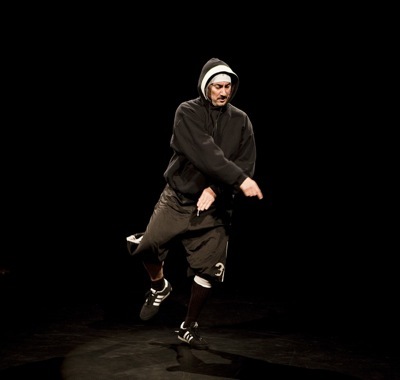 "Climb Every Mountain." Photo: Yi-Chun Wu
Elkins conceived the show, directed here by Barbara Karger and Michael Preston, after listening to the soundtrack ad nauseum as his kids obsessively watched it (like this writer). Given the tongue-in-cheek visual gags that start the show - the storied aerial shots of the hills of Salzburg are recreated with bolts of fabric, miniature Christmas trees, and a doll meant to represent Maria - I worried that the production sought to update the family-friendly musical simply by adding snark.
But that wasn't the case. For Maria's infectious early number "I Have Confidence," Elkins easily could have reduced the vivacious aspiring governess to a joke, but instead the three excellent dancers playing her give her irrepressible joie de vivre a new outlet. Dressed in milkmaid outfits, they leap and tumble, twirl and bow, making evident Elkins' and their own geeky admiration for the film. And their silly, gleeful translation of her characterization as "A flibbertijibbet! A will-o'-the wisp! A clown!" in "Maria" shows a warm fondness for the flighty title character.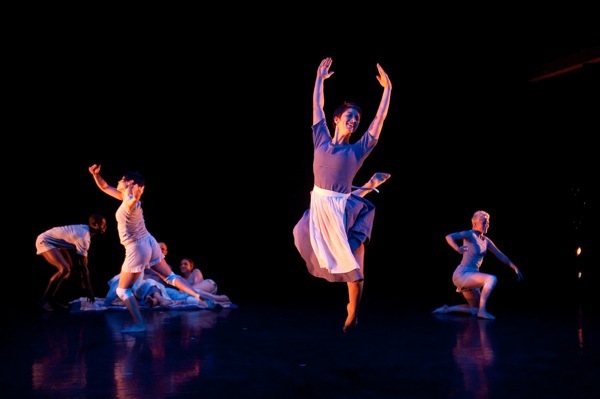 "A flibbertijibbet! A will-o'-the wisp! A clown!" Photo: Christopher Duggan
The production draws on a range of dance techniques, from ballet to modern to breaking's gravity-defying acrobatics, but the most choreographic fun comes in "Do Re Mi," which invents a little step for each note, and a phrase for each of the song's phrases - "So, a needle pulling thread," for example - then combines them all, as the song does, into a busy, multilayered composition. The most abstract interpretation is of Edelweiss, sung by Captain Von Trapp (Christopher Plummer) in the film to honor his homeland, Austria, which is being taken over by Nazis; here, two men, one in white, one with a Nazi armband, engage in a Chaplin-esque tussle over the former's hat on a park bench. While the performance is nearly as lighthearted as the bulk of the show, the poignant symbolism of the moment gives the show some weight and heft, preventing it from veering off into pure bubblegum farce.
The hour-long show, now touring the U.S. and about to go abroad as well, kicks off the inaugural season of Emerson College's The World on Stage program, launched to bring to Boston world-class artists from around the world who might otherwise not be seen here.
While preparing the production, Elkins also brought something else to Boston: a Fräulein Maria-themed flash mob.

Buy tickets for Fräulein Maria.
Learn more about Doug Elkins. dougelkinschoreography.com.
See the rest of the inaugural season of the World on Stage.