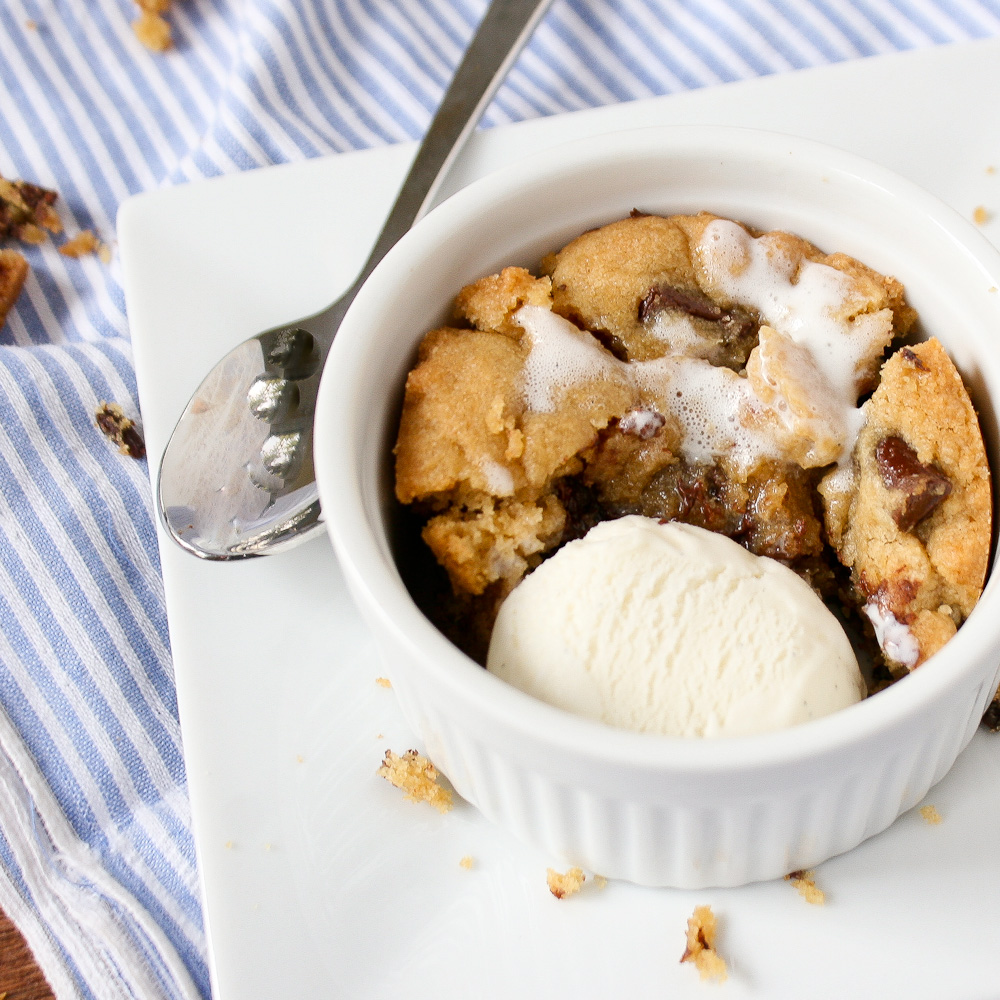 Well say hello to my new favorite dessert and now my entire family's new favorite dessert. We have a tradition of doing Sunday dinners together as a family as much as possible. This year, us kids, who are moved out of the house, are stepping up and hosting the family. At my house and my brother's, we need to bring in tables and chairs to accommodate all of us. If my entire family is there, then that means a total of 14 people in one place, you gotta love coming from a big family! When I hosted a few weeks ago, Hoopla Chicken Lasagna was on the menu. For dessert, I made brownies and these deep dish cookie pies.
I had made them before for my husband and I but didn't get the picture that I had envisioned. Time went on and I forgot about these babies, I am so glad that I decided to make them again. The reaction to these deep-dish cookie pies from my family was priceless; everyone raved about them. My niece, Ella, loved them so much that she ended up having seconds.
They are quite easy to make with a chocolate-chip cookie dough that is then pressed into ramekins. You bake these up while enjoying your dinner since you want them to be warm and gooey for your guests. Top them with some vanilla ice cream and you have one irresistible dessert. I ended up freezing half the dough since it made a ton. I know I will be very happy about that when my gooey cookie craving strikes.
Deep-Dish Cookie Pies
Makes 10-12 servings
Ingredients:
2 sticks unsalted butter, cold & cubed
1/2 cup granulated sugar
1 cup light brown sugar
1/2 cup dark brown sugar
2 eggs
3 cups all-purpose flour
1 teaspoon table or fine sea salt
1 teaspoon baking powder
1/4 teaspoon baking soda
2 cups chopped chocolate or chips of your choice (I used semisweet)
10-12 small ramekins (about 4″ diameter)
Vanilla ice cream
What you'll do:
Preheat oven to 375 F. In a small bowl, combine the flour, salt, baking soda, baking powder and mix until just combined, set aside. In the bowl of electric mixer fitted with paddle attachment, cream together the butter and sugars until well blended and fluffy. Add eggs, one at a time and beat until well incorporated. Add in the dry ingredients and mix until incorporated. Gently fold in chocolate chips/chunks.
At this point you're ready to use the dough for the cookie pies. I ended up making only six cookie pies because that is how many ramekins I have. I ended up freezing the other half of the dough for when the cookie craving strikes again.
Fill the ramekins about 3/4″ deep with raw, room temperature cookie dough. Set ramekins on baking sheet and bake on the middle rack of the oven for 13-16 minutes, or until the top is just slightly golden brown. The result will be slightly underbaked cookies.
*These are best served straight from the oven.
Source: Slightly adapted from Blue Eyed Bakers