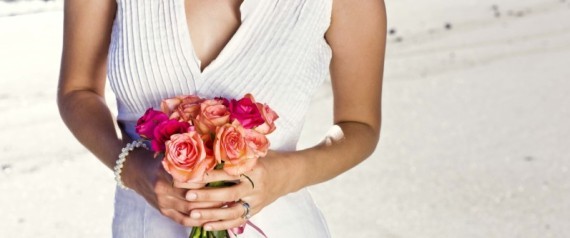 Growing up, I never dreamed of a wedding. Everything about them made me cringe, from the gooey vows to the corny wedding band. Not to mention, I was terrified of dresses. I was a tomboy; the thought of having to wear a white flowing gown sent me over the edge.
I know. Every kid feels different in some way. I was the one who felt awkward every time my girlfriends wanted to do girly things. I didn't want to wear makeup or carry a LeSportsac. I wasn't comfortable with designer jeans, or leg warmers, or Capezios. Every day I wore the same thing: my Lee Jeans and Pro-Keds. While that may not sound so bad, every day I got dressed I thought about how different I felt.
I didn't get picked on, so to speak. I would have picked on you first. I was a "toughie" on the offensive, afraid that if I wasn't, the other kids might find out I was different. Afraid that if I wasn't, I might find out I was different.
Of course, I also had no idea I was gay. I stuffed that way down into the recesses of my subconscious, right alongside the dreaded possibility that I would one day have to appear in public in a wedding dress.
Nobody ever said to me directly, "Kristen, don't be gay. It's a very bad thing." But everything around me told me for sure that it was.
I knew it.

You knew it.

And some people still think it.

But Senator Mark Grisanti doesn't still think it. And neither does Senator Roy McDonald. Even Dick Cheney doesn't think it anymore!
As the New York State Senate gavel pounded down declaring me equal, I glanced at my iPhone and read a post on my Facebook wall. It was from the captain of my high school football team. It said, "Kristen, I am sooooooooo happy for you and your family!!!!!!!!!!!!!!!!!!!!!"
His post reminded me of how different I felt every day as I got dressed for school. And how much time and energy I put into being a "toughie." And I cried.
Horns blared on the streets of New York City as my phone lit up with messages from friends and family, many of whose positions on gay marriage I was unsure of before. "When's the wedding?" they asked. "We're so proud of how hard you fought!" "Congrats! Amen to justice and equality!"

What Governor Cuomo and those 33 Senators did on Friday night was miraculous: Their votes declared that my family is no longer less than your family.
And it enabled me to wake up on Saturday morning with a crystal-clear vision of what my future can look like.

In it, I'm standing with Sarah, my amazing partner of six years. We watch our precious two-year-old twins walk down the aisle throwing petals and carrying rings. We exchange only mildly gooey vows that we wrote ourselves in front of our families and friends, and we party all night long with the not-corny, kick-ass wedding band we hired.

And in that vision, I'm wearing a non-flowy, non-poofy, totally amazing white dress.