In a recent blog post for Perfect Wedding Guide, I shared a few summer wedding fashion fails, as well as how to fix them. Making the top of the list (can you tell it's my pet peeve?) was this fail: your dress doesn't match the season. You know what I'm talking about -- that blushing bride who's not really blushing, she's just sweating her butt off because she chose to wear a ball gown bogged down with too many layers of heavy fabric. I'd like to go a step further and share more professional insight on ensuring your entire wedding look matches the season, as well as your wedding brand.
When creating a wedding brand, the goal is to make the details of your wedding reflect your overall vision or theme. A branded wedding is cohesive, echoing your style and showcasing your individuality, but also considers what is appropriate with the season. According to Carrie's Bridal Collection of Atlanta, a summer bride may want to be more mindful of the cut and material of her dress -- opting for cotton, lace, organza or chiffon as these fabrics are light and easy to move around in. Carrie says trending for fall brides are dresses with sleeves, low backs and minimal beading -- anything that is more earthy or organic and romantic looking.
Just as we dress and accessorize according to the season on a daily basis, brides will have a much more unified wedding brand if they consider doing the same on their wedding day. Anisa Telwar, founder and president of Anisa International, Inc., the beauty industry's leading global cosmetic brush design and manufacturing company, shares fall bridal makeup trends to tie into your wedding brand to ensure your overall look will be spot on with the season: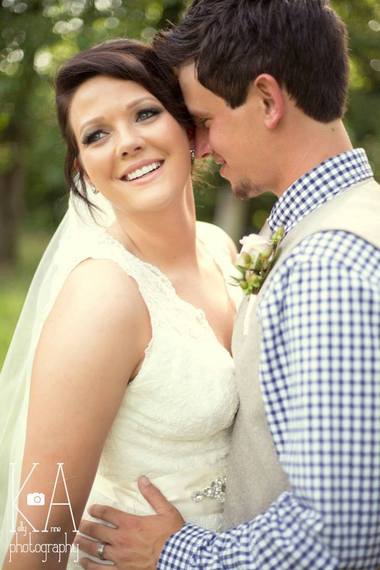 Photo Credit: Kelly Anne Photography
Healthy, natural glow: Keeping your makeup minimal achieves a natural glow and allows for quick touch-ups throughout the wedding reception. For a simple and fresh look, opt for a peach lip and a foundation brush that will achieve that dewy look. With Bare Escentuals Perfecting Face Brush, brides have a no-mess foundation application that allows them to adjust their coverage to the drop.
Mixed metallics: Metallic smoky eyes are the perfect way to incorporate the ever-so-popular shades of silver, gold and bronze on your big day. These tones are great for illuminating the eyes and adding a subtle dose of glam. With Laura Mercier's All Over Eye Colour Brush, you can apply an even, sheer wash of color over the entire lid in one delicate sweep. Then, blend in darker hues to create that sexy smoky eye.
A pop of color: A splash of color on the eyes and lips can brighten your overall look without going overboard. The trick here is to blend to avoid harsh lines and edges. Apply your shadow with Sephora's Everyday Eye Brush Set. These versatile brushes allow you to create a dimensional look effortlessly.
Retro cat-eye: The retro cat-eye is a playful, yet powerful look designed to elongate the eyes. While this classic look is loved by brides and looks great on every eye shape, it's sometimes difficult to achieve without the right tools (and steady hands). A tip from Anisa: create the perfect cat-eye with Laura Mercier's Fine Point Eye Liner. The ultra-fine tip allows you to form the desired shape with precision and minimal effort.
Brides, how are you ensuring your wedding look reflects your brand and the season? What questions do you have in regard to developing a wedding brand that is appropriate with the season? We're happy to help address your needs!