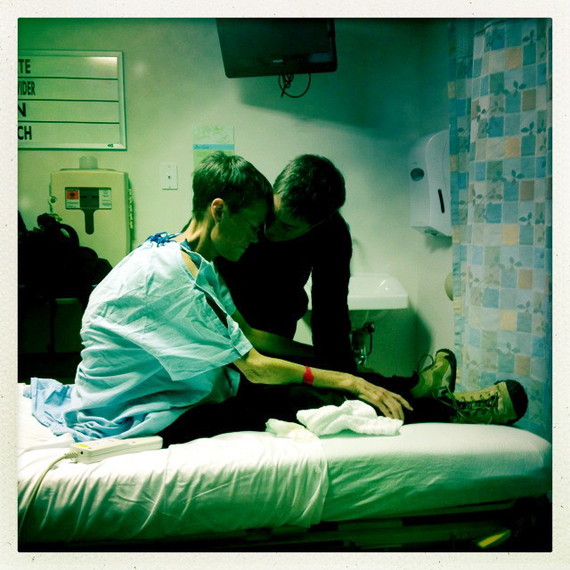 I didn't want to say good-bye. But I had no choice. The "good-bye" part was out of my control, yet the realization that I could construct what it looked like was the gift; a silver lining of sorts, if fathomable.
When I had first received the call from my mother, her voice cracking as she conveyed the news, I felt momentarily paralyzed and powerless. Oh, no. Oh, no. God, no. was all I could muster. My cousin, who was like a sister to me, was losing her five-year battle with cancer. I stood immobile, barely listening on the other end as my mind drifted a million miles an hour replaying the scenes of our life out in cinematic fashion. The conversation faded into the background.
She wasn't gone yet and I knew I had to go. I needed to see her. I needed a last time.
Action of any sort has always assuaged my sense of powerless and helped me regain my center. While I couldn't control the disease that had taken possession of her body, through streams of tears that rolled down my cheeks, I reminded myself I could design good-bye on my terms. Take that cancer! You don't know who you are messing with. The gig was up. We had lost. F*#ck you cancer.
When we are where we are supposed to be in life, the Universe conspires to assist and everything falls into place seamlessly. I found an airline ticket that was doable. I had coverage for my son and support from everyone around me. Even the workload in my office somehow lightened in harmony. All systems were a go. Space was limited in my carry-on luggage and I had a very short time to get organized, but I was determined to bring a bag full of meaning and light to this darkness. Friends appeared at my doorstep to bring me things to take along -- books and small tokens of outreach. I was an armed ambassador.
The next morning I was in my favorite local spiritual bookstore scratching my head awaiting inspiration. What does one bring someone on their death bed? I stood there and took it all in. Ultimately this is what resonated with me: A candle infused with 100 roses to permeate the air of my cousin's bedroom with sweetness; a jasmine oil to gently massage her feet; an inspirational book to read aloud; palo santo incense to spread healing energy of the shamans of Peru throughout the house; pictures of my family members and handwritten letters from everyone saying good-bye to remind her she is loved. That had been the most difficult thing I had ever asked my family to do -- Please write her a good-bye letter. Ignoring the cancer elephant in the room wouldn't change anything. Those letters were cathartic and healing -- a gift to us all. Last but not least, I packed yards of beautiful ribbon and clothespins. My intention was to string these letters and photos around the perimeter of her room, like Tibetan flags. She would feel hugged in our love each time she opened her eyes and glanced around the room.
Travel went seamlessly even with connections. Each flight landed early. In both directions, I secured emergency exit row seats for extra legroom. And on both days of travel, to and from, I was oddly at peace.
I barely wiped the snow off the bottom of my boots after arriving at the house atop a Colorado mountain -- and headed straight to Lisa's bedroom. Her smile illuminated the room as I made a beeline for an embrace. I scooped her frail, weakened body into my arms and held her tight, inhaling deeply.
I recall the smell of the wood-burning stove in the air. I had entered my own bubble and had shut out the outside world disconnecting from the grid of my electronic world. For almost three days, I sat in my cousin's bedroom adding as much uplifting energy as I possibly could. It was a pure, unfiltered, honest expression of love. We hugged, cried, talked, read, cried some more, laughed and indulged in our togetherness. We reminisced about when we were kids. We talked about all of the silly stuff we had done together. My Barbie vs. her G.I. Joe walkie-talkies, somehow we always made it work. There was always room for common ground and mutual respect. We didn't let anything go unsaid -- no stone unturned, no elephant in the room.
We talked about death, "What do you think it will be like?" she asked. Looking up at the fragile remains of her body, watching her wince in pain on occasion, witnessing her inability to eat, I responded, "I think it will be the most fulfilling delicious deep breath. And following the long exhale, it will be over. The pain will cease and your body will be instantly restored to its once healthy and vital state. You will be healed both physically and emotionally of all that once ailed you. That's what I believe."
She shared her regrets and her sadness of not having more time to be of service and to have made a bigger impact in the world. And in those moments, I understood my mission. No matter how sweet I could make the air smell with candles and incense, my goal was to help her rescript how she saw her life. All I had learned, sought, read, watched and heard -- all that had come before, culminated there, as I sat holding her hand. And I knew what to do with it -- this convergence of universal truths helped me open her mind. What if she could see it all differently? What if we could flip it over and instead of seeing "not enough," she could prepare herself to leave this life, with the knowingness that she had fully completed what she was meant to? Instead of "not enough" what about seeing all that really was, all that she impacted, all that she accomplished? What if she had done exactly what she was meant to do? It was undeniably clear to me that I had never known a person more "present" in all of my life. There was no one who ever spoke with her, who didn't feel that they had been touched by her grace. She was more than enough.
As previously posted here, Lisa experienced a momentary reprieve from her suffering when she and her partner Therese were able to travel to New York to be married in a state that honored their union, just 11 days after I had been to Colorado. Beyond the mere miracle of getting here, Lisa was surprisingly able to eat. We feasted and celebrated amongst family, white flowers and candles all weekend... until landing in the ER. The bubble burst, her condition had worsened -- she was to return to a liquid diet. There were some procedures that could be performed to ease some of Lisa's discomfort. She and Therese took a few moments to talk it over. I could see that Lisa was done -- no more. She didn't want one more invasive procedure -- she simply wanted to go home. And as for that liquid diet, she had had enough of that as well. We went home that morning and had our Last Supper -- a sumptuous brunch before departure.
The final decisions were hers and we all fell in line.
At 3:09 a.m. on December 11, 2013, Lisa exited this life. We had said all there was to say. We had designed our good-bye.
She is my reminder to remain present.