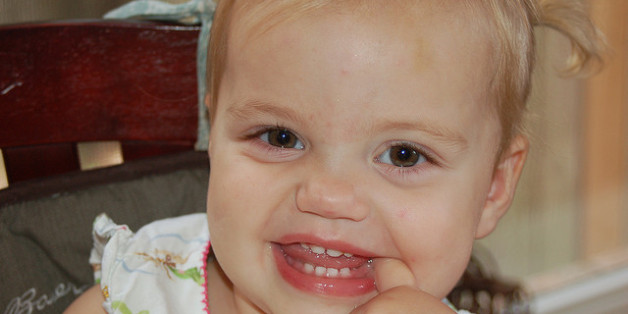 Do you know what the hardest part of having a newborn was for me 11 years ago?
A 2-year-old.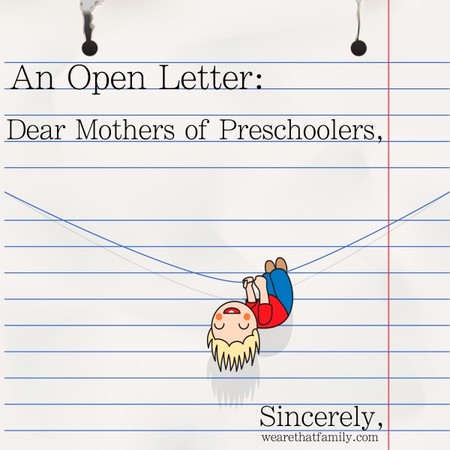 One day, I answered the corded phone in the kitchen (yes, I'm that old) and made sure my 2-year-old followed me. It was my mom, who lived more than 1,000 miles away, checking in on my chaos and her two grandchildren. My son was less than 2 months old, tucked safely in a bouncy seat in the other room.
I missed my mom a lot and hearing her voice was such a comfort. After a minute or so on the phone, I realized my 2-year-old had left the kitchen. I put my mom on hold and ran to find my busy child. I had a new baby in the house and my 2-year-old was what some might call a HANDFUL. Perhaps you know this stage?
I rounded the corner and found her leaning over her baby brother. She wasn't hitting him and I sighed in relief. She ran off as I got close. But as I turned to head back to the phone, I noticed a strange red drool coming from my baby's mouth out of the corner of my eye. My first thought was that he was bleeding.
AND THEN I FISHED A RED SKITTLE CANDY FROM HIS MOUTH.
My toddler tackled me from behind, "I share Momma!"
My baby smacked his lips and I sat in the middle of the floor and cried. I wondered how close my newborn came to choking and how close I was to shaking some sense into a 2-year-old. My mom eventually hung up.
I have chased a 2-year-old through a quiet library, screaming at the top of his lungs, both of us crying the whole way home.
I have whispered threats in the middle of the grocery store, bribing and begging my way down every aisle.
I have hung my head in shame after learning my 3-year-old educated the church nursery staff on the details of his momma's private parts.
I have packed my dinner in a to-go box because we simply couldn't make it through a meal in public with a 2 and 4-year-old.
I have hated some days and longed for the quiet house that comes with the sacred nap time hour.
And for as many challenging days I had while mothering little people, there were three times as many that were simply good. Sweet chubby hugs, chocolate kisses, little hands in mine, the brilliant moment of teaching something new, watching little minds grasp and grow, counting breaths, stroking sleepy heads, the wonder of everyday.
But this letter isn't a reminder to LOVE EVERY MINUTE and LIVE IN THE MOMENT because one day it will all be gone. You get that. You've watched your tiny bundle turn into a toddler, you've packed away little onesies and big memories and I know you know your children are a precious gift from God. But honestly, there are some moments we don't ever want to relive, there are some phases we won't miss and there are some burdens of guilt we don't need to carry.
You are normal. Yes, this season is beautiful and amazing. But it is equally hard. What you do in your boring, everyday tantrum-filled life is important. You are molding, you are shaping. You are raising children who will eventually be able to wipe themselves. God willing.
I made a lot of mistakes (and still do). I was too hard and too soft and too human. And I probably only did two things right: I loved my little children and I loved God and did my best to introduce and intertwine the two.
With the end of every phase, another one lurks around the corner. [We are currently in the "my-tween-son-constantly-makes-noises-and-my-teen-daughter-tells-him-what-to-do" phase. My mother-in-law warned these stages could last for years. Sweet mercy.] As your children get older, you will go from physical exhaustion to emotional weariness, and like it or love it not, you will get there one preschool day at a time.
Today, I have kids who are simply lovely. They are smart and funny. They care about others and are growing in grace. They can also point out a mullet a mile away, create an argument out of thin air and sometimes, they make fun of grown women who wear puppy sweaters, so clearly, my work isn't done.
Yesterday, my day was full of sarcastic laughter with my 11- and 13-year-olds. We had intimate conversations about good stuff and mature discussions about current events. I realized how much they have taught me about motherhood and life. From their preschool days, they taught me humility and how to lay down my pride, they reminded me life isn't always in my control and to trust God more. And today, they teach me to let go a little more, to trust them, to laugh, to be ready for deep conversations, and mostly to be present.
So, momma of a preschooler or two, you are establishing routine, building character, teaching right from wrong. You are tired. Your days are long. But your everyday hard work is purposeful and one day, you will be my age in a quiet house. Your car will be filled with stinky tween boys and giggling teen girls. And you'll remember these preschool days... and smile. And possibly high five someone that you made it.
Until the next phase hits.
Love,
An older momma cheering you on