When a new American musical called Ghost Brothers of Darkland County opened last week in Atlanta, its creators were on hand to relish a standing "o" from a crowd enamored with the star power in the room. In addition to spooky novelist Stephen King and John "Hurts So Good" Mellencamp (who wrote the book and the music for the play, respectively, although neither performs in it), celebrities from the A-list on down took in more than two hours of ghosts, gore, and a few belly laughs at the premiere. Luminaries in the choice seats included Meg Ryan, Charles Barkley, Kim Fields and Pamela Des Barres.
In the late 1990s, Stephen King got a visit from John Mellencamp, who'd heard a ghost story while house hunting for a cabin in his native Indiana. The two decided to turn their conversation into a musical (heaven, help us), and because it's all scary and American and stuff, they asked T-Bone Burnett to be the music director on the project, and - voila! - Welcome to Southern Gothic.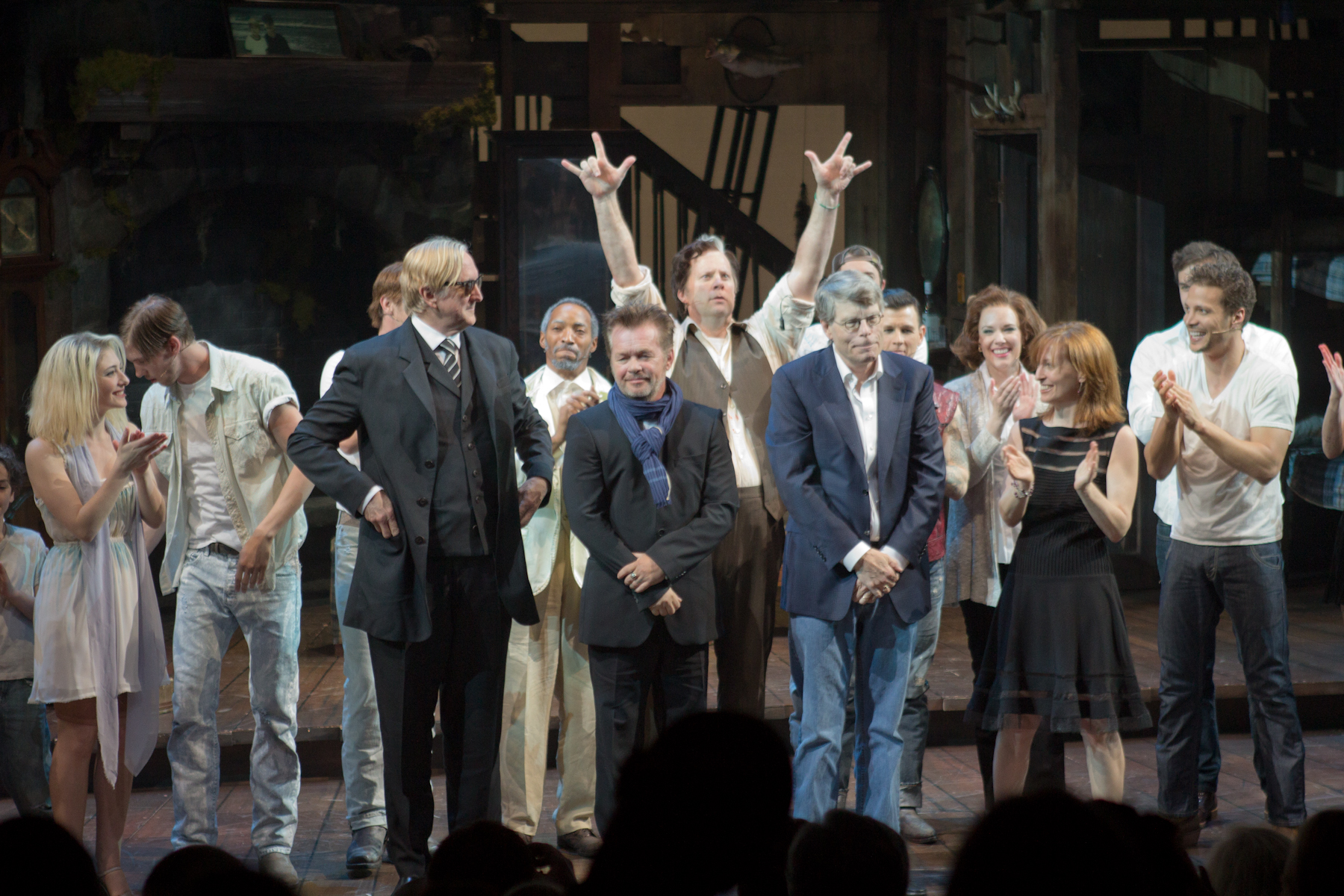 The cast, creators and director of Ghost Brothers of Darkland County following the world premiere at the Alliance Theatre. April 11, 2012. Photo by Raymond McCrea Jones.
After a decade of roundabouts, Ghost Brothers of Darkland County hit the stage April 11 the Alliance Theatre (where small plays go to become big plays under the direction of rockstar Susan Booth), and if audience reaction means anything, this musical just might have legs.
Whether or not those legs are strong enough to run the marathon all the way from Peachtree Street to Broadway remains to be seen. But at least until the inaugural run of Ghost Brothers ends on May 13, this lightweight mash-up of bluesy rock songs and twisted drama is the hottest ticket in A-town.
Now for the cast rundown: Broadway vet Shuler Hensley makes filet mignon out of the rump roast he's thrown in his role as Mississippi patriarch Joe McCandless (wish this Tony-winner had more of the spotlight); American Idol alum Justin Guarini is a revelation as Joe's songwriter son, Drake; and country musician Dale Watson was great in his teeny role as a radio announcer (more, please).
I appreciated the Southern-ness (accents and all) of Emily Skinner's portrayal of Mama Monique McCandless (Joe's wife), and as Frank, Lucas Kavner's brilliant deadpanning made me wonder, "Where's a TV crew when you need one?" Sweet-voiced Kate Ferber as Jenna got to chirp the most memorable melodic bits ("Home Again," "Away From This World"), and Kylie Brown as Anna held her own in a look-alike role that caused confusion visually but was vocally distinct. Likewise, the ensemble cast sounded good, and 10 year-old Royce Mann was a standout as Young Joe.
But, as with any King story, good and evil commanded the stage in this gothic tale of brotherly-love-gone-awry. Christopher Morgan played the hell out of Dan, an angelic ghost who tends bar and meddles in the McCandless's business while soothing papa Joe in an otherworldly honkytonk where he sips - and spills - decades of painful memories. As entertaining as Ghost Brothers was during Act I, I was so starved for a moment of gut-wrenching emotion, I almost ran up on stage to hug Morgan (whose credits include Kiss Me Kate and Five Guys Named Moe) during the first-half finale, "Tear This Cabin Down." What a voice! This theatregoer will definitely pay closer attention to the Alliance's calendar if Morgan's on the bill...
Now, let me play the devil's advocate for a minute: Jake La Botz was creepy and funny and devilishly good as "The Shape," the smartass, Vegas-by-way-of-Deliverance apparition who slinked around every corner of the set waiting for a character to screw up. His comic relief was so dead-on, it wouldn't surprise me if Ghost Brothers gets re-tooled into a musical revue called "The Shape Shack" (now there's an idea those finicky New York audiences could sink their teeth into).
Perched above the set on a semi-visible stage, Mellencamp band member Andy York and his fellow instrumentalists held the whole thing intact by accompanying the performance live. The set itself was a woodsy cabin, but I would have loved to see more of Adam Larsen's modernist projections, which merely hinted at how cool Ghost Brothers of Darkland County could be if we weren't all so hung up on time and place. Remember: the South can be deep in more ways than one.