He told his story in the 2008 documentary "War Child" (and in his 2009 autobiography of the same name), but Emmanuel Jal's journey from child soldier in the Sudanese People's Liberation Army to international music star wasn't complete until the Republic of South Sudan became an independent country and one of the 193 member states of the United Nations in July, 2011.
"I have a South Sudanese passport now. I am a citizen," Jal told me with a smile.
Yet, even as the performer visited Atlanta, GA and Charlotte, NC last week to support his nonprofit Gua Africa and the We Want Peace campaign with events organized by partner organization Mothering Across Continents, there was the sense that Jal's work to bring peace to his homeland may never be finished.
"We didn't think we'd ever be free or reach this point," he says during our interview in downtown Atlanta, a few blocks from CNN headquarters, where reports were surfacing that the conflict in the South Kordofan province had once again escalated.
"Even though there is corruption and our government is struggling, I still have faith that things are going to be better," Jal says.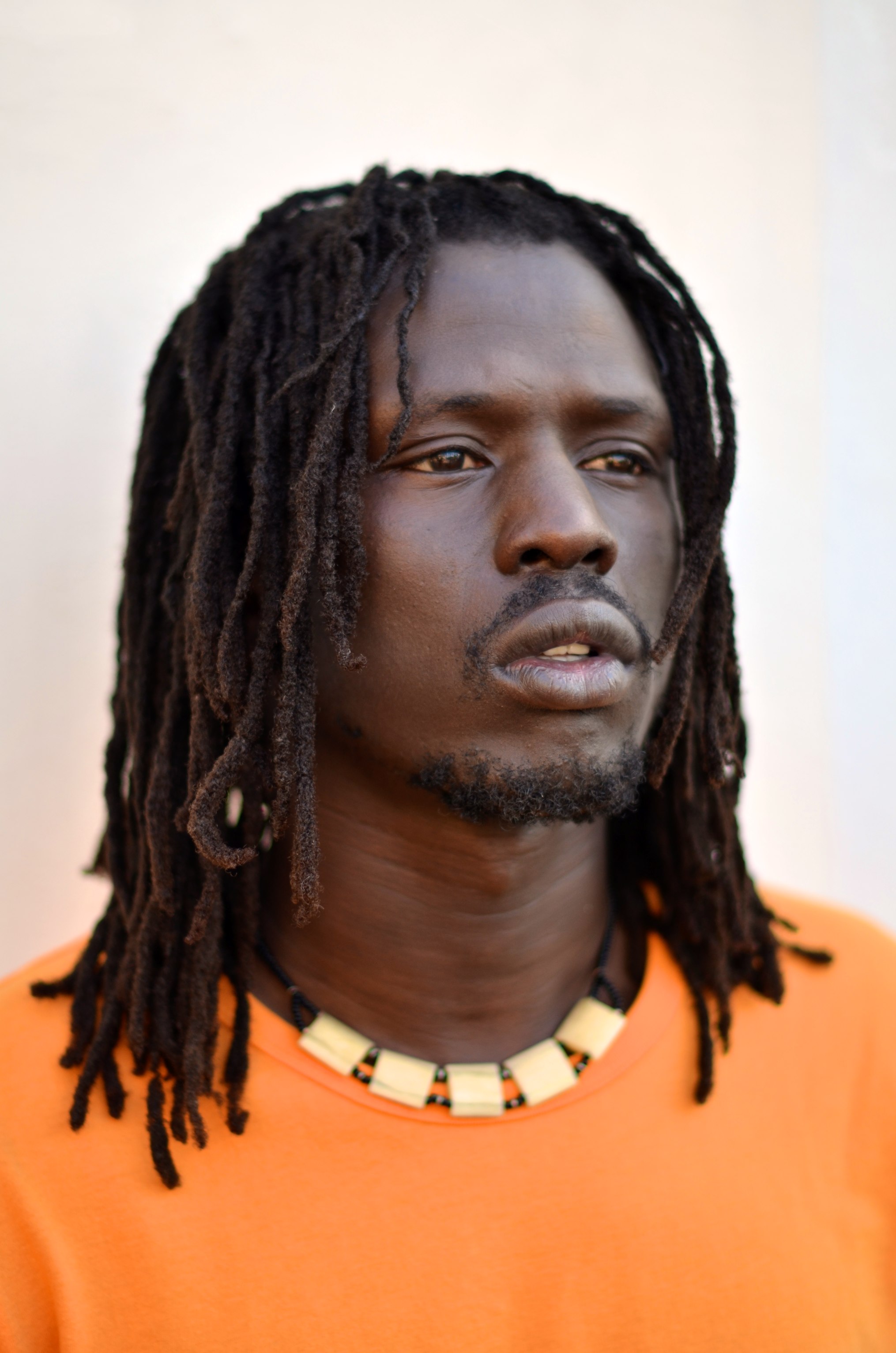 Emmanuel Jal. Photo credit: Tania Campbell-Golding. Courtesy of Emmanuel Jal.
Jal says his faith kept him alive as he struggled to survive two civil wars while serving as a child soldier in one of the world's most notoriously dangerous spots (for details of what he endured, including abuse, abject hunger and poverty, read this interview in London's Telegraph or view his story on CNN's Freedom Project. Other sources are his 2005 interview with Time magazine and his appearance at the 2009 Global TED conference).
"Faith is what gives me hope for tomorrow, but my music is the painkiller for today," he says.
After losing his mother and many relatives in his five years at war, Jal, now 32, was "rescued" at age 13 by late British aid worker Emma McCune, the subject of a 2003 biography (Emma's War) that also discusses the pros and cons of Western idealism in Africa. After McCune's death in a car accident in 1993, Jal fled to Kenya, where he began writing and performing gospel-inflected hip-hop songs. A career highlight, he says, was singing a tribute to McCune at 2008's 46664 concert for Nelson Mandela in London.
Although Jal's latest music video (below) features guest appearances by world leaders and top pop artists (from Jimmy Carter and Alicia Keys to Peter Gabriel, South Sudan supporter George Clooney and others), he understands how weary and wary audiences are about charity, especially in the wake of the recent controversies brought to light by Invisible Children's "Kony 2012" viral campaigns.
"We need to stop criticizing each other so much and start trying to work together," Jal says of the thousands of charities working in Africa -- including his own (Gua Africa, which works to build schools in South Sudan, among other projects).
His We Want Peace campaign, which aims to raise awareness "on the fundamental principles of justice, equality, unification and conflict prevention through the power of music," is planning a fall tour, culminating in a multi-artist peace concert in South Sudan's capitol of Juba.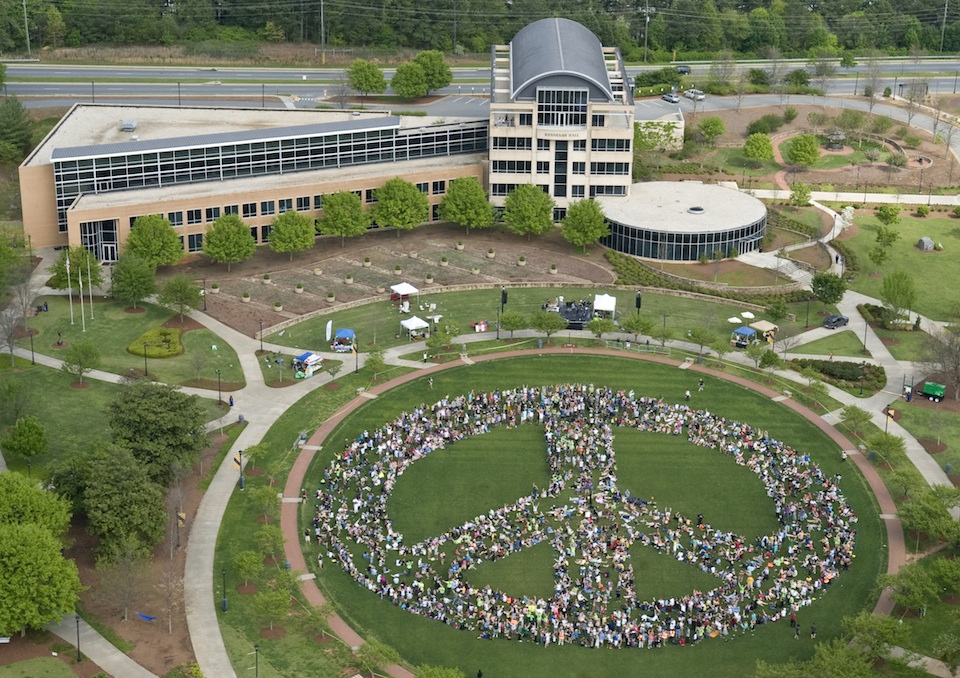 Emmanuel Jal (center), Kennesaw State students, and members of the community form a human peace sign on March 31 outside Atlanta, Georgia. Photo Credit: David Caselli. Courtesy of Kennesaw State University Photography.
During his recent visit to the U.S., Jal spoke to students at Central Piedmont Community College in Charlotte and Kennesaw State University (KSU) outside of Atlanta about peace waging.
Kennesaw State Associate Dean Keisha Hoerrner brought Jal to campus "to share his story of survival and his message of peace."
While at KSU, Jal participated in a March 31 attempt to set a Guinness World Record for creating the largest human peace sign (masterminded by KSU student Jessie Blowers), which, though unsuccessful in its final numbers, served as an inter-generational peace rally and garnered attention from many media outlets. A spirited music performance by Jal followed.
On a sunny Saturday afternoon, the event was the perfect antidote to the troubling news coming out of South Sudan, says Hoerrner.
"Jal's lyric, 'We want peace, and we're going to get it' sounds simple," she says. "But it is a powerful message of determination to ensure that we work together to engage in the hard work and the difficult decisions to bring peace to our world."