When Marjorie Harvey found out that Georgia has the highest number of high school drop outs and third highest prostitution rates among teenage girls, she couldn't help feeling compelled to step in and do her part. Having been previously involved with a mentoring weekend for young men through her comedian husband's Steve Harvey Foundation, she decided to gather an influential group of her own girlfriends together -- including The View co-host, Sherri Shepherd, singer Keri Hilson, actress Terri Vaughn, Essence magazine's Mikki Taylor, and CBS News Correspondent Shannon Eis, as well as Rosalind Brewer (Executive Vice President, Wal-Mart U.S. and President, Wal-Mart Stores South) and Brenda Freeman (Chief Marketing Officer, Turner Broadcasting) -- for a "Girls Who Rule the World" weekend at the Omni Hotel October 22-24 in downtown Atlanta, GA.
Sponsored by State Farm and presented by the Steve and Marjorie Harvey Foundation, GWRTW will provide 100 teen girls in Georgia the opportunity to learn about professional etiquette, appropriate dress, and making the right sexual choices to decrease health risks; the girls will also attend workshops that focus on self-esteem and maintaining an open dialogue with their parents. The girls have been chosen to participate in the event based upon personal essays submitted to the Foundation.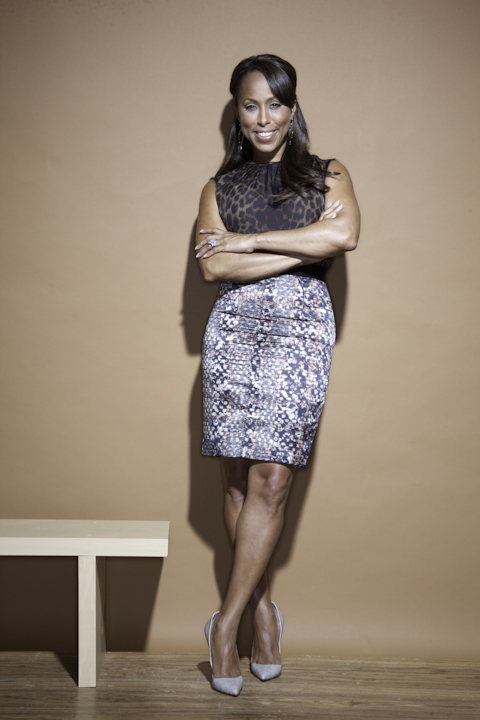 Photo of Marjorie Harvey courtesy of The Steve and Marjorie Harvey Foundation
I caught up with Marjorie Harvey to find out more about her motivation to mentor girls.
How did you choose the professional women and entertainment personalities as mentors for this event?
I wish I could share some thoughtful strategic plan with you. The truth is I simply mentioned to my girlfriends the idea for the mentoring weekend and my phone started buzzing. Before I realized it my staff and I developed a very high caliber line-up of truly phenomenal women.
Is being a mother been the primary influence on you in terms of wanting to establish The Steve and Marjorie Harvey Foundation's mission to mentor young people?
Absolutely, as a mother I want my children to lead healthy, independent lives. Like all mothers, I want to make all of their dreams come true. The responses we received from girls who applied for the mentoring weekend confirmed my convictions. All of the essays we received touched me, but there was one in particular that stands out. A young girl was in a relationship during high school, dating a young man -- who manipulated her to get her pregnant because she was losing interest in him. Her parents have not adjusted well, and she is having an exceptionally difficult time. I am so proud of her for applying and not giving up. I am excited to share the program we have designed with her as well. Our workshops will help guide this young mother and girls in other situations with all of these issues: healthy dating relationships, protecting yourself from an unwanted pregnancy, effective parental communication and resources to stay focused academically if you do become pregnant. This young girl is facing all of these difficulties alone. She needs to know there are women who have overcome similar situations and made it.
Are there any mistakes/triumphs from your teenage years in particular that shaped you as the person you are today? A mentor who influenced you?
As a teenager I failed to consistently rely on the values my family taught me, I was too trusting. My father showed me so much love and compassion. He taught me the importance of a strong character and honesty. I did not always listen, but his wisdom is a part of me today. My father taught me how a lady should be treated and I love him dearly for this. I struggled between what I knew was correct from my father and what my friends thought. In the end I always come back to my father and his wisdom and developed my own discerning spirit. My constant mentor is God. God has always been with me sometimes I didn't want to listen. Like only God can, he patiently waited for me and loved me in spite of me. He still does.
If you could give just one piece of advice to the girls who will be attending the weekend events at GWTRW in Atlanta (based on your own experience in terms of educational and career choices), what would that be?
I want our girls to project their lives over the next five to 10 years and establish goals and let's develop a road map to meet every one of them. I also want girls to understand that mistakes are inevitable, but the true measure of your character is how you pick yourself up after you fail. Even with the best constructed plans, something will go wrong -- and girls need to understand that you can overcome adversity.
Find out more information about Girls Who Rule the World.