On a bright Sunday afternoon in mid-May, Emmy-winning television personality and cardiac surgeon Dr. Mehmet Oz and his wife Lisa joined thousands of friends and supporters for the 2012 Highway to Health Festival sponsored by HealthCorps at South Street Seaport and Pier 17. This annual event, which unites children from health mentoring programs in 14 New York City Schools and offers the community a chance to participate in everything from cycling competitions to "Punk Rope" aerobics, is one of dozens of gatherings, concerts and charity walks that take place at the Seaport complex every year.
Why is this a popular area for New Yorkers to get together?
"Our mission is about health and wellness," says HealthCorps Director of Events Rob Lunde. "So The Seaport provides us with a great outdoor venue that enables us to reach a large audience and encourage them to get moving!"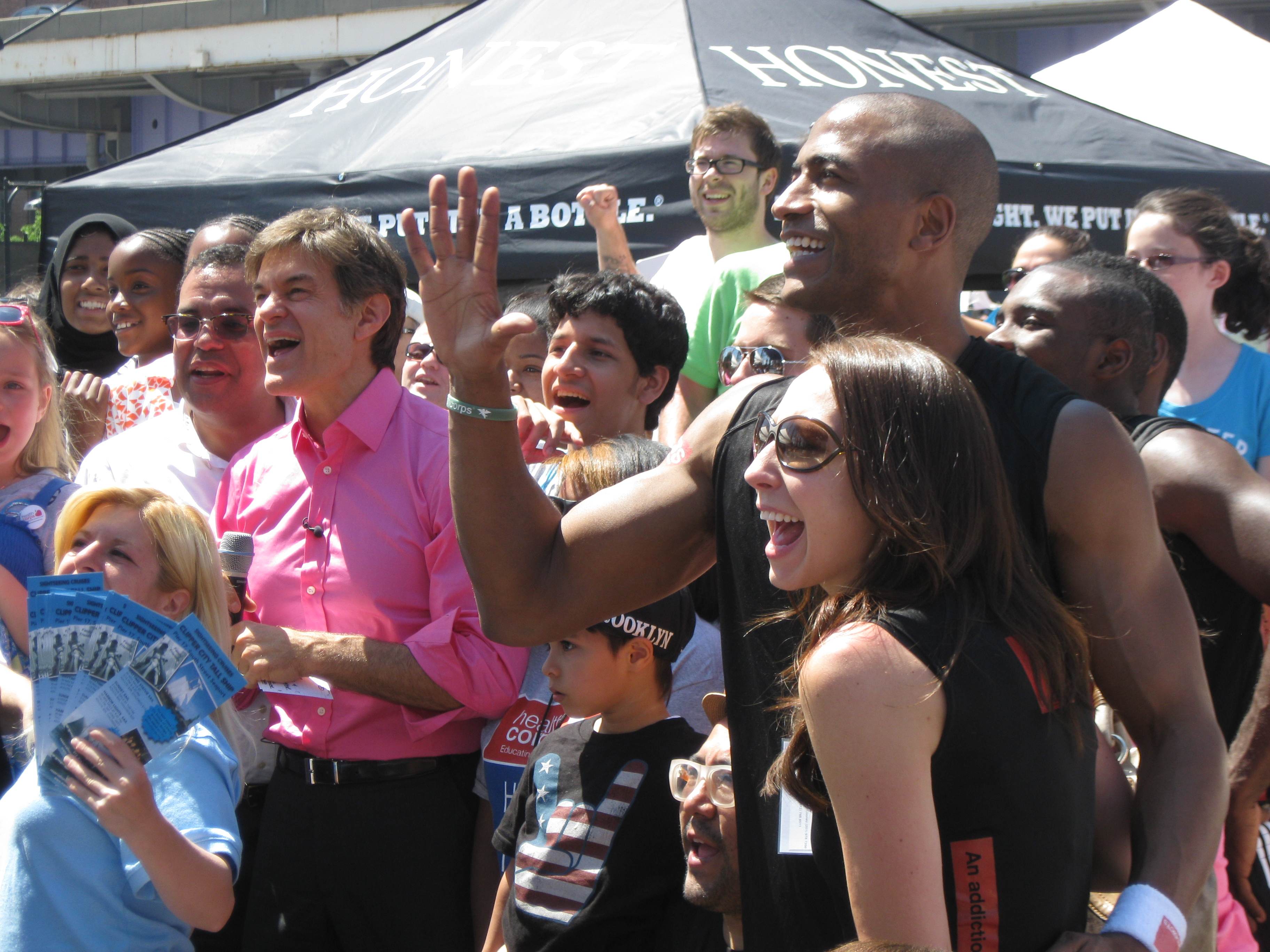 Dr. Mehmet Oz and attendees of the 2012 Highway to Health Festival at South Street Seaport on May 20, 2012. Photo credit: Joan Cooney.
Seaport Senior Manager Lincoln Palsgrove agrees, adding that the Seaport's "unique position, with amazing views of the Brooklyn Bridge and within proximity to the Statue of Liberty," make it the perfect route for charity walks and runs through Lower Manhattan, including the Leukemia and Lymphoma Society's "Light the Night Walk," wherein participants' balloons glow against the twinkling NYC skyline.
Although the Seaport occasionally receives a bad rap (Palsgrove says an overcrowded 2010 concert scheduled to feature the rapper Drake said a lot about "how much social media influences a free live event"), a look back at its cultural history -- and a sneak peek at a major redevelopment plan -- may give the complex renewed cachet.
Listed on the U.S. National Register of Historic Places in 1972, the Seaport's heyday began in the early 1800s, when it was a popular East River port for sailing cargo boats (the kind we now call "tall ships"). Along with neighboring Fulton Market and Schermerhorn Row, the 12 blocks encompassing the Seaport and surrounding areas has never ceased being a community hub, making it one of the oldest architecturally preserved areas in Manhattan.
After the Pier 17 shopping and dining complex was added in 1983, the Seaport became a tourist destination, but never let go of its ties to New Yorkers -- especially to the many charitable organizations of all sizes, which Palsgrove says "consider the Seaport their homebase." Popular annual events such as Children's Day, the 4-Knots Music Festival, and Taste of the Seaport (a fundraiser for PS 397) are family-friendly activities that ensure the Seaport's continued popularity.
As for the future, proposed plans for a new Pier 17 were presented in March of this year, with development expected to be completed by 2015. Rooftop gardens and water views? Yes, please.

For more information about upcoming community events at the Seaport, click here.