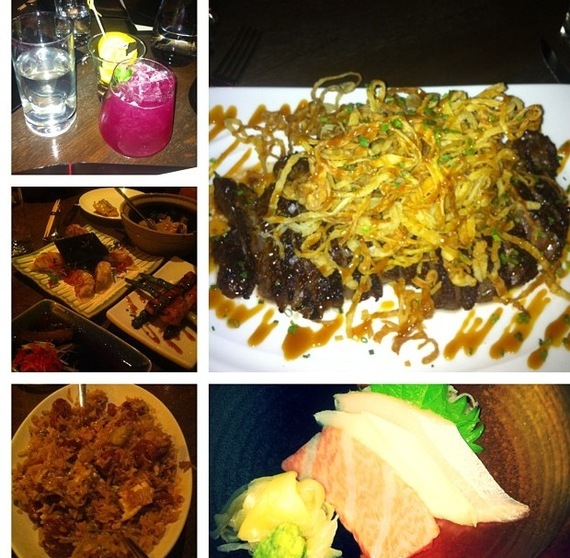 An incredible meal at Tao Asian Bistro in Las Vegas
At night, Las Vegas Boulevard's buzzing lights cannot be understated. There is a whimsical glow to it all that screams decadence mixed with Disneyland, and, to be honest, it has never really been my thing. I decided to give Vegas another go, though, when I continued to hear about its amazing culinary scene. As a New Yorker, I have had my fair share of delicious meals. I was headed to Vegas to eat, not gamble, and was more than pleased with my quest's results.
Here are a few of my favorite dishes:
1. The Kobe Beef Steak at TAO Asian Bistro. There are really no words to describe the flavor contained in this perfectly charred and seasoned piece of meat. Beautifully fried onions decorated the top, giving me more crunch and moistness in each bite. The entire table moaned in delight. It was a splurge well worth it, and the beauty of this restaurant's décor is worth a visit alone.
2. The Kobe meatballs at Lavo Italian Restaurant's brunch. Noticing a theme here? I love Kobe beef, and hands down had the best of it in Vegas. These large, moist meatballs did not lack in flavor, and adding ricotta just sent the dish over the top, in the best possible way. Lavo's brunch was a great way to start off the trip, because what is a brunch really without bottomless, perfectly crafted sangria?
3. The Bacchanal Buffet at Caesar's Palace. This was the buffet of all buffets, and the three-hour wait proved that. If you can, spend an extra $15 to skip the line and enter food heaven, then eventually, a food coma. There were too many highlights of this experience, but, there was one particular butter gelato at the dessert bar that still makes me heart quiver in fondness when I recall it.
4. The burger at Comme Ca in The Cosmopolitan Hotel. If you are not sober, this burger will taste like it was reeled down from the heavens. If you are sober, it will still taste that way. Not only does the beef sit on a perfectly toasted brioche bun, the lettuce slaw mixed with aioli that tops it off, is the ideal creamy crunch that brings the whole burger together.
5. A slice of pizza from Secret Pizza. Let's be honest. It's easy to stay up all night in Vegas, and when you do, there's nothing like a slice of pizza. You might find yourself stumbling out of Marquee nightclub and thanking your lucky stars that this inconspicuous alley that you thought would lead to your hotel room actually leads to a pizza joint. Or maybe that's just me.