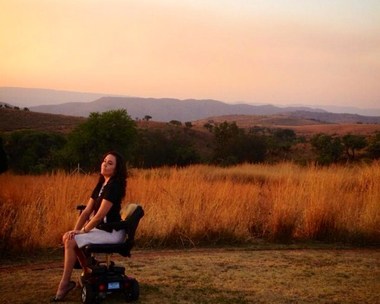 I never thought I could feel so empowered and inspired on a 16-hour flight to the United States. From the time I entered the car on my way to O.R. Tambo International Airport, I began typing my thoughts and ideas about social change on my iPhone while taking occasional breaks to look up at the beautiful South African sunset. The moments experienced at the 2013 One Young World Summit held in Johannesburg, South Africa truly changed my perspective and life.
As a disability advocate, I had the honor to be sponsored by energy company, Sasol, one of the biggest investors and taxpayers in South Africa. The company sponsored its national Paralympic team for the 2012 London Games and implemented a disability sport initiative in Qatar with Paralympic athletes called the Definitely Able Campaign. Through Sasol, I had the opportunity to attend the 2013 One Young World Summit and network with like-minded leaders from 190 countries who are creating global changes -- from eradicating HIV stigma in Africa, combating Malaria through texting messaging, impacting the Egyptian protests through social media to creating political movements in India. These are all actions done by leaders ages 18 - 33. Bottom line: You can become a leader no matter what your age.
During the Summit, I had the opportunity to raise disability issues to former U.N. Secretary General Kofi Annan and Sir Richard Branson. It was incredible to hear Kofi Annan on the world platform state the importance of people with disabilities and their talents within societies: that regardless of disability, one still has huge potential to impact their community. And as one of the biggest minority groups in the world, it was humbling to strategize with Sir Richard Branson on improving wheelchairs and prosthesis in developing countries in order to travel with ease over dirt roads and inaccessible infrastructure. What did he tell me? Find an engineer and with my disability experience, we can create devices sustainable for those who cannot travel outside of their homes.
The most influential conversation I had was with Arianna Huffington. As she thanked me for being there and blogging for The Huffington Post, I asked about empowering young girls and women with disabilities. Her response was very simple, but resonated with me and sent chills down my spine. "Trust your voice." In reflection, there have been too many times in my life where I questioned myself on whether I was doing or saying the right thing -- a common occurrence for people my age. But Arianna put these underlining struggles to rest: Look within, listen from within, and trust your voice. Envision your world.
Hearing Ahmed Kathrada's firsthand accounts on being prison mates with Nelson Mandela personalized world history. Sentenced to life in prison during the Apartheid regime, Nelson Mandela lived in an arm's length cell with an empty view of withered rocks for 18 of his 27 incarcerated years on Robben Island. While sleeping on the floor and seeing a visitor once a year for 30 minutes, Nelson Mandela began to envision a world of inclusion and forgiveness. As I sat in a room with Winnie Mandela and heard about Nelson Mandela's work in creating a post-Apartheid country, I couldn't help but think of what we all can accomplish to better our world. Nelson Mandela is not an expectation to the human factor, but a testament of what we are capable of when we follow our inner vision.
I envision a world where disability is no longer a stigma, but a human condition. That is why I will be sharing on this blog different initiatives by young leaders I've met from around the world on improving the lives of people with disabilities.
We can see a world where we embrace each other. We can set aside our differences and see each other for our human essence. These are possibilities that stretch beyond our passports. These are possibilities that can be achieved.
The inner vision keeps the inspiration and fire alive. Envision your world.