"What do you want to be when you grow up?" I asked.
It's a common enough question -- one I answered hundreds of times when I was a kid. It is a question intended to inspire. To ask that question is to invite a child to imagine his or her future possibility, to encourage them to dream big and to go for it.
On a recent site visit to Cambodia, I met the girl in this photo. She participates in an afterschool educational and support program for children whose mothers are sex workers in Phnom Penh's red light district.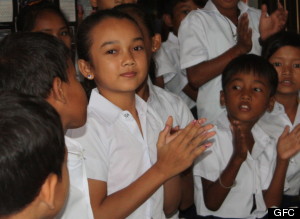 Women's Network for Unity exists because these children needed a safe place to be, one that opens up a door to a different life. Their mothers want what mothers everywhere want: a chance for their children to have something better. A place where children can be valued for who they are, can dream about who they want to be, and not be marginalized for what they were born into.
When I asked what she wants to be when she grows up, she told me that she wants to be an interpreter and, in fact, she did most of the interpreting the day of our visit.
Her dream, and all it stands for, is why the Global Fund for Children (GFC), exists. She's whom I work for everyday.
The most marginalized children in the world are the hardest to reach. They live in slums, tent camps, prisons, and rural villages, where they struggle to survive -- let alone pursue their dreams. Though these children are the most disadvantaged, governments and large aid organizations struggle to reach them with the services and programs they need.
At GFC, we understand that every child has the potential to do extraordinary things for our world. We seek to transform the lives of the most vulnerable children -- to break down the limits that prevent them from achieving their dreams.
How? We search for local organizations, like Women's Network for Unity, that already has the insights, plans, and leadership they need to make a direct impact in children's lives. What they get from GFC is support and networks so that they can deliver on their potential. Providing small grants and technical assistance to grassroots leaders is a powerful tool for improving children's lives.
In the Democratic Republic of the Congo, that means turning child soldiers into students. Staff and volunteers at Bureau pour le Volontariat au Service de L'Enfance de la Santé negotiate with armed groups to release child combatants into the organization's care. At transition shelters, the children receive counseling, education, and vocational training, so they can rebuild their lives, free from violence and fear so they might return to their families, and to childhood.
Aware Girls has a tiny budget and reaches thousands of young girls, helping them to develop as community leaders and educating them about the risks of early marriage, early pregnancy, and HIV. Founded by Gulalai Ismail when she was 18, this group is completely dedicated to transforming the future of girls. They also run a sexual and reproductive health hotline, the only one in the region. When they first started, only 10 percent of the local young women had knowledge of safe sex practices and HIV. And they do this work in Peshawar, Pakistan -- where standing up for girls' rights means risking your life. I cannot imagine GFC not being there to stand up with groups like this.
These heroic organizations transform lives one child at a time. But the effect does not end there -- it spreads to the child's parents, siblings, and community. GFC grantees are often led by individuals who have overcome great obstacles in their lives and want to give children a fighting chance. Josefa Condori Quispe, founder of GFC grantee Yanapanakusun in Peru, was herself enslaved as a domestic worker at age nine. Now she works tirelessly to free young girls from forced labor and help them prepare for futures they deserve.
Thanks to the leadership and support of partners like Johnson & Johnson, we are making a difference around the world, transforming limits into potential through hundreds of programs around the world -- programs that have reached 8 million children.
Most recently, we launched a project with Johnson & Johnson on a new platform called Catapult. Donations that come through GFC's Catapult project will benefit adolescent girls in India, and, Johnson & Johnson has vowed to multiply the impact of your gift by matching all donations.
There are millions of children out there with big dreams. Just imagine what the world would be like if we could give all children the chance to reach them.