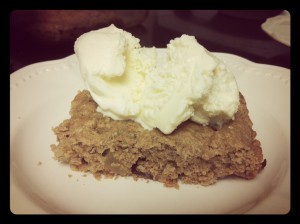 Okay, so it's not Fall yet, but the weather has started to cool down, the kids have all gone off to school, and I am giddy with anticipation for my favorite time of year!
Tonight, I decided to make one of my favorite semi-healthy Autumn treats, topped with a scoop of vanilla ice cream for good measure.
Cranberry Ginger Harvest Cake
Ingredients:
1 cup whole wheat flour
1/2 cup oatmeal, or rolled oats
3/4 cup Stevia
2 tbsps brown sugar
cinnamon (1 tsp.)
all spice (1/4 tsp.)
baking soda (1 1/2 tsp.)
salt (1/4 tsp.)
1/2 cup chopped candied ginger
1/2 cup dried cranberries
1/4 cup finely chopped walnuts
2 eggs (beaten)
1/4 cup canola oil
1/4 cup milk
1 tbsp vanilla
There is nothing tricky about this recipe. Set your oven at 350 degrees and grease a 9×9 pan. Toss your dry ingredients together, throw in your chopped ingredients and fold in your wet ingredients (don't forget to beat your eggs first). Spread your batter evenly into the pan and bake for 30-35 minutes, until golden brown.
For a healthier option than ice cream, drizzle on some local honey and add a spoonful of yogurt. Enjoy!
See more at: ResourcefulGirl.com