Laxmi Subedi and her 11-year-old son, Nabindra, traveled by foot for six days to reach the harvesting fields of Dolpa from their home village in Jajarkot district in western Nepal. They migrated because Lakshmi's husband's health was failing and, with it, the family farm.
For years she had heard rumors of the fortune that was to be made in the annual caterpillar fungus harvest. This year she made the trip for the first time.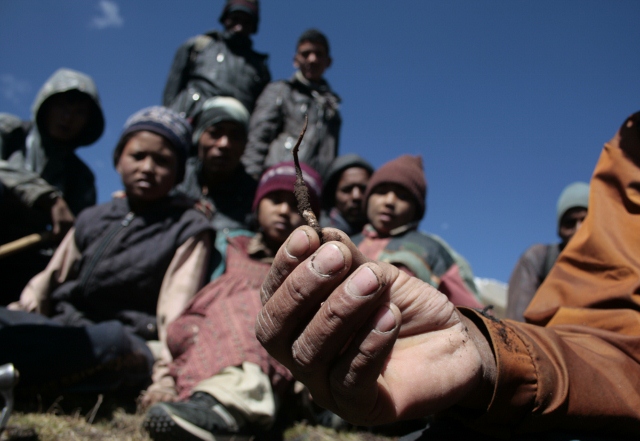 Flora or fauna?
Every spring, countless people across the Himalayas flock to high altitude fields in search of a rare commodity: a caterpillar, killed by a parasitic fungus (cordyceps sinensis), which then grows out of the ground in tiny, barely-visible stems that look like blades of grass.
The product is a flora-fauna combination, the corpse of a caterpillar mummified by a mushroom. Known locally by its Tibetan name, yartsa gunbu, meaning "summer grass, winter worm," it has been used in Tibetan and Chinese traditional medicine, among other practices, for millennia.
In recent years, the increased market value of yartsa gunbu has driven up the demand for the harvest. Its reputation as a potent aphrodisiac -- dubbed "Himalayan Viagra" -- has made it particularly popular in some parts of the world.
A Nepali El Dorado
"Every year we say the same thing, we have never seen so many people coming before!" says Lakpa Lama*, a farmer in Dolpa whose family operates a small store and restaurant seasonally to supply migrant harvesters with food and supplies.
A middle man who operates a supplies store in a tent along the route to the harvest fields in Dolpa explains: "I buy decently-sized pieces for between 300 and 500 rupees (between 2.75 and 4.40 euros) and then sell them later in the summer in Tibetan markets." He reports that he has earned up to a 300% profit on some pieces.
While thorough research in Nepal is lacking, studies of the yartsa gunbu harvest elsewhere in the Himalayas have estimated that yartsa gunbu is the single most important source of household income in some communities on the Tibetan Plateau.
And as word has spread of the fortune to be found in the mountains, more people from near and far have gambled on gossip and joined the annual harvest.
Profit at a human cost

But for migrant harvesters, the effects of cold weather, strenuous hiking, and extreme altitude can take a toll on their health -- and their ability to turn a profit. While trolling a hillside field at approximately 4,200 meters, Subedi explained: "I have been sick since I arrived a week ago. If I find a small [yartsa gunbu], I eat it because it helps with the sickness."
Subedi is not alone. Harvesters who migrate from Nepal's middle hills and Tarai plains sometimes suffer in Dolpa's extreme environment. Kakana, a seasoned harvester from Rukkum district explained: "I have been harvesting here for five years. By this time I usually have 200 pieces, but this year only 40. It is cold so I need more food every day, and I am running out. I'll need to leave soon."
Nonetheless the pressure to succeed remains. Migrant harvesters' communities outside of the high Himalayas have also come to depend on the informal economy of the caterpillar fungus harvest.
Children as harvesters
Kathmandu newspapers have reported that children are leaving school this year to join the harvest and earn the money to pay their school fees, causing schools to struggle to remain open.
Some schools have adapted to the seasonal pull of the harvest and shut down to allow students time to participate. But the effects of such gaps are not insubstantial.
Ram Chandra Buddha is administrator and teacher at a school less than a hundred kilometers from the fields, and he's seeing the demands the work is making on his students who are pressured to work with the harvest to support their impoverished families. "We have had to limit the amount of vacation time we allow students to take for the yartsa gunbu harvest to 15 days." His school also applies age limits, primary school students are not allowed any time off for the harvest. "Otherwise," he says, "it really starts to have a negative impact on their studies."
For Lakshmi and Nabindra, there is little choice in the matter. "With my husband sick, this seemed like the only option, and I can't leave my son at home -- plus, he helps find pieces," she explains. She hopes that a successful harvest will mean she can eventually send him to boarding school in Kathmandu.
*name changed at interviewee's request.

This piece was originally published by Radio Netherlands Worldwide - South Asia Wired