I only knew Bob Kildall during the last year of his life when he was severely afflicted with the symptoms of Alzheimer's disease. His death this month was not unexpected. Still, during my brief time with him, I experienced the spirit and soul of a vibrant individual walking a Bodhisattva Path.
Bob was not a Buddhist, but reading about him, he was clearly someone who cared deeply about all sentient beings -- especially the ones who enjoyed a natural environment near his home in Magnolia. With his wife Ruth (who he actually met at the 1962 Seattle World's Fair), Bob championed maintaining Discovery Park as a natural habitat for sentient beings including humans.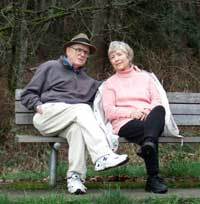 I met Bob through Ruth, who was almost singlehandedly (and heroically) taking care of him at their Magnolia home. She was looking for some help because Bob needed constant care, and she needed to get out once in a while. I was privileged to help her and get to know Bob during a few afternoons we spent together.
My most vivid remembrances were the times we went to his beloved Discovery Park. The Alzheimer's caused him to forget things and be difficult to understand, but once in the Park, he seemed to know almost every tree and rock as if there were intimate family members.
And his energy was truly amazing. At 92, he had me working hard to keep up with his pace, but I did so in order to get every piece of his running commentary about the Park and its inhabitants.
When I had the opportunity to step back and contemplate what was happening from a broad perspective, I could not help but marvel at the experience. I was touring Discovery Park with the man who kept it from becoming a golf course surrounded by Golf McMansions and condo developments.
Even more interesting was witnessing Bob watch others enjoying the Park. He seemed to glow with appreciation for the natural world and how he had defended it for future generations of Seattleites. And as we walked past parents sharing the Park with their children, owners and dogs romping in the meadow and individuals simply enjoying the solitude, I could not help but wonder what these people would say or do if they knew what the old man briskly passing them had done for them, their children and generations into the future.
I will always cherish those brief moments with Bob and be grateful for the genuine unselfish contribution he made throughout his life. I'd say his was a life well lived, and I am hopeful that it will serve as a template for others who seek to contribute to creating a world that works for everyone.