Recently, International Meditation and Mindfulness Teachers Joel and Michelle Levey (pictured below with Richard Berger) visited Richard Berger's Masterpieces of the Earth Collection. During their tour, the Levey's conducted an auspicious meditation circle with the other nine other people (including myself) present.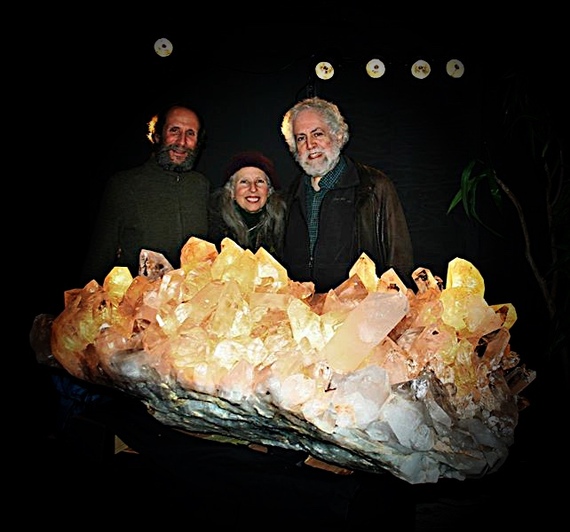 As we sat in a circle surrounded by the largest, most distinctive crystals I have ever seen, I could almost feel the power of these earthly elders enfolding and empowering our process. This was a feeling similar to what I have experienced in Sedona and other natural sacred sites, even though we were sitting inside a warehouse turned into a display hall.

Regardless of the venue, the experience of the Masterpieces of the Earth Collection was auspicious for everyone present.

Michelle Levey commented:
"These ancient crystal beings are our elder relatives, reflecting the awesome beauty and deep wisdom of the earth and cosmos -- our own beauty and wisdom -- back to us. As we open our hearts and calm our minds, we can allow ourselves to come into resonance with the vivid clarity and inspiration of these marvelous mineral teachers. In this way, aligning and attuning with our highest intentions, the crystals can become portals through which our heartfelt prayers and highest aspirations are amplified for the benefit of all."
Joel Levey added:
"To be in the presence of these oldest growing beings on the planet is humbling. Some of these massive crystals are so old they have rotated around the Milky Way Galaxy multiple times! Imagine that! The coherence of their crystalline formations, and the enduring intelligent living system design wisdom that each of these complex and multifaceted crystals embody, reflects a depth of elemental wisdom that would inspire anyone with a deep reverence for both science and mystery. Oh, that we short-lived humans would learn to grow with such strength, beauty, patience, and coherence in harmony with the ever-changing world in which we are embedded.

This collection is rare, precious, and unique. It needs to be preserved and maintained for generations to come in a way that allows countless people to experience these profound earthly treasures. Deepest thanks to Richard and Miriam for their dedication to discovering, gathering, and caring for this treasury. May others with resources necessary to continue to steward this collection come forward to lend their assistance to this monumental work."
Personally, I find that every visit to the Collection brings me deeper and deeper into a sense of reconnection with our Mother Earth and all she provides to us. Hopefully, the entire collection will eventually be available in the Museum of the Earth that Berger envisions. Only then will the world truly experience and appreciate the heroic work that Berger has done these past four decades in gathering the unique assemblage that is the
Masterpieces of the Earth Collection.