My Uncle Morton died on March 10 at the age of 89, and the circumstances following his passing opened my eyes to an entirely new reality of possibilities. I have been a practicing Buddhist for many years, and thanks to the generosity of my teachers Joel and Michelle Levey, I have some idea of what meditation practice I can do following the death of someone I know.
I first learned this practice from Joel and Michelle when my mother died in 2007, which was also the last time I saw my Uncle Mort alive. Although he was not someone that I was extremely close to, I have fond memories of him as a gentle kind man and the family "cool uncle."
I received the news "Uncle Mort passed on" in a text from my brother who lives in Minnesota, the first time I had received such news via text at my Seattle home. At the instant the text buzzed on my iPhone, I was walking out the door to do an hour walking meditation, and my first thought was, "I can change this meditation to a walking and helping-a-recently-dead-person meditation."
I was amazed at how quickly my mind jumped into action in support of Uncle Mort's transition. I felt no great sadness or loss, just a sense that it was time to do what I had learned to the best of my ability.
Since I've only done this meditation practice in support of a recently dead person once (daily for 49 days according to Buddhist tradition) when my mother died in 2007, I was not as confident about it as I am about the meditation practices I do on a daily basis. Still, I realized that the most important parts of any practices are 1) the intention and 2) actually doing it. Thus, I began my walk and the practice.
One hour later, I knew that I had connected with Uncle Mort, helping him on his journey, and I felt quite satisfied with my efforts. Since then, I have included this practice as part of my daily meditation practice every day, and I intend to do that for the prescribed 49 days.
Upon returning home on day one, the other action I took was to compose my thoughts about Uncle Mort, and that writing became a blog on HuffPost. After that, I checked out the his daughters' Facebook pages and saw that they had mentioned his death and changed their profile pictures to ones with Uncle Mort and each of them.
This got me thinking about adding a picture to my unpublished HuffPost piece, and that got me searching through what I call my "archive box" of old photos and other memorabilia. Rummaging through that box, I found a photo album that my mother had maintained, and it contained several wonderful black and white pictures of Uncle Mort in 1947 at the age of 21. I know this because my mother dutifully recorded the date taken, name and age of the person in the picture on the back of every photo. (Thanks, Mom.)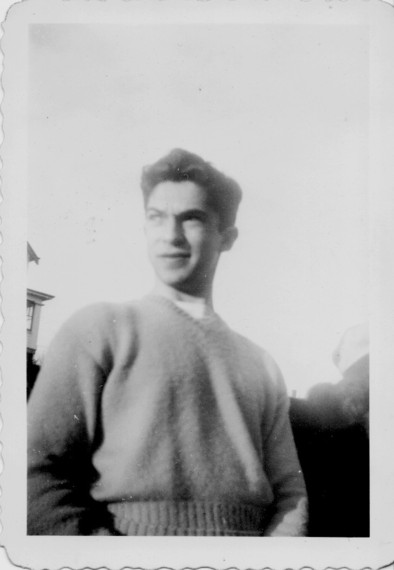 I had a few of these glimpses into the past that included Mort scanned. Then I posted them on my Facebook page and sent them to my cousins (his two daughters). Both women had never seen the pictures and were very grateful. One replied, "These are amazing!!! These pix are an amazing gift you are giving Sara, Mike and me. Thank you so much!!!" After that, I included one of the photos in my blog post.
What's most amazing to me is the fact that this all happened within a couple days. It's not something that I could have done a few years earlier, and I can only imaging what will be possible in the future.
The technology of computers and the Internet combined with the technology of Tibetan Buddhism came together to help me support a number of sentient beings both "living" and "dead" (relative reality terms). Plus, I really enjoyed every aspect of the process, and I've been told that I may have actually accumulated some merit in the process.
May all people have such support in their various transitions. And may we each fondly remember those who are no longer with us in physical form in order to be of greater service to them and all life.