Much like the city, Hong Kong's food scene is ambitious and fast-paced. Chefs are constantly launching new restaurants with bold concepts that fuse Eastern and Western influences.
Last month, I ate my way through four of Hong Kong's newest restaurants. I discovered that chefs are putting creative spins on sushi -- such as toasting rice with butter -- and investing in specialized equipment like Josper ovens. Interior decor is as important as ever, with an emphasis on modern art and soaring views of the harbor.
From "sexy naked rolls" to "magic mushroom maki," here's what the innovators are serving up.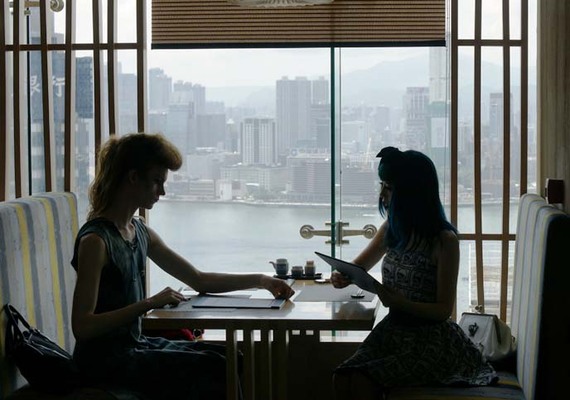 (All photos copyright La Carmina.)
Naked Gurume Gyarari
Naked calls itself a "gourmet gallery" that celebrates both food and design. Chef Justin Chan stunned me with Japanese tapas-style dishes that look like art and surprise the senses. The restaurant's name refers to stripping down ingredients, but his flavor combinations were anything but minimalist.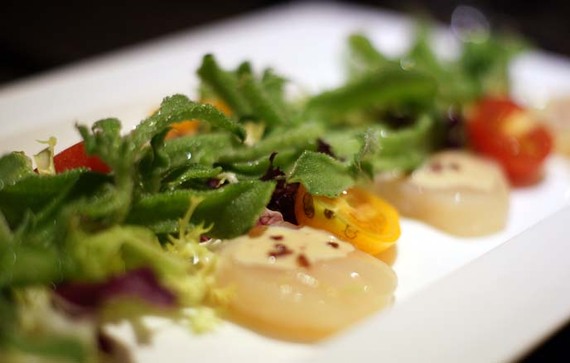 I started with a salad of Okinawan ice leaves with scallops, a wonderful pairing that let me savor the glistening, naturally salty crystals. Many dishes are inspired by Chef Chan's childhood memories, like fried oysters in a traditional dim sum basket. His Sexy Naked Roll, or seared tuna on butter-toasted rice, was a standout.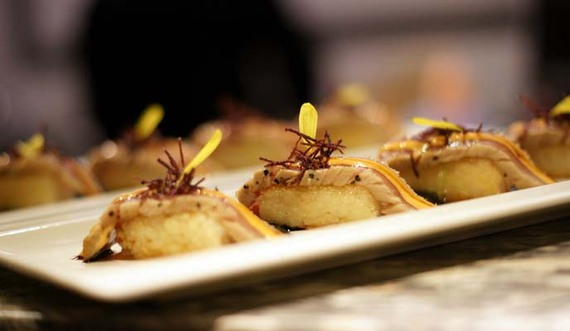 Sushi Tō
Celebrated local chef Harlan Goldstein opened Sushi To in Causeway Bay earlier this year. Originally from New York, the chef is a strong and passionate personality. He has lived in Hong Kong since the 1970s, and locals can't get enough of his restaurants.
Known for his European fine dining establishments, this is this first foray into Japanese cuisine. Sushi Tō is located on the 29th floor, with ceiling windows that give a magnificent view of Victoria Harbor.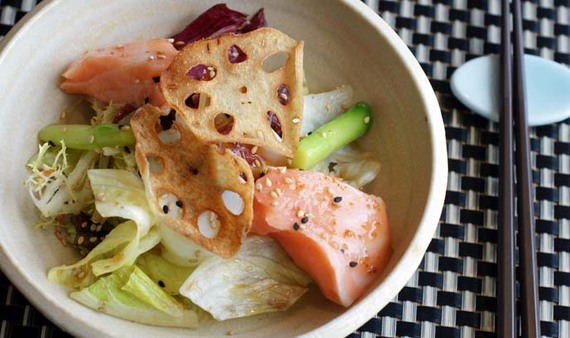 Sushi Tō specializes in omakase, and Harlan prepared a tasting menu for me. I loved the melt-in-your-mouth salmon salad with sesame soy dressing, followed by fresh kampachi and salmon sashimi. His selection encompasses more than raw fish: there are unique takes on robatayaki, teppanyaki and more, with creative ingredients such as konbu, burdock pickle, and seasoned "magic mushrooms."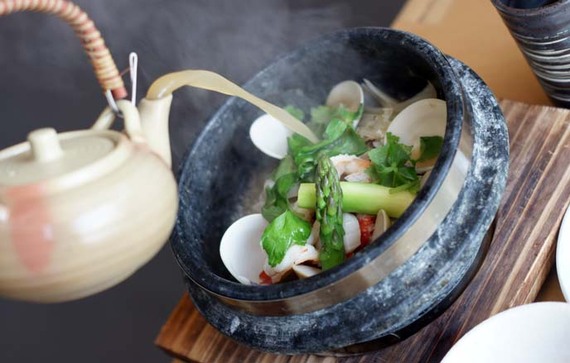 One stand-out was the Hokkaido scallop, crab meat clams, shrimp, rice and soup in a stone hot pot. Dessert, a white sesame tiramisu, gave a light and sweet finish.
Penthouse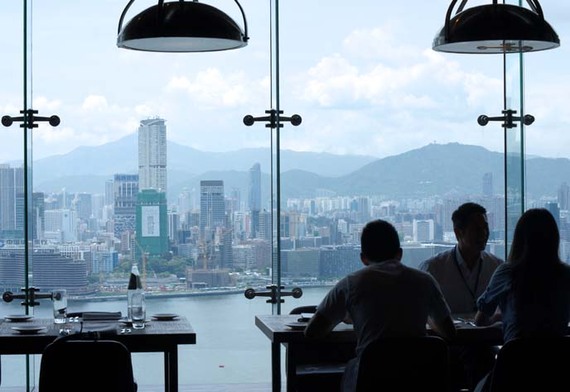 Upstairs is Harlan's Penthouse, which also opened this year. The chef is as hands-on as it gets: I saw him working right in the kitchen, alongside his staff. Harlan took a break to sit with my table, and we chatted over bourbon cocktails called "Wall St After 5pm."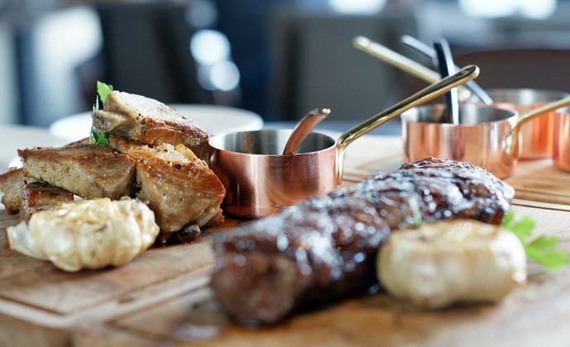 He described his vision for a cosmopolitan East meets West establishment, set in what looks like a hip Manhattan studio. His no-fuss menu draws from Italian rustic flavors, like hand-crafted pastas, heirloom tomato tartare with burrata and balsamic jelly, and black ink paella with scallops and crisp baby squid. Penthouse's celebrated Spanish pork ribs, slow-cooked in a Josper oven/grill that heats up to 500 degrees, were juicy and fell right off the bone.
Mama San
Chef Will Meyrick's original Mama San was a hit in Bali, leading to his first outpost in Hong Kong. Found in one of the busiest areas of Lan Kwai Fong, the interior sets the mood: Indonesian home-style meets young nightlife.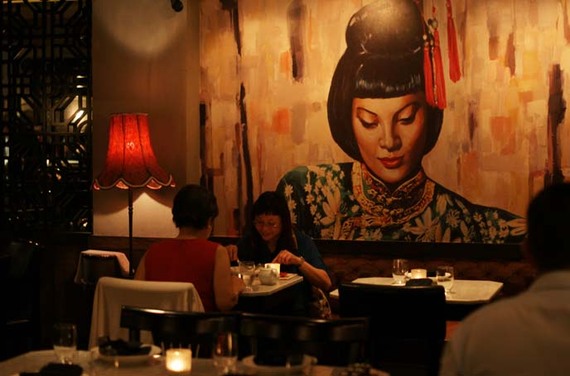 The menu's southeast Asian spices stirred my senses: coconut, Thai basil, chilis, kaffir lime. I whet my appetite with cassava chips dipped in tartar, then enjoyed the salt-crusted barramundi fish stuffed with lemongrass pandan and basil. Mama San's enticing cocktail menu consists of classics with a twist. My go-to, the "Dark & Stormy", was served with house ginger beer, orange bitters and lime in a paper bag.
For more Hong Kong food and travel posts, check out La Carmina blog.