The "Scott Pilgrim" movie showed a different side of Toronto: twenty-somethings in vintage clothes and neon hair, rocking out at indie concerts. On a recent trip, I experienced the city's alternative scene for myself.
If you're keen on shopping and club-hopping, I recommend staying at a downtown Toronto hotel. My friends and I loved the Beaux Arts glamor of One King West Hotel & Residences, which was formerly the Dominion Bank. We did a Victorian photoshoot amidst the preserved chandeliers and teller tables, and brewed tea in my spacious suite.
Located at Yonge and King, the hotel is blocks from Queen Street West, where you'll find quirky, vintage and indie shops. Black Market Vintage (256-A Queen St W) has a large selection of ironic secondhand clothing, such as a "Pentagram pizza" t-shirt. John Fluevog (242 Queen St West) is famous for his creative shoes, like pumps with claw-foot heels. My favorite boutique was the aptly-named Original Toronto (515 Queen St W), a fun-house of pastel prom dresses, tulle skirts, rainbow corsets and spiky boots.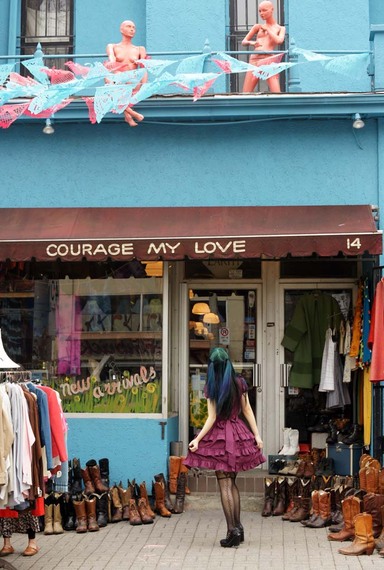 Walk a few more blocks to Kensington Market, known as the most eccentric part of town. You'll spot Victorian homes painted with bright colors, vegan and gourmet cafes, and stores with a hippie vibe. I followed a row of cowboy boots to Courage My Love (14 Kensington Ave, Toronto). One of my friends picked up leather ankle boots; another found a silver cross pendant, and a third bought a retro feathered hat.
Karen O'Keefe, vocalist of Gothic band Amy's Arms, invited me to watch her perform at Lee's Palace (529 Bloor St West). "Scott Pilgrim" fans will recognize this venue as the location of the final Evil Ex battle. I enjoyed her expressive performance and the melancholy rock of headliner David J, legendary bassist of Bauhaus.
For me, no trip is complete without an underground nightlife tour. Once again, Queen Street West is the center of the action. Velvet Underground (510 Queen St West) hosts Freaky Fridays with alternative DJ Ivan Palmer. The bizarrely-named Bovine Sex Club (542 Queen St W) is a favorite bar for punks and rockers. Nocturne (550 Queen St W) is home to one of the longest-running Goth Industrial parties, spun by DJ Osaze. The club also dedicates nights to rave, lo-fi, synth and futurepop music.
Are you surprised by the indie scene in Toronto, Ontario? You can see more coverage of youth subcultures worldwide -- including Japan and China -- on my La Carmina blog.
PHOTO GALLERY
Toronto's Alternative Attractions