Every year, my mom and I explore a different part of California together in honor of Mother's Day. Since she lives near Santa Cruz and I live in Los Angeles, we scout out a town that's roughly half way between us. I do the planning (I see it as my Mother's Day gift, but I'm travel obsessed so it's no hardship) and together we share this carved out nugget of time in a beautiful setting.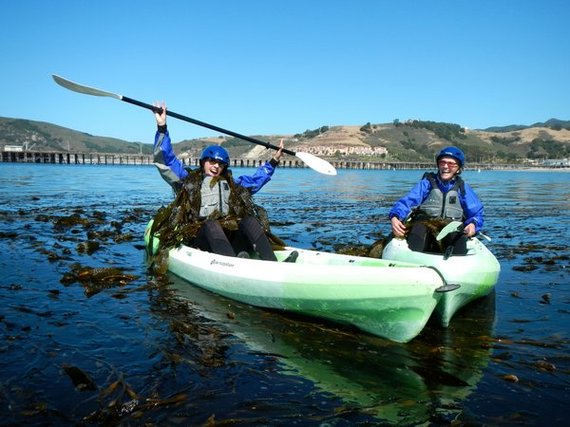 Last year, it was Avila Beach: kayaking, a forested hot tub soak at Sycamore Springs, red velvet, chocolate-chip pancakes and the Bubble Gum Alley. The year before, it was an all-out, Dionysian-style feast in Sonoma, eating and drinking our way through the region's epicurean treasures. A typical day looked like this: bike ride to nearby wineries, a cheese tasting at The Epicurean Connection, lunch at the Girl & the Fig, a distillery/spirits tasting at Hello Cello, a wine-infused massage at Kenwood Inn and dinner at Zazu.
For Mother's Day 2014, we chose to glamp. She loves to camp, I do not. El Capitan Canyon near Santa Barbara, a campground with plush cabins decked out with soft beds, a soaking tub and kitchenette, was a happy compromise.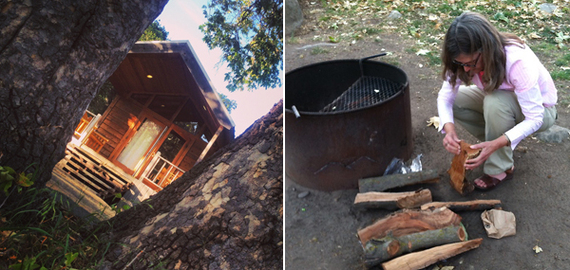 We "roughed it" by grilling up tri-tip and s'mores on the open fire under the starry skies. I must confess, it was a neatly packaged kit provided by El Capitan's onsite café, however, we did light the fire all by ourselves (ok, my mom did), managing not to overcook the steaks.
From our one or two day vacations over the years, I've gleaned some valuable lessons. Here's why traveling with mom, especially since we don't live near each other, has been the best the way to celebrate Mother's Day for both of us:
Slowing the Space-Time Continuum
Ever notice when you go home for the holidays that time flies at a dizzying rate between all the visits with siblings, grandparents and old friends? When it's just you and mom, time slows. It's given me the opportunity to really get to know her as an individual, not just as a parental figure with a load of family baggage or past perceptions attached to it.
Setting Skeletons Free
Speaking of baggage, a trip with mom is a great time to air out grievances -- old or new -- that have cropped up. I'd rather have a tooth pulled than confront someone and addressing heavy issues on the phone is so not fun either. On a trip, while we're hiking a scenic trail or playing cards in the hotel, conversation flows naturally. Since we're in a relaxed, neutral setting with no other family members vying for attention, it streamlines the process. By the end of the trip, mom and I have aired those pesky skeletons, clearing the way for a closer relationship.
Simple Pleasures
Since mom doesn't travel as much as I do, I love bringing her along to watch her delight in things I overlook. She oohs and aahs over simple stuff, like the attentive service at a restaurant, meeting a passionate artisan or even the hotel's fancy soap or landscaping. Gratitude goes a long way in making a vacation special, even when mishaps arise, like the time she dumped her kayak or the time we missed our flights home because we lost track of time at a wine tasting. In short, mom is a fun travel companion and I see another side of her when she's all by herself.
Although Mother's Day only comes around once a year, there are 364 more days to carve out some time for an adventure with mom. If you've never traveled with mom on your own, no kids, spouse or father in tote, I encourage you to. After every trip, with things said or experiences shared, I understand and appreciate mom a little bit more, for who she is at her core. And that's the probably the best present I could ever give.
Have you vacationed with mom? If so, I'd love to hear about your experience in the comments below.