Gideon Productions' The Honeycomb Trilogy concludes with Sovereign, the heart-pumping third installment in the ambitious sci-fi play series that began in January at the Secret Theatre in Long Island City (NYC) through June 30th. Spanning decades, both before and after an alien invasion, Mac Rogers' critically acclaimed trilogy hinges on the fraught sibling relationship between alien sympathizer brother Abbie Cooke and powerful resistance leader sister Ronnie Cooke.
Another relationship -- husband and wife -- though, has informed the series' final play in important ways.
Rogers has built a reputation as one of the best indie playwrights today, winning multiple New York International Fringe Festival awards for Hail Satan and Viral as well as back-to-back Independent Theater Bloggers Association awards for Best Off-Off Broadway Play for Universal Robots in 2009 and Viral in 2010. (Note: I had the pleasure of producing Universal Robots).
But, he concedes that a huge component of his latest work, Sovereign, which follows Advance Man and Blast Radius in the trilogy, is due to his wife Saundra Yaklin, who serves as the trilogy's scenic designer. Throughout the production process, Yaklin's probing questions about the set -- the Cooke family's Florida home that transformed from a middle class house in part one to a refugee camp for pregnant human women in part two to a courthouse and monument to the human resistance in the final installment -- moved Rogers to change elements of the play.
At the end of Blast Radius, 51 martyrs, including Ronnie's lover Peck, and one alien, Abbie's boyfriend Conor, set out to kill themselves while also blowing up the aliens' hive, thus freeing humans from the aliens' oppressive rule. Those 51 names are front and center in Sovereign's repurposed courthouse where Ronnie interrogates her brother. Each name of the 51 heroes is carved on an individual wooden slab that makes a rudimentary monument similar to the The Vietnam Veterans Memorial in Washington, D.C. Yaklin had the idea for this visual commemoration.
As Rogers thought about her scenic suggestion, he realized it made sense to work the tribute to the 51 into the dialogue, thereby anchoring the emotional aspects of the sci-fi play in a concrete fashion. Characters often touch the names of their loved ones on the monument or refer to them. And, the wall is always there -- inescapable for the characters and the audience -- looming overhead and casting a shadow on the tense proceedings.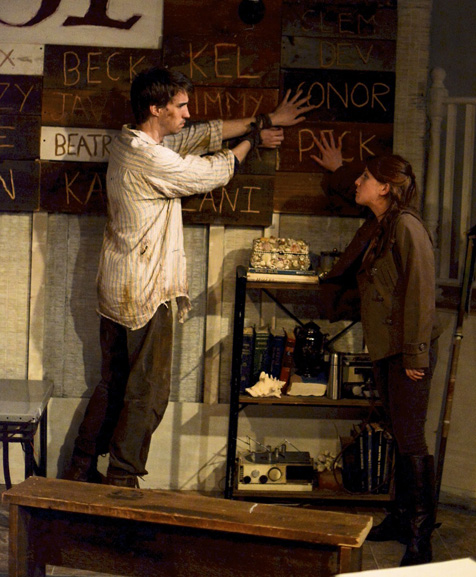 Stephen Heskett and Hanna Cheek in Sovereign | Photo Credit: Deborah Alexander
Rogers and Yaklin's relationship has benefited his playwriting in other ways. Rogers often remarks that the plays that he's written since dating Yaklin, whom he married in an irreverent DIY ceremony in a Pennsylvania barn two years ago, have a different emotional life inspired by their relationship. "What's striking is the added hopeful element, if you compare the last play I wrote before I met Sandy to the first play I wrote after we got together," explains Rogers. "A lot of them are still dark, sure, but there's a redemptive, striving aspect that wasn't there in the same way before Sandy was in my life."
The duo met on another theater project. Yaklin was a venue director at the 2005 New York International Fringe Festival, coordinating the dozen productions in the theater for the festival's run. As luck would have it, Fleet Week: The Musical, another award-winner by Rogers and his Gideon Productions partners Jordana and Sean Williams was assigned to Yaklin's venue. One day, Rogers heard her singing. Taken by her voice, he asked if she would like to be in Gideon's next musical about mudwrestling women. She loved the idea. A few months later, as she escorted him to the subway after a party at her warehouse, he walked through the turnstile, then turned around and stammered, "I think you're pretty." A grand gesture by a nervous playwright.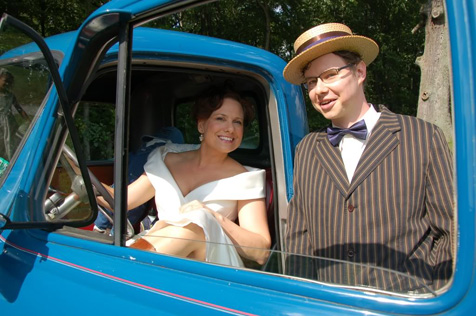 Saundra Yaklin and Mac Rogers at their 2010 nuptials. Photo Credit: Deborah Alexander
Since then, they have made a formidable team. Yaklin loves Rogers' kindness and intelligence. She is also supportive of his work, but if she feels his piece needs something, she doesn't beat around the bush. "You can't treat your spouse like a genius," says Yaklin. "Otherwise, it all goes bad" [meaning the marriage].
Perhaps that's why the mudwrestling musical has yet to materialize?