Ask any playwright what he or she wants most, and every one of them will put a production of his or her play at the top of the list. The great challenge is getting plays in front of literary managers and artistic directors, the people who make decisions about what is on stage across the country. StageReads was launched this month to help bridge this gap. Founded by performer/writer (and Huffington Post contributor) Jody Christopherson and producer Meredith Lynsey Schade, StageReads is a new bi-monthly play periodical e-publishing plays that have had readings and developmental workshops, but few, if any, productions. The inaugural issue features Caridad Svich's The Way of the Water, a play inspired by the 2010 BP Gulf Oil spill.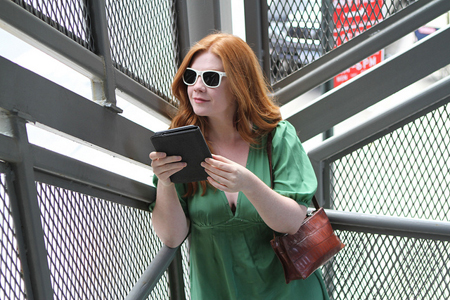 StageReads co-founder Jody Christopherson reads its first issue.
I spoke with Jody and Meredith about their hopes for StageReads and how they see the e-publishing service changing the theatrical world.
LANIE ZIPOY: Congratulations on publishing Caridad Svich's The Way of the Water in the first edition of StageReads. Why was this play a great one to launch StageReads?

JODY CHRISTOPHERSON: The first time I read Caridad's play it took my breath away. Her characters are human, poetic, vivid, compelling. I couldn't help but identify with them. The play is about a universal fight -- which is probably one reason why it's had so many readings internationally -- the fight to survive and the fear that the damage we've done to the planet is irreversible. One thing that is important to me in the theater is seeing and working on plays that are for everyone; plays that include traditional theatergoers and inspire new audience in all regions, The Way of Water definitely does that.

MEREDITH LYNSEY SCHADE: We really wanted our first play to feel current and relevant. Caridad Svich's The Way of Water is dealing with very timely issues -- the BP Oil Spill of 2010, the current economic crisis, and the ongoing Occupy Wall Street questions about corporations and people. As our nation faces these complex issues, Svich's play examines them through the family unit, as seen through an everyman's eyes. In many ways, her play evokes the style and purpose of Arthur Miller.
We are especially proud to be launching with a work by Caridad Svich. In an age when a mere 20 percent of the produced plays are written by women -- and an even smaller percentage is written by minority women -- we are quite proud to launch with a work by a Latina woman. While we set out to simply find the best work to publish for our launch, this works seems to be proof that great works can come from diverse playwrights if producing organizations are willing to open themselves up to the possibilities.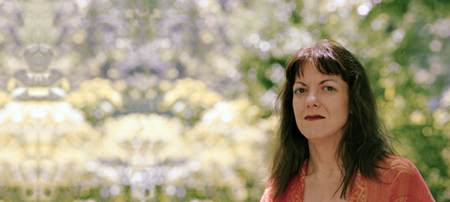 Playwright Caridad Svich's The Way of the Water kicks off the first issue of StageReads.
LANIE: What kind of plays are you looking to e-publish? What is the process of selecting them?

JODY: In addition to what Meredith expressed I think it's also important to think about readability. We want to be able to grab the attention of industry and audience. Plays that read well on the page can open up a whole new market. There are so many movies being made from popular paperbacks. Imagine what could happen if plays became more mainstream reading material?
MEREDITH: We are looking to publish works that are well-developed, strong pieces, ready for their first, fully-realized productions. While funding organizations have been pressuring theatres to produce more new work, and it seems every company has a New Play Development program, very few of those developed plays ever get staged. We want to bridge that gap between developmental readings and fully realized productions by getting these plays into the hands of producing organizations across the country -- instantaneously.
We have a team of readers who review submissions and recommend the plays 'up the chain.' We also pay close attention to industry news about readings and workshops happening across the nation so we can request copies of plays that interest us. In a way, it's very much like being an artistic director or literary manager, both fielding submissions and seeking out new works.
LANIE: How do you envision StageReads contributing to and/or changing the theatrical landscape?

JODY: Subscription service means people will be making a commitment to getting new plays in their reading library every other month. It's sort of like when people used to go mad about Netflix. You just signed up, and new things were sent to you on a regular basis. We're creating a routine of play reading. And as much as we do have a selection committee, it's really a democracy. If we hear from enough people that they want something, feel passionately about a script, we're going to read it and try to get it out there.
MEREDITH: In some ways, we're not new. Other play periodicals existed long before we did, although they all ceased operations more than a decade ago. What we're doing feeds on the benefits of new technology, allowing instantaneous distribution around the world in a nanosecond. By embracing the e-book format, we make it easy for artists and producing organizations to find the best work out there without wading through hundreds of submissions.

LANIE: What can we expect in your next issue(s)?

JODY: In our next issues you can expect wide variety of plays from the writers we are selecting to the forewards that will be written, we are seeing some innovative, passionate work. Also, we seek out variety in terms of voice, region, subject matter, cast size and style.

MEREDITH: We're also developing new methods for electronic play publication, tackling some of the major problems the industry has been facing in embracing the technology that currently exists. We have great plans to expand our reach and access for individual playwrights, including opportunities to enrich plays using HTML5, which offers video and music support.
The App for StageReads is currently available on the Zinio. Download the App from the Apple Store for the iPad and iPhone or from Google Play for Android mobile phones and tablets. Customers can subscribe by clicking on the following link.