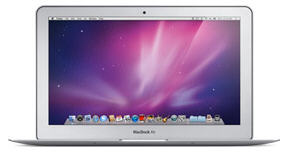 11-inch MacBook Air (Credit: Apple)
Apple, in its earnings report last week, announced that Mac sales in its most recent quarter were up by 23 percent over the same quarter last year despite the popularity of the iPad, which competes with personal computers. Overall, PC sales were up only 3.1 percent in that quarter, according to Gartner.
One reason Mac sales surged is two new MacBook Air laptops, which in my opinion are the best portable PCs on the market.
I was an avid Mac user during the 1980s but have mostly used Windows for the past 20 years because I had a strong preference for lightweight laptops from Lenovo, Toshiba and Hewlett-Packard.
As a frequent business traveler, I need a small and light notebook PC, which is why I've been carrying around a 2.9-pound Lenovo X300 for the past two years. And I do carry it around. I had it in my bag constantly during the recent Consumer Electronics Show, for example, pulling it out on a moment's notice to record a radio interview, access the Web, edit a photo or a video, or fire up Microsoft Word to work on a column.
But on returning from CES, I thought it was time to try out an even lighter notebook PC, so I borrowed both an 11-inch and 13-inch MacBook Air from Apple to try out. I'm impressed by both. But because of my travel needs, I think I'll buy the 11-inch model, even though, at 2.3 pounds, it's only 0.6 pounds lighter than the 13-inch.
Despite a more cramped screen and a bit less horsepower than the 13-inch, there is something about this tiny laptop that I find appealing. I also like that it will easily fit on an airline tray or a lectern if I'm using it to give a presentation. In fact, it's so small and light that I find myself using it instead of my iPad to watch video, surf the Web or send e-mail. It's much more expensive than an iPad but has a real keyboard, a slightly larger display and two USB ports, as well as the ability to play flash video and to support external monitors. It can also run flash and thousands of Mac programs and can even run Windows if you decide to install it. The 13-inch model also has an SD card reader.
What impressed me most about the Air was the multitouch trackpad, which, unlike trackpads on most Windows machines, allows for very smooth scrolling when you use two fingers to move up and down. Other laptops support this feature, but most of the ones I've tried are choppy and not 100-percent reliable. The Air also supports iPad-like gestures such as pinching to zoom.
At a starting price of $999 for a model with a 1.4 GHz processor, 2 GB of memory and 64 GB of solid-state storage, this is definitely a pricey laptop. An 11-inch model with 128 GB of storage, 4 GB of memory and a slightly faster 1.6 GHz processor costs $1,399.
The solid-state drive, which has no moving parts, is faster and less prone to damage than a hard drive, which is one reason the machine is so expensive.
As a Windows user, the big question for me was whether I would be comfortable going back and forth between the Mac notebook and the Windows desktop machine I use in my home office. In the past, I found it awkward to switch back and forth between the two platforms. But thanks to the "cloud" and the plethora of cross-platform open-source applications, that is much less of an issue than it was.
The first thing I did when I got the new Mac was to download both the Google Chrome and Firefox browsers. With Chrome, all I had to do was enter my Gmail address and it automatically synced bookmarks, passwords and extensions with my Windows version. I used Xmarks to sync bookmarks across platforms and browsers. These browsers work on the Mac exactly as they do on Windows, so there is no learning curve whatsoever.
I also installed Microsoft Office, which is slightly different from its Windows counterpart, but similar enough. Then I installed a few open-source cross-platform programs I use, including the Audacity audio editor and FileZilla FTP program, both of which are nearly identical on both platforms.
Finally, I installed Parallels Desktop, which enables Macs to run Windows and other operating systems as a "virtual machine." I'm pleased to say that Windows runs great, and that even the Mac's trackpad worked well with Windows.
There certainly are much less expensive notebooks and netbooks on the market, and many people need only a $399 netbook to access the internet and get their work done from the road. But the Mac Air is worth considering for anyone who needs a reliable, rugged and lightweight computer.
This article first appeared in the San Jose Mercury News.