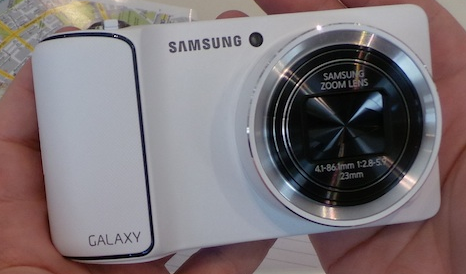 Samsung Galaxy Camera (taken with a Galaxy Camera by Larry Magid)
Samsung may have suffered a stunning legal defeat at the hands of Apple, but that didn't stop the giant Korean company from unveiling new Android devices at the IFA trade show in Berlin, including a new Android phone with a giant screen and an Android-powered digital camera with a built-in 3G and 4G cellular modem.
The Samsung Galaxy Camera is a 16 megapixel camera with a 21x optical zoom lens that comes equipped with both WiFi and a cellular modem. It has a 4.8 inch display and can be used for 23 mm wide-angle photos which, according to Samsung, is a wider field of view than the unaided human eye can see without swiveling your head.
It will be sold by mobil phone companies along with a data plan. The price, according to Samsung will be about the same as a "high-end compact camera," (probably around $500) but they had no information about the cost of data plans.
Ever since I got my hands on the first phone with a built-in camera, I've wished it could be the other way around since cell phone cameras make all sorts of compromises when it comes to the camera side of the equation. But this is a serious camera with good optics that makes it possible to upload images immediately from anywhere you have cellular or WiFi connectivity.
I think it a stroke of genius that Samsung put the Android operating system on the camera. It not only allowed them to produce some impressive phone-specific apps but also to run off-the-shelf Android apps. No one would buy the camera to surf the web or check their email but it's actually possible if that's what you want to do. I didn't try it but I was told that you could even use the camera to make voice over internet calls, but not regular cell phone calls.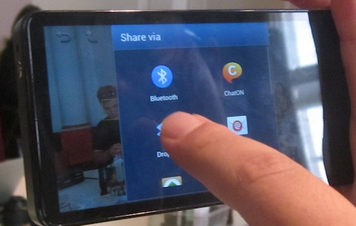 Samsung Galley Camera touch-screen interface uses Android
I did use the camera's photo sharing feature to email myself a copy of the image that appears on top of this page. You can also immediately post to Facebook and other photo sharing sites.
Galaxy Note 2 Phone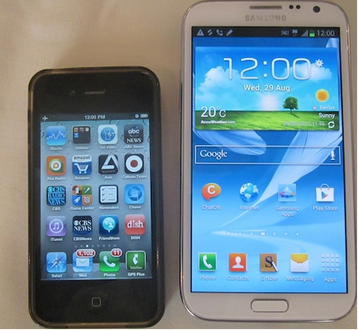 Samsung's new Galaxy Note 2 next to an iPhone 4s
Samsung also took the wraps off the successor to its Galaxy Note "phablet" as in phone/tablet hybrid.The Galaxy Note 2 has a whopping 5.5 inch display, which is slightly larger than the previous model. Although Samsung doesn't specifically position it as an alternative to a tablet (they make Android tablets too), they did point out that it's the device you have with you all the time, making it convenient for web surfing, video and other tasks typically done with a tablet. They also pointed out that the size of the screen (and their bundled software) makes it easier to do multi-tasking. During my hands-on demo, I saw a video playing in a corner of the screen while I was using the phone to check my email.
The phone weighs 6.3 ounces and is .37 inches thick. It has a quad-core CPU, 2 GB of memory and there are models with 16, 32 and 64 GB of storage. It has a hefty 3100 milliamp hour battery, which should help keep it running despite its large screen and relatively power hungry CPU.