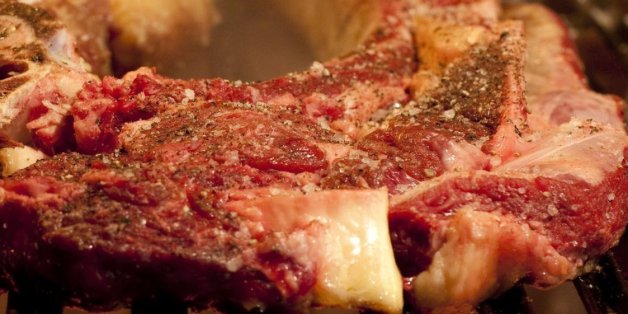 In Argentina, the Asado Pit is the realm of men, fathers, grandfathers and their male offspring. Although I grew up in a family where both my brother and I washed dishes and served the table, and where academic and professional expectations were the same for boys and girls, I never thought of challenging my brother's seat at the all-male asador table. And why would I? All I had to do was hand a wooden plate to my Tio Jorge Maza (the official asador in our family) and he would fill it with juicy ribs, Argentine chorizo, thinly sliced flank steak and a dripping spoonful of chimichurri sauce.
Chef Francis Mallmann has one of my favorite chimichurri recipes and he graciously shared it with me to feature in my book, Vino Argentino. It pairs perfectly with rib-eye and crunchy Patagonian potatoes and of course, Malbec. It is an Argentine classic.
My personal favorite of our wines to pair with this recipe is the Catena Alta Malbec. Sourced from three of our family's historic high mountain vineyards in Mendoza, the palate of the Catena Alta Malbec is full and rich with soft and sweet tannins and a silky, smooth structure. The multiple layers of cassis, black currant and blackberries are interwoven with hints of licorice and black pepper.
I raise my glass to the brave fathers who take on the role of family asador (barbecue master), bringing cheer to families and children all over the world. Salud!
As featured in Vino Argentino:
Many Argentine cooks keep a jar of homemade chimichurri sauce in the fridge (it keeps for several weeks) to marinate meats throughout the week. Chimichurri is always better after a few days, so it is often prepared on a Wednesday or Thursday to be ready for the weekend asado (barbecue).
CHIMICHURRI
1 cup/240 ml water
1 tbsp coarse sea salt
2 tbsp red pepper flakes
1/2 cup/15 g finely chopped fresh flat-leaf parsley
3 bay leaves
1 tbsp finely chopped fresh rosemary
2 tbsp finely chopped fresh thyme
1 tbsp finely chopped fresh oregano
10 garlic cloves, finely chopped
1/4 cup/60 ml red wine vinegar
1/2 cup/120 ml extra-virgin olive oil
Six 10-oz/280-g rib-eye steaks
Coarse sea salt and freshly ground
black pepper
PATAGONIAN POTATOES
3 russet potatoes
6 tsp unsalted butter
1 tsp salt
A few days before serving, make the chimichurri: In a small nonreactive saucepan, bring the water to a boil and add the salt and red pepper flakes. Remove from the heat and stir until the salt has completely dissolved. Let cool. Add the remaining ingredients and stir to combine. To store, pour into a glass jar, cover, and refrigerate for up to 1 week.
Place the steaks on a large platter and pour over 2/3 cup/165 ml of the chimichurri. Turn the steaks to coat them in the sauce. Let stand at room temperature for 2 hours.
Light a very hot fire in a large charcoal grill/barbecue or parrilla (Argentine grill/barbecue). Just before cooking the steaks, make the potatoes: Peel the potatoes and slice them very thinly on a mandoline or with a very sharp knife; do not place them in water as this will remove the starch and prevent the potatoes from sticking together. Divide the potatoes into 6 portions.
Heat a large cast-iron skillet over medium high heat and add 1 tsp of the butter, tilting the pan to spread the butter as it melts. In the center of the pan, lay one portion of the potatoes in a fan-like pattern, overlapping the slices. Work quickly so as not to burn the butter.
Brown the potatoes on the first side for about 4 minutes, then carefully flip them over with a metal spatula and cook for about 4 minutes on the second side. Sprinkle with a pinch of the salt, then transfer to a baking sheet/tray and keep warm in a low oven while cooking the remaining potatoes. Pour out the butter and wipe the pan with paper towels/absorbent paper. Repeat to cook the remaining potatoes, one portion at a time.
Remove the steaks from the chimichurri and season with salt and black pepper. Grill the steaks for about 6 minutes on each side for medium-rare, or until an instant-read thermometer inserted in the center of the steaks registers 135F to 140F/57C to 60C. Serve the steaks over the Patagonian potatoes, with a little chimichurri drizzled on top.
Laura shares a collection of her authentic Argentine recipes in her book, Vino Argentino: An Insider's Guide to the Wines and Wine Country of Argentina. Please visit www.vinoargentino.com for more information.