My oldest two attend a school without a "working" cafeteria. The school serves food, but it's not made on campus.
Their school serves a "catered-in" lunch. Parents are given a nine-week lunch calendar to mark and purchase the selected lunches ahead of time. All school lunches are delivered daily from Piggly Wiggly, Chick-Fil-A and Dominos Pizza.
It's a very predictable schedule. Mondays: hamburgers, Tuesdays: Chicken Sandwiches, Wednesdays: Corn Dogs, Thursdays: Chicken Strips and Fridays: Pizza... same meals every week.
I've talked to the assistant principal a few times and her response was:
I would personally like to get rid of the serving-food and meal-planning aspect of education (at their school)... but we have to provide some type of food option... so this is it. If every parent took responsibility for their children's nutrition we wouldn't be having this discussion.
What about healthier choices?
We used to serve small salads and fresh fruit (apples or oranges) with the lunches. They mostly ended up in the trash. We encourage all of our parents to pack fresh lunches for their kids... but if they choose not to, those are the options.
Obviously, I don't send my kids to that school for their cafeteria menu; they go there because their education is the best in our area.
What's the big deal about these catered lunches if I pack fresh ones for my kids every day? Well, Tuesdays are "chicken sandwich" days and Thursdays are "chicken strip" days. My daughter loves the chicken from the fast food restaurant and nearly every kid in her class "orders-in" on those two days.
Unfortunately for my daughter; I refuse to order fried chicken that arrives in a box, at room temperature and with no other fresh ingredients. Instead, I make my own baked chicken strips one night every few weeks.
My version is eaten at room temperature but are still crispy and delicious at lunch (her school does not warm food). I usually double or triple the batch when making them so I can save extras for another day. To freeze, arrange them on a baking sheet for one-hour (uncooked) and transfer them to a freezer safe bag.
Like most of my MOMables subscribers, I've gotten in the habit of packing lunches at night. So anytime my daughter wants to send homemade chicken strips, I pop a few in the oven while I'm making dinner, allow them to cool, pack them in her lunch box and refrigerate.
In the morning, I quickly warm the chicken strips in the toaster oven and off she goes with a much healthier version of the lunch. I hope your family enjoys these as much as my daughter does.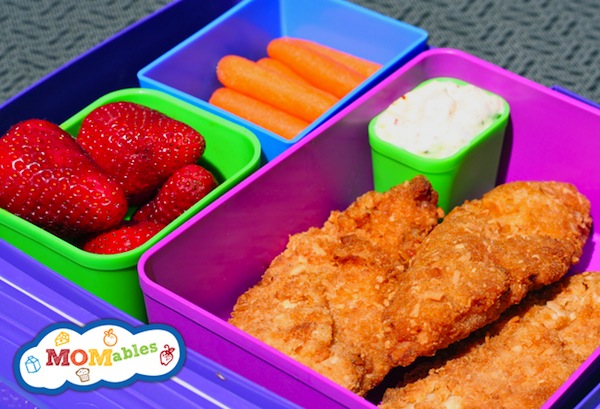 Baked Crispy Coconut Chicken Strips with Creole Honey Mustard Dip
Recipe: Courtesy
MOMables Lunch Menus
Ingredients:
8-10 boneless skinless chicken breast strips
4 tablespoons vegetable oil
Salt and pepper
1/2 cup panko breadcrumbs
1/4 cup whole wheat breadcrumbs
2 tablespoons shredded coconut (optional)
or, substitute coconut for 2TB Parmesan cheese
Olive oil spray (for baking)
Directions:
Preheat oven to 425 degrees F. Spray baking sheet with olive oil spray
Put oil in a bowl and the panko, breadcrumbs and coconut (or Parmesan) in a gallon size zip bag.
Season chicken strips with salt and pepper, then put them in the bowl with the oil and mix well to coat all the strips.
Put greased chicken strips inside zip bag, zip close and toss around to evenly coat all strips with breading.
Place coated chicken strips on a baking sheet and lightly spray the tops with olive oil spray.
Bake 10-15 minutes. Then turn them and continue baking another five minutes until they are cooked through (usually golden brown, but check because all ovens vary).
For Dip:
1/2 cup mayonnaise
2 tablespoons Zatarain's Creole Mustard
2 teaspoons honey
Directions:
Mix dip ingredients in a bowl until well blended. Serve on the side to dip.