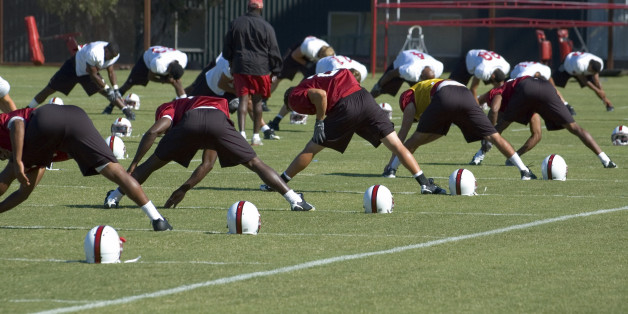 Christina Weiss Lurie, minority owner of the Philadelphia Eagles football team, insisted she would let her son with Eagles owner Jeffrey Lurie play football despite the growing body of evidence that concussions suffered during a game cause permanent brain damage. Her one stipulation is that the appropriate medical personnel were on the sidelines of the field during the game.
Lurie, when asked at Philadelphia Magazine's Thinkfest conference, argued that football is not dangerous at the NFL level, despite the record $870 million settlement that the NFL agreed to pay former players. "By the time the players get to the NFL, they have suffered 10 or so concussions," said Lurie. "We need to worry about the 10-year-olds that get hurt during a game. Their brains are not fully formed."
She also pointed out that other sports are equally as dangerous. "Many of my friends' daughters ride. They fall off the horse and get right back up on the horse without being checked medically first."
Lurie reflected onstage on her improbable journey from growing up in England to one of the few female owners in the NFL. "Having grown up in London, I loved soccer. I knew nothing about the NFL." recalled Lurie.
Being a female executive in the NFL has been an amazing journey. It's been invigorating. It's been eye opening... I was lucky to have Jeffrey Lurie as my partner when we first started. He had the same goals as I did, which was to make sure that we had a workplace environment where it did not matter whether you were a man or woman... We actually have many female execs at the Eagles. I am really proud of that.
Lurie seemed oblivious of her inherent responsibilities as one of the few women with a seat at the NFL owners' table. She acknowledged, after her talk, she had written and talked to NFL commissioner Roger Goddell in the aftermath of Baltimore Ravens Ray Rice domestic violence incident yet demurred on taking a leadership role in addressing domestic violence in the league.
"The women that the NFL has consulted with and named to the committee are experts on domestic violence like prosecutors," said Lurie. "I am busy with the Eagles."
Lurie, who is a two time Oscar winner, recently finished two new documentaries. Dishonesty, which is about lies, will air on CNBC in March, and We are the Giant, which is set in the Middle East will come out in December. She has recently expanded her slate to include horror and action films. Her first project being a biopic of Veuve Cliquot, the champagne widow, starring A-lister Rachel Weisz.
"I didn't grow up thinking about the glass ceiling," said Lurie. "Maybe it was willful ignorance, but never thought about it. In film, you want to choose the best story possible. It doesn't matter whether you are a female or male producer. It's the story that counts and how you make the film."
Her advice to women:
The female aspect never came to me. I just ignored it and went on doing what I felt I was good at. I think that is an important thing for women. Find your passion. Don't think of the limitations. Follow your dreams. The limitations will go by the wayside.