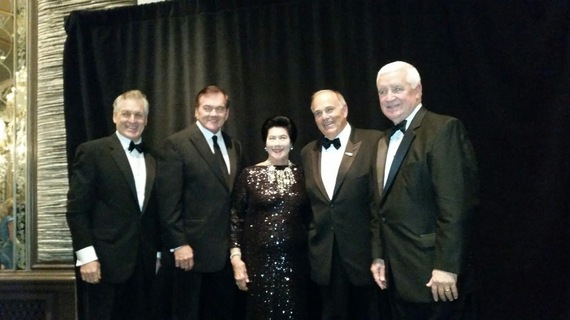 The state of Pennsylvania has many eccentric traditions. Cheesesteaks, Mummers, Punxutawney Phil, a statue of the fake boxer Rocky in front of the Philadelphia Art Museum steps are some of the more popular ones. The Pennsylvania Society, a quaint 117-year-old tradition wherein Pennsylvania politicians and their acolytes congregate at the Waldorf Astoria in New York for a gala dinner every December, is maligned for its lavishness but may be the only thing that unites a state that James Carville describes as "Philadelphia in the East, Pittsburgh in the West and Alabama in the middle."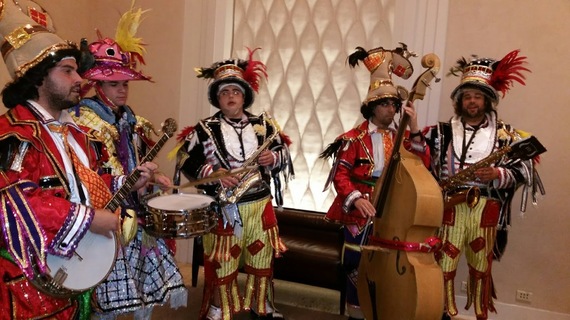 I'm a proponent of this and any event that promotes bipartisanship in a political world that is increasingly divided and rancorous. One of the more touching moments of the weekend was corralling four of the former Pennsylvania governors of both parties-Ed Rendell, Tom Corbett, Tom Ridge, and Mark Schweiker-for an official photo. They were so busy gabbing with each other that they didn't want to stop and take a picture.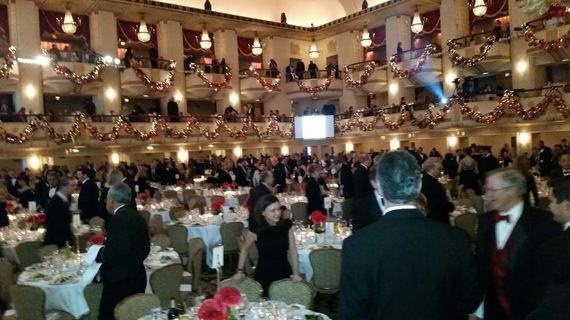 As with most things this election cycle, Republican president candidate Donald Trump, who has only the most tenuous link to Pennsylvania through his studies at the Wharton School, dominated the headlines coming out of the Pennsylvania Society. He spoke before the Commonwealth Club, the Republican Party of Pennsylvania's annual fundraiser at the Pennsylvania Society. Trump's appearance did not stop GOP national committeeman from Pennsylvania, Bob Asher, from proudly wearing his Rubio for President button. Congressman Tim Murphy was one of the few Republican elected officials that attended the event. Senator Toomey and Congressman Charlie Dent stayed away.
Protesters
had to be thrown out of the event by security. Veteran Inquirer political reporter Tom Fitzgerald noted that this was not a good image for the GOP. The protest footage was eerily reminiscent of the riots at the 1968 Democratic convention in Chicago, a debacle from which took the Democratic Party years to recover. In even worse news for the GOP, state politicos reported that the luncheon raised 20 percent less than other years. The question for pundits to ponder is if the Trump fundraising haircut is a one-time thing or a trend that will continue if he's the party nominee.
Democratic front runner Hillary Clinton had a more low key presence at the confab; sending only the Pa campaign finance director, Giancarlo Stefanoni. He said, "Hillary did not have an event at the Pa Society because most of the people that attend this have already maxed out their donations per federal elections laws. Maybe, we will have a thank you reception at next year's event." He expects Mrs. Clinton to headline a fundraiser in Philadelphia in January or February.
As longtime Philadelphia Daily News columnist John Baer wrote this year the Pa Society was "odd". Governor Wolf and most Harrisburg politicians stayed away due to the budget impasse. Lieutenant Governor Mike Stack, on the other hand, was ubiquitous suggesting that he believes that all Pennsylvania governors named Tom suffer from the one term curse. Mayor elect Jim Kenney was also MIA. His populist act is popular with the news media but may be foolhardy for a mayor that needs to raise lots of money to fulfill his election promises. Governor Rendell, who along with his wife was the Society's Gold Medalists, made the fundraising pitch in his absence. His heartfelt plea sounded like a helicopter parent doing his recalcitrant child's homework.
Former Secretary of Homeland Security Tom Ridge held court at Congressman Charlie Dent's reception denouncing Donald Trump's anti-Muslim rhetoric every chance he got. Senators Toomey and Casey held packed fundraisers. Two of Toomey's Democratic opponents made the trek to New York. Former Secretary of the Pennsylvania Department of Environmental Protection Katie McGinty took the more traditional approach and dropped by most of the receptions. Braddock Mayor John Fetterman held court in the Waldorf Astoria lobby. Mocking the event with his tuxedo T shirt, my colleagues in the press fawned over him. I was a little more skeptical that heckling an event attended by many big donors was a good fundraising strategy for a small town mayor, unknown to most Pennsylvania voters.
In the year 2015, it was disappointing that a limited number of minorities and women, in their own right, were seated on the dais. Judge Marjorie Rendell was mostly honored for her work as First Lady of Philadelphia and Pennsylvania. The one solace was the many organizations that were created to rectify the situation held packed events during the weekend. These included the Genevieve Society, which encourages, educates, supports and mentors women seeking a greater role in society through elected office, public service, and corporate governance; League of 1789 reception, which celebrates bipartisan leaders of color, and the Forum for a Better Pennsylvania, which is committed to increasing the quality of social, civic, and economic participation by African Americans across the Commonwealth.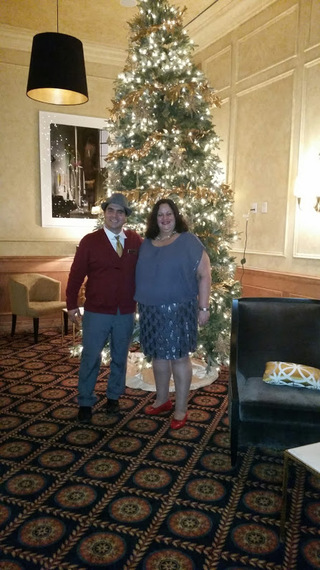 Thanks to the staff of the fabulous Executive Hotel Le Soleil New York with whose help I could not have reported on this story.