Just when we thought cold evenings and chilly mornings were behind us, the weather turned brisk in DC. Luckily, I froze a container of Cock-a-Leekie soup from a batch I made during the winter. Amazingly addictive, this soup is a great weekend one-dish supper and freezes well. It has a few steps, but the result is well worth the effort.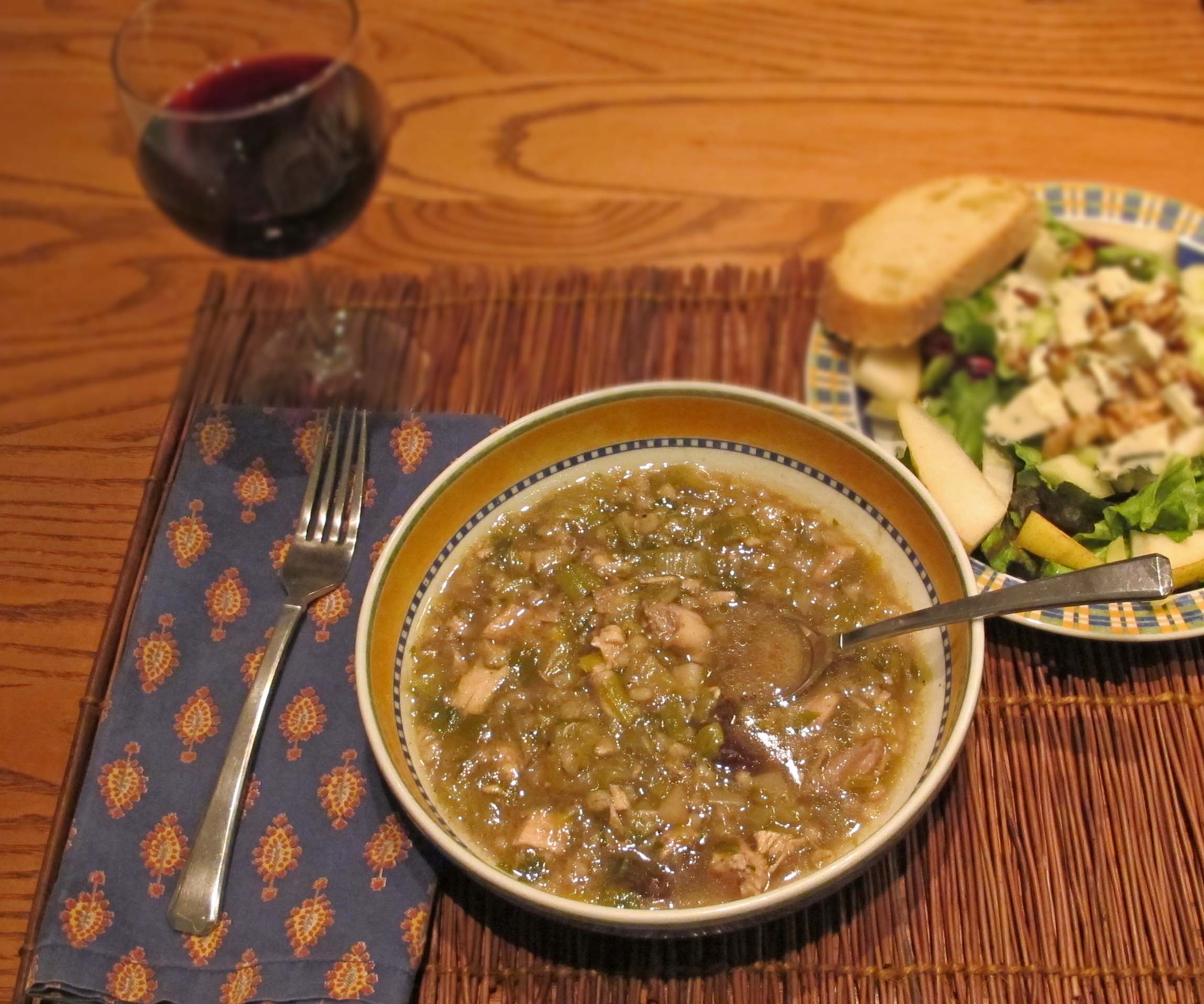 Cock-a-Leekie is Scottish in origin; the earliest written recipe dates from 1598. Typically its main ingredients are meat or chicken, leeks, and prunes -- with variations on the spices and extras. These days the soup is served on the Scottish national holiday, St. Andrew's Day, the birthday of Scotland's bard, Robert Burns, and a winter solstice holiday called Hogamanay.
While I'm not Scottish, I may have to start celebrating one or more of those days. Imagine Cock-a-Leekie soup on a cold evening, with ale, and dark bread, followed gingerbread and whipped cream for dessert. After dinner, perhaps a bit of good whiskey and Burns poetry or Scottish music too!
This recipe is from Elizabeth Schneider's authoritative Vegetables from Amaranth to Zucchini, a fabulous resource, especially if you're inclined, as I am, to buy interesting-looking vegetables and then wonder when you get home exactly what you've got or how to cook it. (Elizabeth is a friend, but that isn't why I recommend her book. I have spent many enjoyable hours pouring through this treasure and refer to it often for information and recipes.)
Cock-a-Leekie Soup
Servings - 6 as a main course Cost - $17.50 pot / $3 per serving
Reprinted with permission from Vegetables from Amaranth to Zucchini, with my equipment list and cost information, plus notes in italics.
Ingredients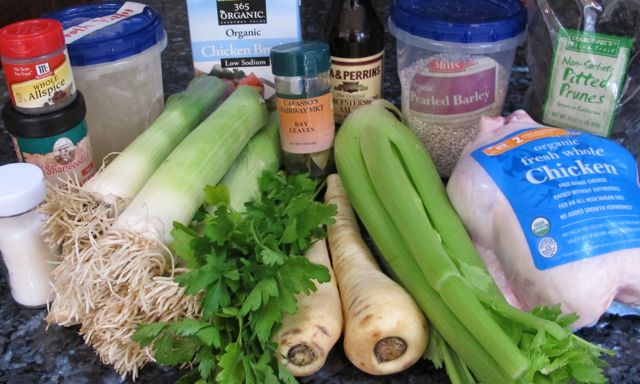 2 parsnips
2 quarts chicken broth (or a mixture of chicken and vegetable broths) - I used a combination of store-bought chicken broth and homemade vegetable broth.
3 celery stalks with leaves, sliced
2 bay leaves
1 (whole) chicken, about 3½ pounds (If the idea of cutting meat off a whole chicken freaks you out, buy one cut up or use the equivalent weight of assorted chicken pieces.)
2½ pounds of leeks (5 medium leeks)
½ cup pearled barley
½ tablespoon curry powder (Equivalent to 1½ teaspoons. This amount is approximate and may need to be adjusted if your curry is particularly hot or mild.)
1 teaspoon ground allspice
1 teaspoon kosher salt (omit if broth is salted)
12 pitted prunes, halved
About 2 teaspoons Worcestershire sauce
½ cup minced parsley and/or celery leaves
Equipment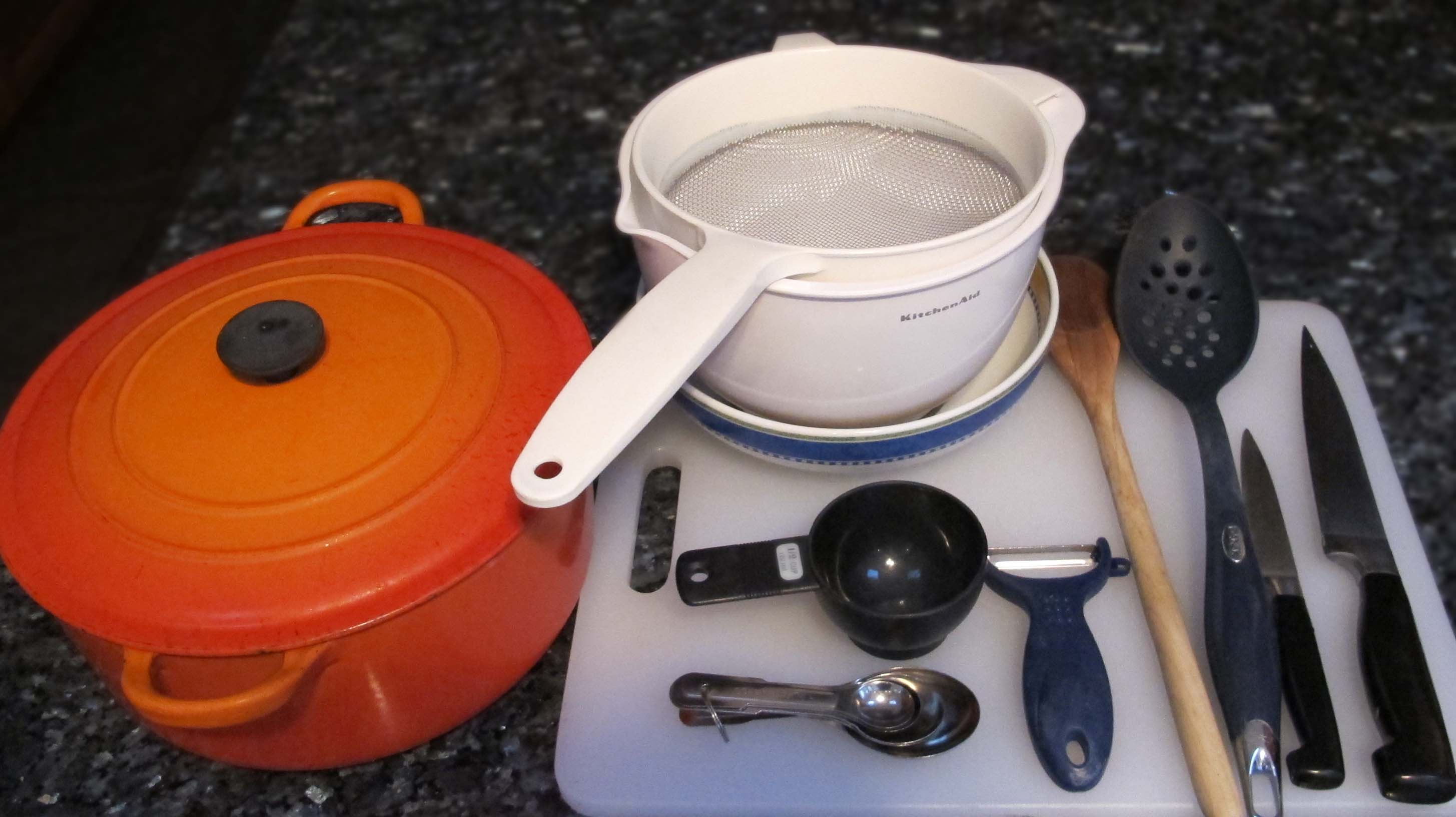 Cutting board
2 knives - small and med/large
Vegetable peeler
2 bowls
Measuring spoons
Measuring cup (½ cup size)
2 large spoons (one with holes or slits)
Large pot
Strainer
For step-by-step directions, including pictures, click here.