What could be better when you're behind on your holiday chores than making cookies while you sleep?ᅡᅠIf there isn't enough time left between now and whenever you need a batch of cookies to bring to a friend or family member's house, I can't add hours to your days, or make cash magically appear so you can buy insanely expensive cookies from a bakery. But I can give you my no-longer-secret way to stretch time, spend almost no money, and consume even less energy -- making holiday treats that literally "bake themselves" overnight.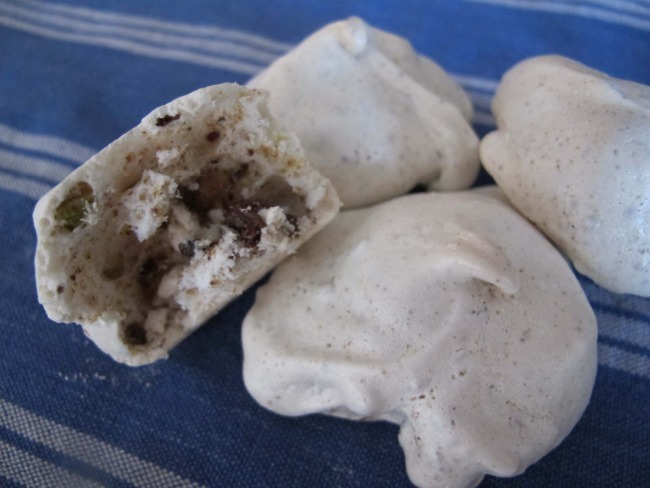 I'm not kidding; you can put these sweet morsels in the oven at midnight, turn it off and go to bed. You'll wake up in the morning to beautifully (and safely) baked cookies. Meringues have several other attributes that endear them to me: they don't contain any butter, oil or other fat, you can flavor them with an almost unlimited number of add-in options, and you can make them as small as a silver dollar or several times that size.
First, the ABCs of meringues
A - Use room temperature egg whites for meringues. ᅡᅠIf your egg whites are right out of the refrigerator, either leave them on the counter for 3-60 minutes until they are room temperature or warm them up more quickly in a small glass or cup inside a bowl that contains 1-2 inches of hot water. ᅡᅠ For a fun way to separate the whites from egg yolks, check out this video tip.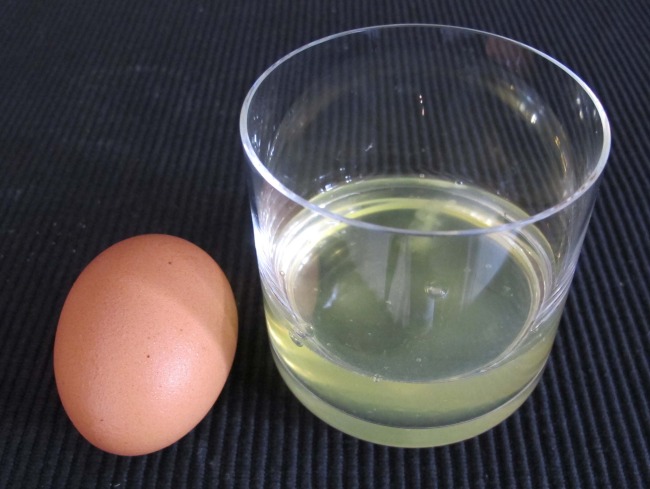 B - Bake them on a low humidity day.ᅡᅠ Meringues don't bake properly on a rainy or humid day. ᅡᅠEgg whites freeze well, so if the weather isn't cooperating, freeze the whites and wait for a better meringue-baking day.
C - Be calm when you make them.ᅡᅠ The process (until baking) doesn't take long and it's not complicated, but it does require patience or you'll deflate the egg whites and end up with pancakes instead of cookies. ᅡᅠIf you're not in the right mood, save the recipe for later or adjust your attitude before starting.

Meringue Cookies
Servings - 2-3 dozenᅡᅠsmall or 1 1/2-2 dozen medium-sized cookies. ᅡᅠCost - $1-3 depending on add-ins.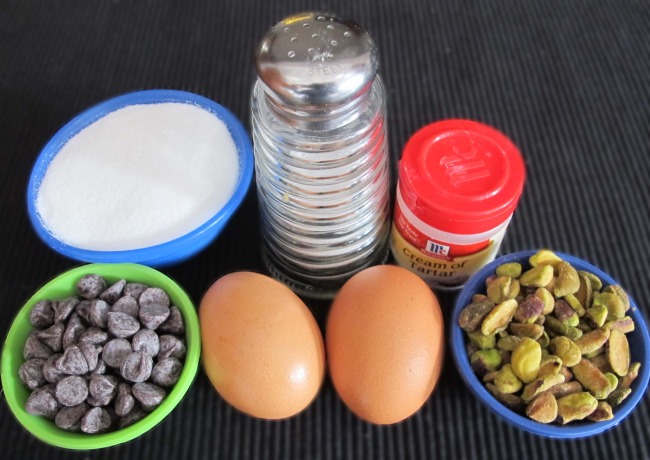 2 egg whites
ᅡᄑ cup sugar
ᅡᄑ cup add-ins (e.g. chocolate chips, chopped nuts, sweetened coconut)
Pinch of salt
2 large pinches (less than ᅡᄐ teaspoon) cream of tartar (optional)
ᅡᄑ teaspoon vanilla or ᅡᄒ teaspoon or so of other flavoring such as a liqueur (optional)
Equipmentᅡᅠ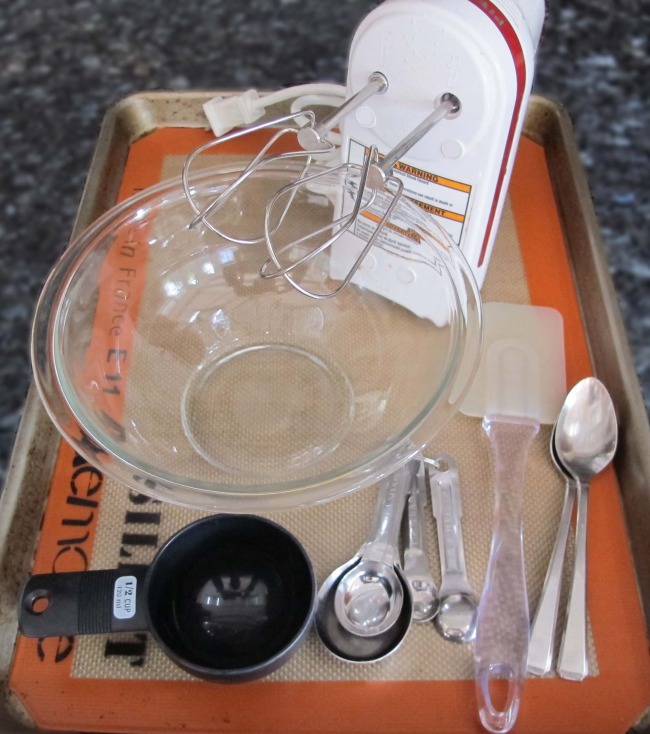 Bowl
Mixer
Spatula
2 cookie sheetsᅡᅠ
Parchment or liner
2 spoons (size dependent on size of cookies you want to make)
Measuring cup for sugar
Measuring spoons (optional)
Food processor or cutting board if you add-ins need to be chopped (optional & not pictured)
Preparation
For step-by-step directions, including pictures, click here.