If I'm being honest, my love affair with meatballs used to be an eating-only relationship. Although I was loathe to admit it, I had serious meatball-making issues. Either they wouldn't hold together and cooked up into meat sauce or they were rock hard. It took a leap of faith and self-administered tough love to get me beyond craving and into the kitchen.
And like most converts, now that I've gotten the hang of making meatballs, I'm out proselytizing for the cause. You can make them too -- and join the ranks of the folks who make meatballs themselves, rather than rely on the kindness of others (to cook for them) or the vagaries of restaurants.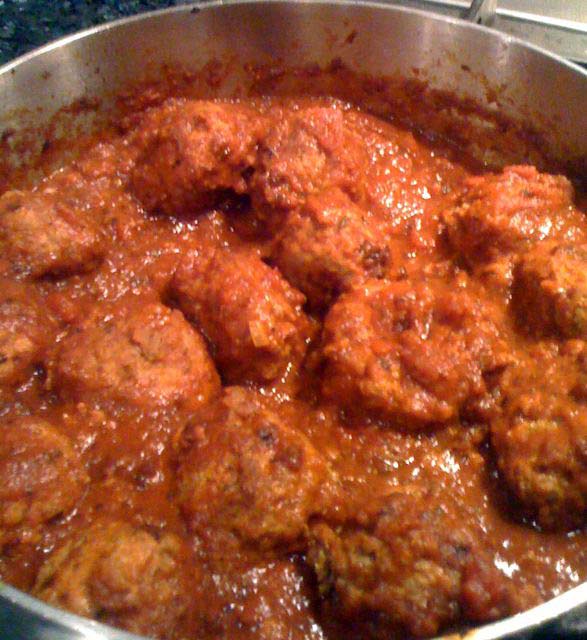 This version is a bit complicated, but worth the effort. You could use just one or two types of ground meat, instead of three. However, the combination gives the meatballs a luscious, complex taste and texture. Besides, many groceries carry all three types (beef, pork and veal) and the price disparity among them is not large.
The bread should be dense and chewy. I used semolina, but most any good bread (other than baguette, which is mostly crust) should be fine.
This recipe makes a big batch, but you can freeze any you won't eat within 1-3 days. Cook them all, then separate the ones you will eat right away and make the sauce with those. Freeze the rest in a tightly closed and labeled container. When you want more, defrost them in the refrigerator overnight or for several hours, and let the defrosted meatballs cook in tomato sauce per the last step in the directions below.
Meatballs and Red Sauce
Servings: 8 - 10 servings (26 - 30 meatballs) Cost - $17.31 total/approx. $2 per serving
Ingredients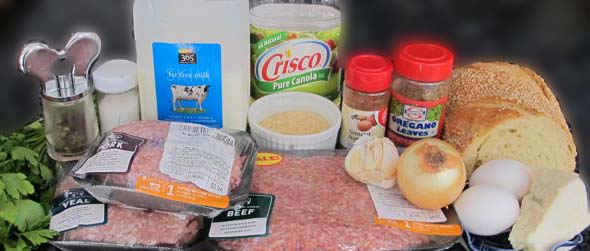 2.75 - 3 pounds of ground meat, preferably a combination of ground beef or chuck, pork and veal. I used about 1.2 pounds of lean ground beef, .79 pounds of ground pork and .78 pounds of ground veal.
2 thick pieces of good bread, with crusts cut off
⅔ cup of milk
Heaping ⅓ cup of fresh bread crumbs (store bought will work too, but if you have crust from the bread, just grind that up)
Heaping ⅓ cup of grated Parmesan cheese
½ small onion, finely chopped (about ⅓ cup)
2 eggs
2 cloves of garlic, minced
¼ cup or less of parsley, finely chopped
½ teaspoon dried oregano
2 dashes ground nutmeg
Salt (½ teaspoon for meatballs, extra for sauce)
Ground black pepper to taste (few turns of the pepper mill)
⅓ - ½ cup of canola or olive oil
1-28 ounce can of Italian-style peeled tomatoes or chopped tomatoes
Equipment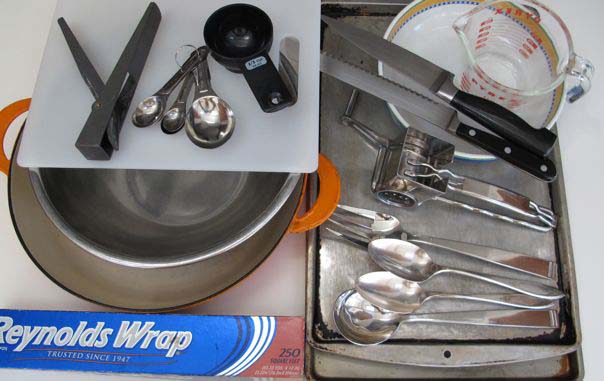 Large bowl
Medium size bowl
Measuring cup (⅓ cup size) for dry ingredients
Liquid measuring cup
Measuring spoons
Cheese grater
Garlic press
Bread knife
Regular knife (for cutting onion)
Large fork for stirring meatball ingredients
3 large spoons or tongs and spoon for cooking meatballs
Aluminum foil (optional) – to cover cookie sheets if you prefer to throw away foil and have less to clean up on the cookie sheets. (Note: You should still clean them with hot, soapy water, even if using foil.)
Large, heavy pan
2 cookie sheets
Food Safety Note
In order to prevent contamination from raw meat, after your hands or equipment touch the meat, thoroughly wash them using hot, soapy water before moving onto the next step. If you are setting equipment aside to be washed, move it to the cleaning area immediately. Do not put it down on a counter or cutting board or you will need to wash that surface as if the raw meat had been on it. Similarly, do not cross-contaminate surfaces by putting raw and cooked meat on the same surface.
Preparation
For step-by-step directions, including pictures, click
here.