Now that we're in post-holiday mode, it's time to remember how to get from Monday to Friday without dinner invites from friends, work parties, receptions, restaurant dinners and take-out. Don't get me wrong -- I love all those options. But we're back to "life as usual," and that means figuring out what to eat at home most weekday nights.
Everyone who eats chicken should have a few simple and quick chicken dishes they can whip up on a weekday. One of my favorites is my mom's recipe for breaded chicken cutlets. Another is this chicken and vegetable dish.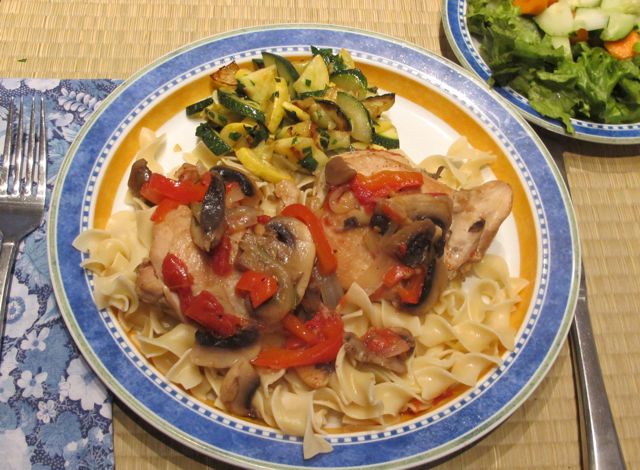 Although I call it a recipe because I've given the detailed directions, it's really a template because there are probably infinite ways you can vary the basic cooking techniques to come up with your own version.
This recipe works for me on so many levels (besides how simple it is to make):
it incorporates vegetables, so it's really a 1 dish meal that only needs a starch and salad;
it uses only 1 pan, which makes the person who cleans up your mess (maybe you) very happy;
it has sauce, so it's moist;
it's incredibly adaptable – you can make it as long as you have chicken, chicken broth, cooking oil, some vegetables and an herb or two; and
it's great reheated the next day, so you can make it ahead of time, or enjoy the leftovers.
Stove-top chicken – 2 servings + 1 piece for lunch the next day Total cost – $8.80 for 2+ (less than $4 per serving)
Ingredients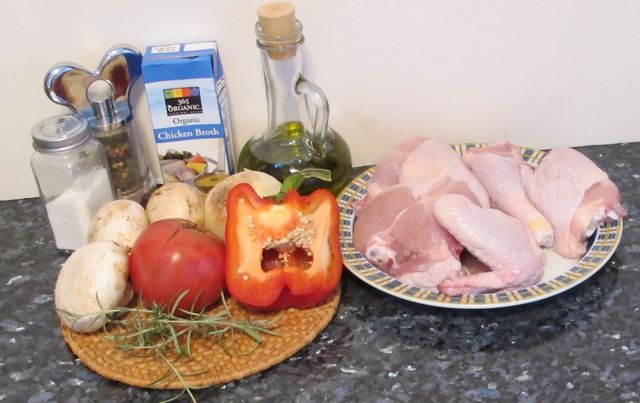 5 pieces of chicken. I used 1 large breast split in half, 1 leg, 1 thigh and 1 wing. This was ½ of the package I bought containing a whole chicken cut up. All I had to cut was the chicken breast. You could use any combination of pieces or even all of one type.
about 2 tablespoons of olive oil or other cooking oil
1 small onion, sliced into thin pieces or chopped
½ red pepper, sliced into thin pieces or chopped
1 cup sliced mushrooms
1 tomato chopped
1 tablespoon or more of chopped fresh rosemary or 1-2 teaspoons dried rosemary, plus a bit more to add at the end on top of finished dish
8 ounces of chicken broth – I used boxed broth
salt and pepper to taste
Equipment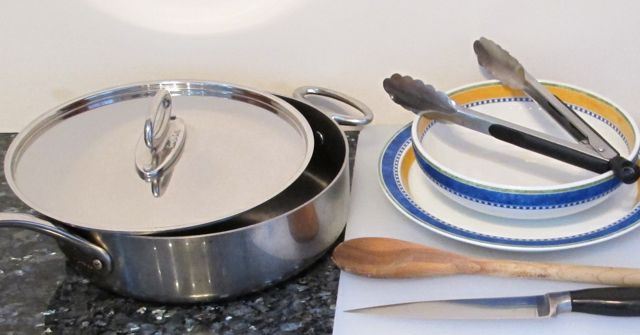 Cutting board
Knife
Spoon (for stirring)
Large pan with cover (big enough to hold chicken without pieces touching each other)
Tongs or large fork
Plate
Bowl
For step-by-step directions, including pictures, click here.