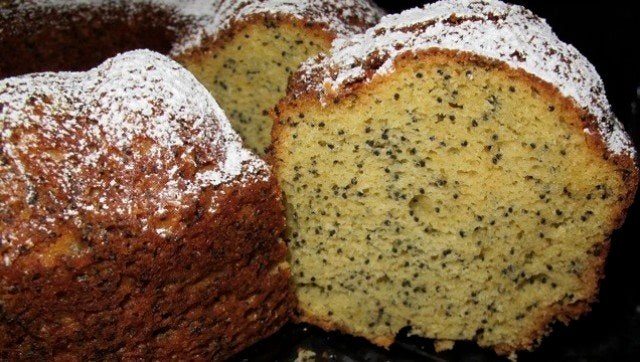 Should I hide the fact that one of my favorite (and most requested) cakes is made with a mix?  Should I be embarrassed that it's so simple to make that my mom -- in her inimitable fashion -- calls it "Stupid Cake"? After all, as she says, "Any stupid fool can make it." I don't care. The cake is delicious and I'm not ashamed of it. If my confession gets me thrown out of the always-from-scratch club, so be it.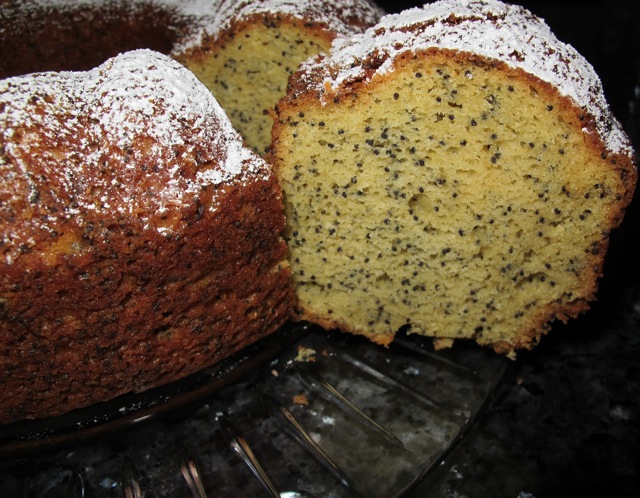 I often make substitutions and will give you variations on this theme in another post. But for now, I advise trying this recipe with the specified ingredients. If you are not old enough to purchase liquor or don't want to use it, you could use an equivalent amount of orange juice. However, that substitution will make the cake less enticing, because the best part, IMHO, is the wonderful aroma the cream sherry imparts to this cake.
Speaking of the sherry. My "rule" on wine and other liquor as recipe ingredients is to use least expensive type that I would be willing to drink. In this case, I bought sherry that cost $11.99 plus tax. Maybe I could have saved a few dollars if I had done more comparison shopping, but I was in a rush.) If you buy a less expensive brand, you can save about 30 percent, but because you only use 4 ounces in each cake, the savings is less than $1 in the cost of the cake.
This cake is a bit more expensive than other cakes made from mixes. However, the taste is much better, in large part because of the two most expensive ingredients -- the poppy seeds and the sweet sherry. If you compare it to bakery cakes, the cost is quite reasonable. So consider it a "company cake" if you're on a budget. And keep in mind that recipes in cookbooks and most other sites don't provide cost data. Do you typically figure out how much a recipe is going to cost before you buy the ingredients? If not, maybe you'll start doing it now?
A note on the pudding and cake mix ingredients. You must use instant pudding and pie filling -- not the type that may be labeled "cook and serve" and takes longer to cook. I use Duncan Hines cake mix. The one time I tried another brand, the cake didn't come out as well. I have no behind-the-scenes information about cake mixes, but I suspect that each mix brand is formulated differently. Try another brand at your peril.
You can buy poppy seeds in the spice and herb section of the supermarket. Most brands I found are sold in plastic or glass containers holding approximately 2 ounces. Brands vary in the exact amount sold in the container. As long as you use around that amount, the result will be fine.
You can mix this cake with a powerful stand mixer, a small hand-held mixer, or by hand. You're not trying to beat the thing to death, just mix it until all the ingredients are combined. If you do a decent job of scraping the bottom every once in a while with a spatula, you should not need to mix for more than a few minutes, even by hand, and a shorter time if using a stand or hand-held electric mixer.
Poppy seed cake
10+ servings.> Total cost - $13.82/less than $1.40 per serving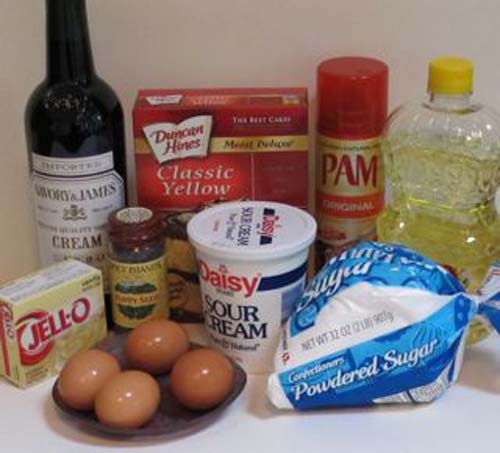 1 box of Duncan Hines yellow cake mix
1 small box (3.4 ounce size) of instant vanilla pudding (I prefer plain vanilla to French vanilla)
8 ounces sour cream
1/2 cup canola or other oil that doesn't have strong taste (not olive oil)
1/2 cup cream (sweet) sherry
4 eggs at room temperature
2 ounces poppy seeds
canola oil spray or bit of oil or butter to grease the pan
1-2 teaspoons of confectioner's sugar (optional) for dusting completed cake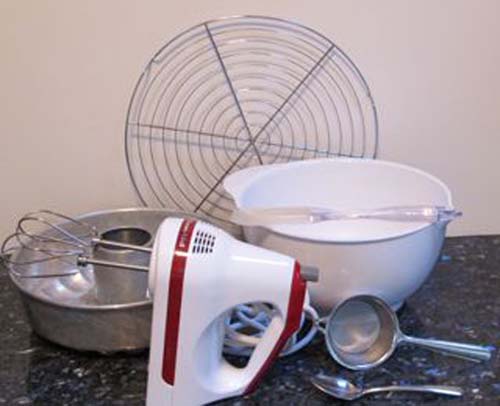 Large bowl
Spatula
Mixer (optional) or large spoon or fork
Wire rack for cooling
Small sieve
Teaspoon
Wire rack for cooling
For step-by-step directions, including pictures, click here.