Many cultures eat filling encased by dough or pastry. There are samosas, pastels, potstickers, borekas, and many more. If I call them meat pies, I think of Sweeney Todd and homicidal barbers. But empanadas, the Spanish name, sounds lovely to me and conjures up visions of delicious morsels hot out of the oven. I like to eat empanadas for lunch or dinner, with a salad or soup. No fork required – just need a napkin for wrapping around and you're set to enjoy.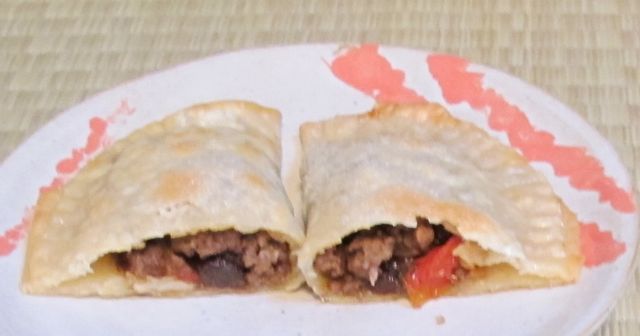 The one note of caution is about eating, not making, empanadas. Be careful if you dig in when they come right out of the oven. These guys are piping hot in the center! In this respect empanadas are much like pizza for me. If I'm too anxious to eat, I end up burning the roof of my mouth and vowing to take it more slowly next time – only to forget that promise by the next time I have one straight out of the oven.
My friend Aviva Goldfarb, a cookbook author and CEO of the Six O'Clock Scramble, specializes in simple meals for busy people. Her recent empanada recipe for families with young children inspired me. My version is spicier, with the possibility for hot sauce on the side if that suits your taste buds.
This recipe combines sweet and spicy inside, with a light dusting of sugar on top. You can leave off the sugar, but it does add a nice crunch and contrast to the spices. Even if you find it strange to put olives and raisins in a meat dish, try it. Although I didn't include it in this recipe, traditional empanadas often contain chopped or sliced hard-boiled egg, which you can add if you're feeling adventurous. If you don't have the spices in your pantry, buy them in small quantities or improvise with what you have. Here are hints on buying spices. I didn't try this recipe with a vegetarian meat substitute, but I would be interested in the results if you do.
For the dough, I used Goya pre-made empanada "discos" from the freezer section of my local ethnic food store. After you let them defrost f(don't microwave them, just let them sit on the counter until they are slightly flexible) and roll them out slightly, they're easy to fill. If you can't find pre-made empanada discs, you can use refrigerated pie dough cutting each pie round into quarters as Aviva does in her recipe. In that case, lower the oven temperature to 375 degrees.
Empanadas
Servings - 6 pastries (2 -3 per person) Total cost - $6.71 for 6/$1.20 per empanada
Ingredients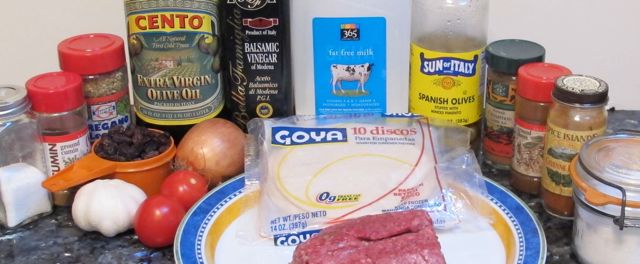 1 medium onion, finely chopped
1-2 cloves garlic, crushed
1 tablespoon oil, preferably olive oil
½ pound ground beef or turkey
¼ cup fresh or canned tomatoes chopped
¼ teaspoon salt
½ teaspoon cinnamon
¼ teaspoon cumin
2-3 dashes (much less than ¼ teaspoon) ground cloves
¼ teaspoon crushed oregano
2-3 dashes of ground red (cayenne) pepper or crushed red pepper flakes
10 small (or 4-5 large) green olives, sliced (preferably stuffed with red pimentos)
1 tablespoon of balsamic vinegar
6 discs from package of 10 pre-made empanada discos
1 tablespoon milk (or substitute oil) to brush on top of closed empanadas
1-2 teaspoons sugar to dust empanadas (on top of milk or oil) before baking
Equipment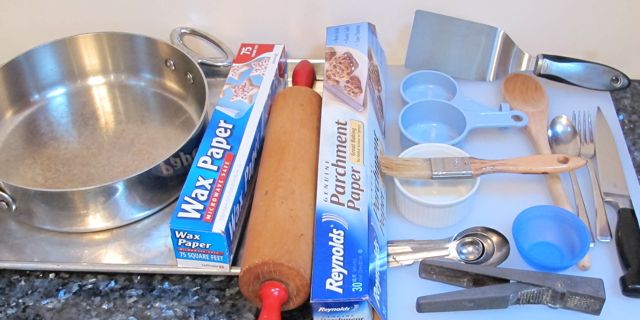 Cutting board
Knife
Garlic press (or use back of the knife to press garlic or just chop it)
Large pan
Large spoon for stirring
Smaller spoon for filling empanadas
Fork
Rolling pin or a can from your pantry
Waxed paper
Parchment paper or oil for greasing cookie sheet
Cookie sheet
Pastry brush (or a piece of paper towel) and small bowl for milk glaze
Pancake-type turner or other implement to remove empanada from cookie sheet
Preparation
For step-by-step directions, including pictures, click here.