We love fresh bread, but often find that it goes stale before we finish the whole loaf. I hate to waste food, and have a sweet tooth that is the bane of my humble existence. The solution -- bread pudding.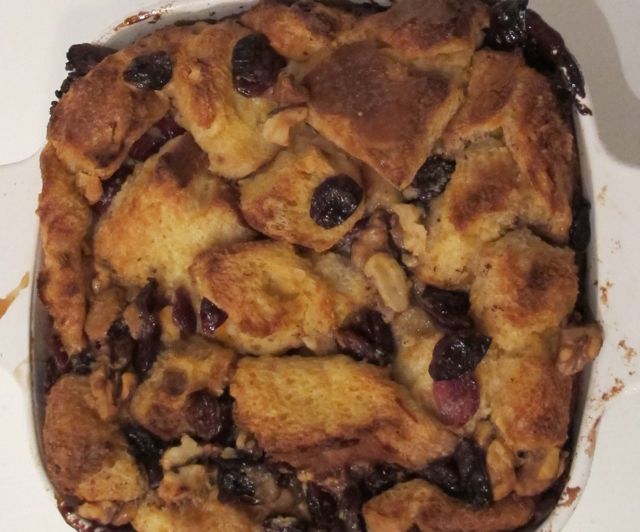 If you're searching for the ideal sweet comfort food, bread pudding might just be it. Whether you serve it for breakfast or brunch, dessert or late afternoon snack on a lazy weekend, it is really more like French toast on steroids than a smooth pudding. Bread pudding is best eaten straight out of the oven, though you can re-heat leftovers. Frankly, I can't remember the last time I had any (leftovers) and usually scrape out the last bits to munch on before I clean the baking dish. You can prepare it ahead and refrigerate it overnight, covered. Then take it out and bake the next day. In that event, you may need to cook it a bit longer.
This is a good recipe for multi-taskers. It has a couple of steps when you need to be nearby the kitchen for a total of about 90 minutes (first while the bread is crisped up, then when the pudding sits before baking, and finally for about 45 minutes of baking time) but you can be doing something else during those periods. The actual preparation is short and simple.
As with many recipes that call for nuts, dried fruit and chocolate chips, you can substitute different varieties or omit one of more of those ingredient categories. And if you don't have an orange, you might add ¼ teaspoon of almond extract or another ½ teaspoon of vanilla or substitute ¼ cup of orange juice for ¼ cup of the milk. This recipe uses relatively little sugar, as the chocolate chips and dried fruit provide sweetness. If you don't have brown sugar, use white, though I like the extra zip from the molasses that is in brown sugar.
Bread pudding
Servings - 4 Estimated Cost - $3.40
Ingredients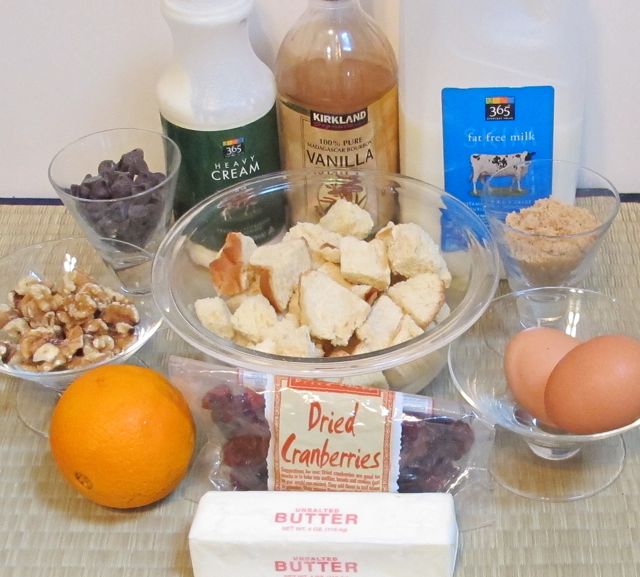 2 cups of bread cut into cubes about ¾-1" (size of your thumb from nail to first knuckle). I prefer challah (egg bread with a soft crust) but any type of good bread works. If yours has a hard crust, cut it off, as it won't absorb liquid. Don't worry crumbs or about making all the cubes a uniform size. This is a "forgiving" dish that has a rustic look, so crumbs mixed in and lopsided cubes are fine.
2-3 tablespoons of butter
½ cup semi-sweet chocolate chips
¼ cup chopped walnuts
¼ cup dried cranberries
2 eggs
½ teaspoon vanilla
1 teaspoon grated orange rind
1 cup milk
½ cup heavy or whipping cream (not from aerosol can)
2 tablespoons light brown sugar
Equipment
1 quart baking dish (holds 1 quart of liquids)
cookie sheet or low sided baking pan
bowl
whisk or large fork
chopping bowl and blade
grater
small plate
measuring spoon
½ and ¼ cup - measuring cups for solids
1 cup (liquid) measuring cup

For step-by-step directions, including pictures, click here.