Crushing spices in a mortar and pestle is a great way to get out your frustrations. There is something so satisfying about pounding away, especially when the effort is productive and the result so delicious. If you doubt me, take a few cumin seeds and crush them. The bonus is the wonderful smell that you'll release when you do it. Compare the result to the standard cumin powder you can purchase at the grocery store.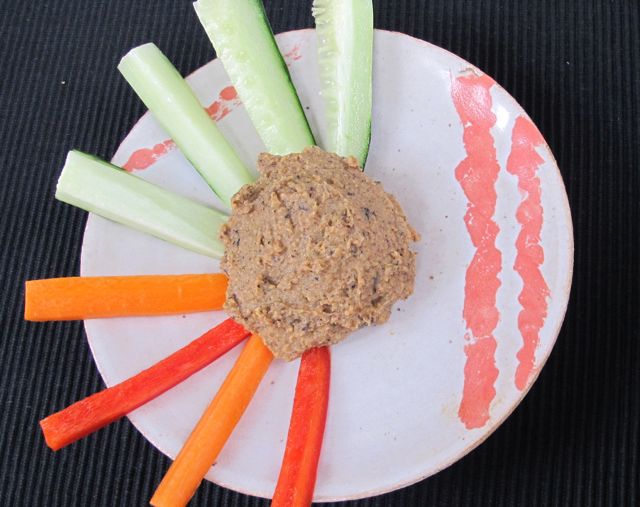 If you're delighted with the freshly ground spice, want to take it up a notch? Try roasting the seeds first, then crushing them. The aroma and taste are amazing. It's easy -- put the seeds in a small dry pan under a medium-low heat and stir for about 10 minutes. They darken from a light-medium brown color (almost like brown rice) to a richer, dark brown. As they roast, the seeds pop, like little jumping beans. Kind of cute, no?
This recipe for roasted cauliflower and cumin dip is a variation on the easy roasted cauliflower I posted a few months ago. Although it has a few more steps, it is almost as easy as Michael Ruhlman's wonderful recipe. It would be an excellent appetizer for an Indian-style meal, perhaps with dal, curry, rice and assorted condiments. The dip tastes best chilled, so it's a great advance-preparation dish. Serve it with pappadums (delicate Indian crackers made with lentil or chickpea flour), plain wheat flour crackers such as water biscuits, or cut-up vegetables. The recipe is vegetarian, and if you substitute oil for butter, it is also vegan and pareve.
I left the amount of cumin variable in the recipe. A full teaspoon provides a strong taste that lingers (nicely in my opinion) at the finish. If you go for a more subtle flavor, roast and crush the whole teaspoon of cumin seed, but when it comes to adding it to the cauliflower, start with a ¼ teaspoon and taste after it is incorporated. Keep in mind that the flavor will seem more intense once the dip cools, so you might want to add ¼ - ½ teaspoon while it is warm, then wait until it cools before deciding whether to add more.
Roasted Cauliflower and Cumin Dip
Servings: 1½ cups/serves 6 Total Cost: Approximately $3.00/$.50 per serving
Ingredients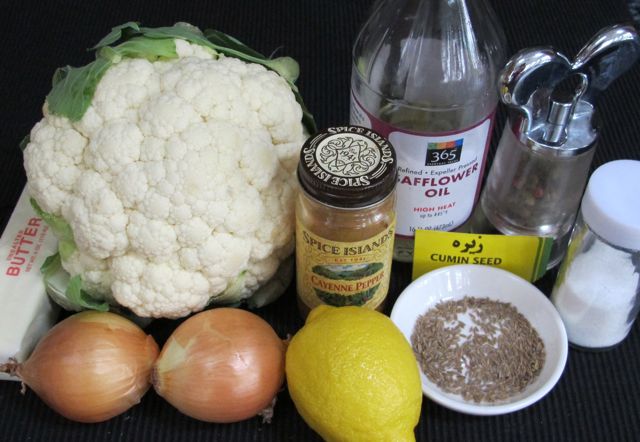 1 head of cauliflower
2 small onions, peeled and cut into quarters
1 ½ tablespoons canola or other oil with high smoke point + more if you omit butter
3-6 tablespoons butter (optional – can substitute oil)
1 teaspoon of cumin seeds, roasted and crushed
Kosher salt to taste
1-2 pinches or more of red (cayenne) pepper
Freshly ground black pepper
Juice of ½ lemon (about 1 tablespoon)
Equipment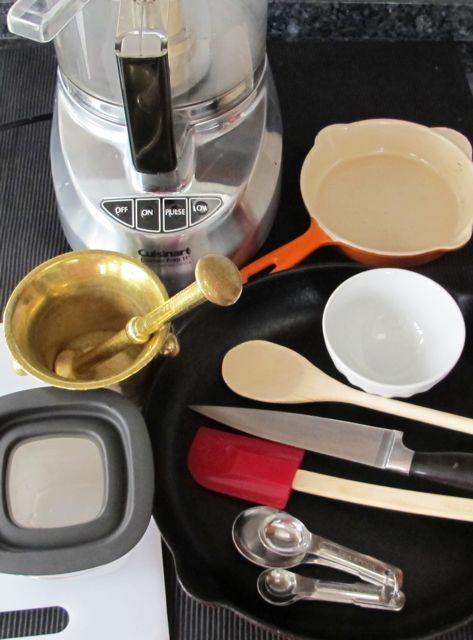 Cutting board
Knife
Measuring spoons
Small bowl
Large oven-proof pan, preferably a heavy one such as a cast iron pan.
Small pan
Spoon
Mortar and pestle or spice grinder
Food processor
Spatula
Covered container
For step-by-step directions, including pictures, click here.