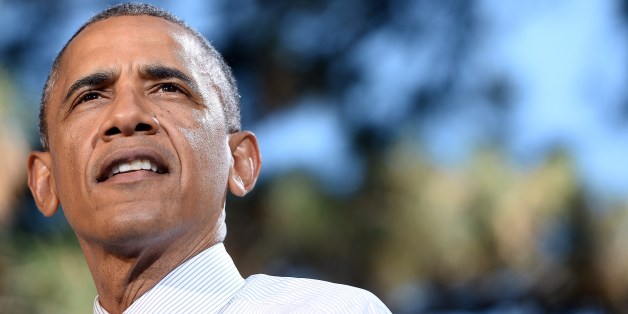 I possess almost mystical patience. I must: I'm an immigration lawyer. Twice I voted for President Obama. I donated to his political campaigns and rejoiced in his inaugurations. Even as other supporters started abandoning him because of policy disagreements, I remained a believer. Finally, however, Obama has torn my patience to shreds. How? By spouting immigration law nonsense.
When it comes to immigration, Obama is like a deer in headlights. He doesn't know which way to turn or whom to appease. This week, he's an immigration conservative, assuring the country that most of the young, desperate migrants who recently crossed our border will be deported. As Obama undoubtedly knows, this is sheer speculation, unrooted in fact or law.
There are many ways that children can qualify to stay in the United States. It is impossible at this stage for Obama to know what proportion of the recent migrants will win the right to remain. Children who have been abused, neglected, or abandoned in their home countries may be entitled to Special Immigrant Juvenile status. Victims of human trafficking can obtain "T" visas. Victims of certain crimes may apply for "U" visas. Children might also qualify for asylum due to certain dangers in their countries of origin. This list is not exhaustive.
If Obama's intention is to discourage families in Central America from sending their children here, that still does not excuse bamboozling his own citizenry. Migrant children are terrified of immigration officials, and even the lawyers who try to help them. Learning what these children have suffered, and testing whether their experiences match up with visa requirements, takes a lot of time. Years may pass before the process sorts itself out.
This is what makes Obama's promise a fallacy. It also illustrates why a recent, related policy position is deeply troublesome. Obama has requested that Congress permit subjecting these children to "expedited removal" -- deporting them in a matter of weeks without review by an immigration judge, unless they manage to express a legally cognizable fear of return. Children may be unable to articulate language triggering protection, no matter what horrors they have experienced. Sometimes they fail to express a fear of return because they feel guilty or somehow responsible for their own victimization.
The children come primarily from three impoverished and horrifically violent countries -- Honduras, El Salvador, and Guatemala. These nations are ravaged by notorious criminal street gangs and corrupt, sometimes murderous security forces. Few young girls will speak readily to immigration officers about being kidnapped and smuggled into prisons for the pleasure of gang chieftains. And where violence and abuse are pervasive, children might perceive their situations as normal and acceptable --while they are anything but. Deporting these children without any input from a skilled advocate is simply irresponsible.
To repeat: President Obama has asserted, without basis in fact or law, that most of these young migrants will be deported -- thus propounding a fallacy to U.S. citizens. Obama also seeks authority from Congress to deport these children with minimal due process, which calls into question his commitment to human, including immigrant, rights. I no longer know who the president is, or what he stands for. Maybe he doesn't either.