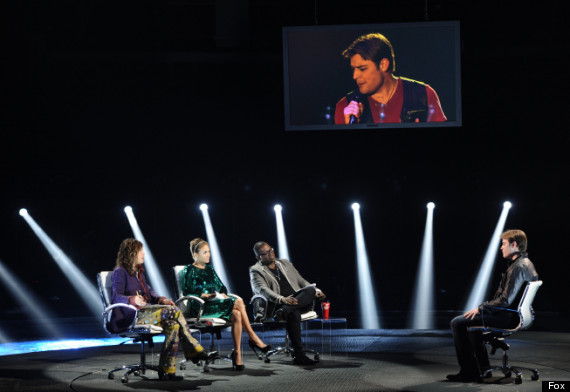 Finally, after what felt like 75 weeks of auditions, "American Idol" has revealed its Top 24. Though none of them really struck me as breakout stars, all fall somewhere between competent and impressive ... although I'm still not feeling particularly invested in seeing any of them become the latest in a long line of failed moderately successful recording artists. Maybe Heejun Han, just for being so hilarious.
After the Feb. 22 ponderous reveals, the final 10 contestants in the Top 24 were:
Adam Brock -- Though the Feb. 22 episode attempted to squeeze out a little dramatic tension by leaving Adam's fate on a "cliffhanger," there was no way that the soulful crooner wasn't making it through to the live rounds.
Jeremy Rosado -- Jeremy has been lucky enough to coast along in groups of contestants who are all more talented than he is, allowing him to reflect some of their awesomeness back at the judges by proximity (I think "How I Met Your Mother" calls this "The Cheerleader Effect") but solo, he's just OK. I'd be very surprised if he was Top 12 material, but he made it into the Top 24.
Shannon Magrane -- Most memorable for having a painfully awkward audition after Steven Tyler hit on her in front of her father, baseball legend Joe Magrane, Shannon has had a few memorable solo performances, the last of which gave Jennifer Lopez the coveted "goosies!"
Skylar Laine -- This season's Lauren Alaina, only less adorable, the 17-year-old is best known for her graveled, Reba McEntire-esque sound.
Hallie Day -- Now that Neco Starr has been eliminated, Hallie certainly has the best name of the bunch. She auditioned in Pittsburgh and followed up her story of attempted suicide with a powerful rendition of "I Will Survive."
Chase Likens -- I remember nothing about this guy except that he's a serviceable country singer, since I guess Scotty McCreery has made that a thing again. He didn't get a highlight reel, so maybe the "Idol" editors couldn't remember him either.
Aaron Marcellus -- Same goes for Aaron, although he proved to be a little more memorable during the audition rounds with his smooth and sultry R&B vibe. He doesn't sound particularly unique, but I dug his glasses.
Deandre Brackensick -- Best known for his sweet falsetto and impressive mane of curls, Deandre has a pretty unique sound and solid control, although we didn't see him until halfway through Hollywood Week (and not much thereafter).
Hollie Cavanaugh -- Hollie beat out Shelby Tweten and Ariel Sprague -- whose voices I preferred -- for the final girls' slot. She's the latest in a line of competitors who were eliminated in previous seasons, but have been given a do-over this year.
Eben Franckewitz -- The "Idol" version of Drew Ryniewicz, in that I'll always have to second-guess myself when spelling his name (hopefully he'll change his stage name to "Eben"). I'm still not sure how he got this far, since he's always seemed like Bieber-lite with a nasal upper register to me. This choice seems even more baffling, considering that he was up against the far more memorable -- and much more confident -- David Leathers Jr. for the final boys' spot.
But wait, there's a twist! Because the "Idol" producers apparently took note of us all being so confused by pretty boy Johnny Keyser's Vegas elimination, they're inexplicably adding a 13th male contestant to next Tuesday's live show. It will either be Keyser (most likely), David Leathers Jr., the obnoxious cowboy Richie Law, or "gentle giant" Jermaine Jones. Clearly, they're hoping to pull a Melanie Amaro out of this sorry bunch ... although if they really want to capitalize on audience outrage, Lauren Gray would've been a much smarter (and more deserving) pick.
Considering that the female auditionees seemed much stronger than the guys this season, I'm somewhat baffled that they're choosing to give a guy another chance instead of a girl -- or make it a fair fight with two wildcard picks for a Top 26. Then again, I've been tired of the producers insisting on an equal 12 guys, 12 girls model for years; talent should be the deciding factor, not gender, and if you get 23 girls who are stronger singers than all but one guy, that's how the Top 24 should be decided. Let's face it, the guy would still win (as long as he's white). Keep making arbitrary decisions that frustrate and bewilder your audience, "Idol." It's part of your charm!
Did you agree with the judges' picks? Which male contestant do you think will get a second chance on Tuesday?
"American Idol" airs Wednesdays and Thursdays at 8 p.m. EST on Fox. Next week, "Idol" will also air on Tuesday (Feb. 28) at 8 p.m. as the semifinalist boys perform.