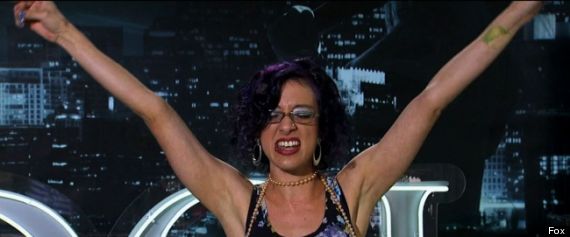 It seemed as though the contestants were definitely feeling the altitude as "American Idol" hit the slopes of Aspen -- some of them must've been light-headed to convince themselves that they were talented singers. Narrowly missing out on our top five was screechy, lemon-clad Tealana Hedgespeth, who hoped to escape from her twin sister's shadow by ... deafening the judges with a pitchy approximation of Melissa Etheridge, we're guessing.
Alanna Snare had a memorable job -- serving "Rocky Mountain oysters" (bull testes) to brave bar patrons -- but her voice made an impression for all the wrong reasons after she subjected us to a tone-deaf version of "Jolene." On the other end of the spectrum, a music teacher named Jenni Schick left her (lipstick) mark on Steven Tyler, and made it through to Hollywood with a belting rendition of Pat Benatar's "Heartbreaker," but she wasn't quite spectacular enough for our list.
1. Angie Zeiderman
A self-proclaimed "vintage glitter queen," theatrical Angie split the judges with her first performance, a hammy take on The Producers' "If You Got It, Flaunt It," which included plenty of rolling around the platform in a dangerously short skirt. If this was "Broadway Idol" (I'd totally watch that show), she would've been a shoo-in right then and there. But since Randy Jackson apparently has a violent aversion to showtunes (particularly the vibrato that many musical singers employ), she was given a second chance to wow him with Roy Orbison's "Blue Bayou." And wow him she did -- her voice was clear, controlled and demonstrated excellent range, prompting Randy to admit that she'd completely changed his mind. After that, it was an easy three yeses to send her to Hollywood.
2. Shelby Tweten
In other seasons, Shelby's tale of depression and medication would've played like a manipulative sob story, but I didn't feel particularly coerced into sympathizing with her. I can't tell if the producers have eased up on the heavy-handed editing or if she was just trying to resist playing the victim. Either way, her soulful, raspy version of Carrie Underwood's "Temporary Home" spoke for itself, bringing tears to Jennifer Lopez's eyes. Randy called her "fearless" and the trio sent her away with a golden ticket.
3. Jairon Jackson
It's always a risky proposition for a singer to come in for an audition with an original song, but Jairon had the talent to back it up. His composition, "So Hard," boasted a beautiful melody and showed off impressive range, even if his dance moves were a little hokey. I hope he doesn't get swallowed up in Hollywood week where those sweeter voices seem to crack, but Randy deemed him "ready for the charts" already, so maybe he'll go the distance.
4. Haley Smith
An old soul in an 18-year-old's body, Haley was somewhat low-key when she entered the room, prompting Jennifer to note that she had a '60s or '70s vibe about her. But the mellow attitude didn't extend to her performance. She put a bluesy spin on Rufus and Chaka Khan's "Tell Me Something Good," demonstrating a maturity beyond her years as she belted it out with confidence and tossed in a couple of playful runs just to spice things up. The judges seemed pretty surprised by the flavor in her voice, with Steven seeming almost moved by it as he told her, "You're right out of my era, and I'm honored to be here listening to your voice."
5. "Magic Cyclops"
Possibly the most bizarre (and transparently fake) audition so far, "Magic Cyclops" was certainly memorable for trying to be memorable, affecting a terrible British accent while insisting that he was from Davenport, Iowa, and strutting around the mini-stage like he was Keith Richards. He shamelessly massacred Neil Diamond's "Cracklin' Rosie" and Jimmy Buffett's "Margaritaville," prompting Randy to excuse himself to go to the bathroom, leaving Jennifer and Steven to be accosted by some sort of glitter bomb Magic had taped to his back. He wasn't nearly as amusing as he thought he was.
"American Idol" airs Wednesdays and Thursdays at 8 p.m. EST on Fox.