Last month I stood in a room at Roissy Charles de Gaulle airport in Paris, talking to a scared refugee boy and sharing a box of cookies. Abid was alone in France, without a parent or a guardian. But was he really in France? I was on French soil. But according to the French government, Abid, 16, was not in the same country as I. And under that Kafkaesque legal fiction, they kept him locked up at the airport.
Abid fled Syria without his parents, with a few other children, fearing for his life. He took a two-day truck ride from a war-torn city in Syria to Turkey. There, he boarded a plane with a smuggler, ending up thousands of kilometers away from the bombs and yet not feeling safe. When he reached France, the government detained him at the airport for trying to enter French territory without proper documentation. The authorities held him in a farcical no-man's land to determine whether he should be sent back to Syria or whether he could come "into" France, a country he had already physically set both feet on.
Under French law, migrants without proper documentation, including children, get stuck in what is called the "transit zone" between the international zone and French territory. Stuck, even after the government has questioned them. Still not "in France," even when the police take them 16 kilometres away, to the Tribunal de Bobigny, where their immigration cases are heard. Wherever they go, they don't leave the legal bubble of the transit zone.
France detains about 500 children a year for up to 20 days in more than 50 of these twilight zones at airports or seaports while it puts them through a confusing fast-track process on whether to deport them without giving them the right to an asylum process that a person already "in" France would have. This happens although France's highest court, the Cour de cassation, ruled against this practice in 2009 and stated that children in French airports are on French territory.
Transit zones also violate international law, leaving children without their full rights as well as proper protection and care. The European Court of Human Rights has also ruled against keeping children in transit zones. Yet France persists, even though the UN committee charged with overseeing the Convention on the Rights of the Child said last year that, "States should expeditiously and completely cease the detention of children based on their immigration status."
France needs to abolish this fictitious legal status, acknowledge that children like Abid are on French territory, and release them from detention.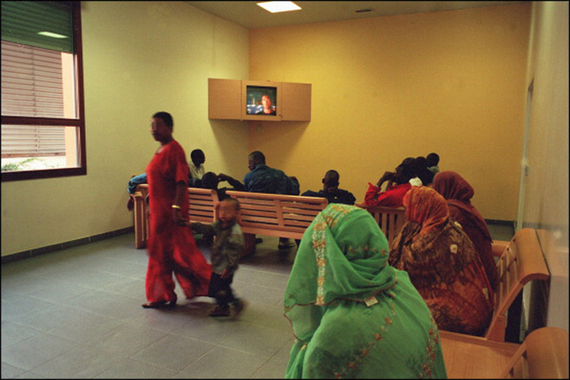 Migrant families in a recreation room in the main detention facility at Roissy Charles de Gaulle airport near Paris, France. © 2003 Getty Images
President François Hollande campaigned against locking up children, stating in February 2012 that no unaccompanied migrant child in France should be kept in detention. Apparently his comments were disingenuous, though. Children at the border, like Abid, are considered not to be "in" France, and therefore can still be locked up. Hollande has not ended this practice.
Unaccompanied children in the transit zones are thousands of kilometers from home, without parents, yet no adult is assigned to help them when they arrive. The Red Cross and another group, Famille Assistance, provide volunteer ad hoc administrators to help these children navigate the complex system they face. However, despite the organizations' pleas, they haven't been granted access to the terminals to assist children as soon as they get off the plane, but only after the children have been brought to the detention center. That may take up to 12 hours.
When children arrive, the border police require them to sign papers starting legal procedures on their immigration status that they may not understand. Though the government provides interpreters, it does not guarantee a guardian.
And some children are never assigned a guardian. If the government decides that the person is not a child, no guardian is assigned. And in some transit zones, children do not even get a guardian due to funding limitations and accelerated procedures.
Leaving children in transit zones exposes them to harm. There are now some rooms at Roissy specifically for children, an improvement from the situation in 2009 when there were no such rooms at all. But if these rooms are full, the children may be held with adults, a situation that can put them in danger.
They also have to jump through more hurdles than other asylum-seeking children in France before being allowed to make a full claim for asylum. Abid faced an age assessment procedure alone, for example. This process involves going to the hospital with a police officer for a wrist x-ray and, in theory, a psychological assessment. This medical visit can leave children scared, isolated, and, if found not to be a child, without any way to appeal.
France, under international law, is obliged to treat these extremely vulnerable children just like it treats the children on the rest of its territory. That means abolishing the absurdity of the transit zone, and accommodating them in open centers until the administration has ruled on their status. There's no reason why Abid and I weren't actually in the same country while we shared those cookies. And while I don't have the power to make Abid's life easier, the French government does.
__
Laura Schülke is a senior associate with the children's rights division at Human Rights Watch. She has researched the situation of unaccompanied migrant children detained in transit zones in France.