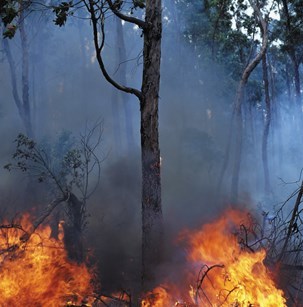 In Y2K, a tornado ripped through the heart of downtown Fort Worth, Texas, devastating dozens of businesses. If statistics held true, then at least one-quarter of those businesses never reopened--probably because they lacked a disaster plan to help them recover. Even today, when the digital revolution has made it far easier to recover from serious setbacks, 25 percent of damaged companies don't.
Your company almost surely has a set of contingency plans in place for various crises, and you probably have a similar set in place for your team. But how prepared are you for the two big D's: Death and Destruction?
That Good Night
Let's consider the death, or even just the serious illness, of an irreplaceable team member or executive. Apple offers an excellent example. When co-founder Steve Jobs took ill in 2008, the company's stock price suffered a minor downtick at first, but further rumors of bad health and a mistakenly-printed Bloomberg obituary caused Apple's share value to drop by more than 50 percent over the next few months. It slowly recovered, especially after his liver transplant in late June 2009, but the recovery was a gradual, tedious process; and you can bet that in the interim, his team scrambled to make sure it wouldn't hurt the company quite as badly if he fell ill again.
Their efforts must have worked. When Jobs took another medical leave of absence in January 2011, Apple's stock value dipped slightly, but that was all. When he stepped down as CEO that August and passed away six weeks later, there were no significant drops in Apple"s stock value. It's clear that he left the company in good hands, and it's still innovating (and making money) like crazy.
In smaller companies, especially sole proprietorships, death often means the end of the business. So the question is: how's your succession planning? Have you selected and groomed someone to take your place when you're gone? Have you done something similar for all your key personnel, if they die unexpectedly or fall seriously ill? Have you arranged for a Power of Attorney, so someone can make decisions if you're incapacitated? If not, you'd best get on the ball if you want the company to outlast you and your top producers.
Weathering Disasters
You already know the wisdom of making backups of your data to an offsite location. Ideally, it should be located far enough away from your HQ that a localized disaster is less likely to destroy it as well; the Wall Street Journal recommends a distance of at least 50 miles. Nowadays, Cloud computing has made backups a snap, and it's very unlikely that those backups could be completely destroyed, given the Cloud's distributed, redundant nature.
As for personnel, if they have their technology at home, they can keep working even when fire, wind or water have damaged or destroyed your HQ. Few people lack access to the Internet, so they can keep working even when the hurricane winds howl. Indeed, some East Coast companies used this method to insure continuity when Hurricane Sandy ravaged the coast in 2012.
And let's not forget the value of old-fashioned insurance. On top of everything else, you can purchase business interruption insurance allowing your business to survive while you physically recover from disaster.
Don't let yourself be part of the lost 25 percent, no matter how bad things get. Death and destruction don't have to kill your company, if you put a disaster plan in place now. What else am I forgetting here you should put in place?
*image provided by Microsoft
© 2014 Laura Stack. Laura Stack, MBA, is America's Premier Expert in Productivity™. For over 20 years, Laura has worked with business leaders to execute more efficiently, boost performance, and accelerate results in the workplace. Her company, The Productivity Pro, Inc., provides productivity workshops around the globe to help attendees achieve Maximum Results in Minimum Time®. Laura is the bestselling author of six books, with over 20 foreign editions, published by Random House, Wiley, and Berrett-Koehler, including her newest work, Execution IS the Strategy (March 2014). Widely regarded as one of the leading experts in the field of performance and workplace issues, Laura has been featured on the CBS Early Show, CNN, the Wall Street Journal, and the New York Times. Connect via her website, Facebook, or Twitter.