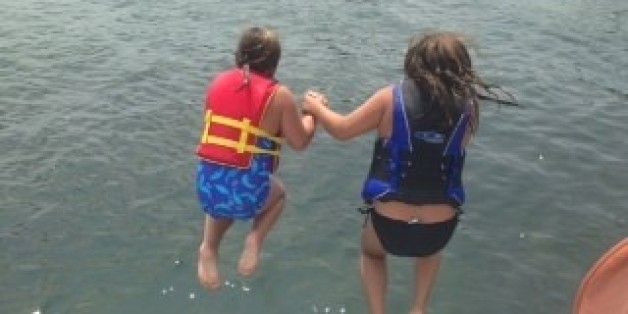 1. Take them to the sand, beach or any body of water that's near you. Granted, plenty of places in the U.S. aren't near lakes, rivers, or streams. If not, then hit a local pool or water park. Look for coupons in the local shopper or online for special discounts and deals to save money or work within a budget. Pack lunch in a cooler and keep it in the car -- you can hop out and re-enter the park anytime as long as you've got a stamp or validation to do so.
2. Mini Golf. C'mon, nothing screams summer like mini golf and kids of all ages love it. Look for one with creative holes and fun structures. Locally, I love the Par Skill mini golf course. It's been around forever but the holes are so creative and its beautifully kept. If you don't have mini golf, kids love the driving range! You can even set up mini golf at h home -- hit the sports supply store, buy a club or two and a couple of balls and get creative with your own course in the back yard with plastic cups.
3. Pack up your bikes and hit the trails. Even though your kids probably ride their bikes everyday and with friends, there's something different about loading up everyone's bike and riding along with them. Pack snacks and water so you can stop along the trails and refuel.
4. Take them to a local farm for fruit picking. Strawberry picking, blueberry picking depending on where you live the seasons and fruits selections are different but kids love to see where their produce comes from. It's a good reality check that someone works super hard to plant, nurture and pick all their fruit before it ends up at your local grocer. When they get home with the fruit do something fun with it like making a jelly or a pie.
5. A trip to the city or neighboring town is always fun. Museums, new things to see and explore. You don't have to really even need to spend money -- look at buildings and architecture, talk about the differences in the flowers or other sights from your own home town. Let them explore! It's amazing to me how some people live close to a metropolis and never spend time enjoying it. Yes there is traffic and it's hectic but it's also jam packed with architecture, history and cultural things your kids should see.
6. Carnivals and fests. Summer is all about fests and where we live there is at least one going on every weekend. I know sometimes these can be a little eh, but kids LOVE a carnival. We are anxiously awaiting the cultural festivals that happen all summer. Gigi has been going to Italian fest since she was a baby and she looks forward to it every year. Great food and bands make it a good time for the adults too.
7. Back to school sleepover. Even though there's been many sleepovers all summer with friends we have a tradition of throwing a back to school sleepover every year for all of Gigi's pals. It usually consists of about 10 or so girls and we try to find a fun back to school themed favor to give out afterwards. Yes it's loud and yes they don't sleep much but fun and memories are well worth one day of chaos.
8. Take them to work the local animal shelter. I know this doesn't sound like a traditional summer activity but believe me, they will love it. My daughter goes with her grandpa weekly and when she comes home she can't stop talking about the dogs and all she did. A great way to spend a day that isn't about buying anything or spending money but giving back. They will feel so good about it they will be asking to go back. Plus it teaches kids that owning a pet is something you have to commit to for the length of the pet's life. They see first hand that unwanted animals go into shelters and need homes, that there are great dogs and cats in need of loving homes, as well.
9. Create from nature. It can be so easy to take kids to this or that event or activity and that is perfectly okay. But having them spend time exploring a local trail, the backyard, or other nature experiences are very good for them. It also can teach a love for nature, respect for the environment, and understanding of conservation. Buy a bunch of disposable cameras or if you or your child has a smart phone, use it to take pictures of what nature you've seen and encounter. It teaches kids a great skill that could spark a love for photography, and they'll learn a great deal about nature in the process.
10. Back to school shopping! Kids love a day that's dedicated to them at the store ( well girls do anyway). Try to make this trip only about them and don't look at stuff for yourself (God I know how hard that is). Hit the stores that they like such as Justice, Aero, Tilly's etc. Bring their school supply list and make sure they have all they need for a successful new school year. Stop for a lunch of their choice and let them order dessert. Positive energy about back to school makes a motivated student.
Now get going -- there's only a few weeks before school starts. You have lots to fit in!