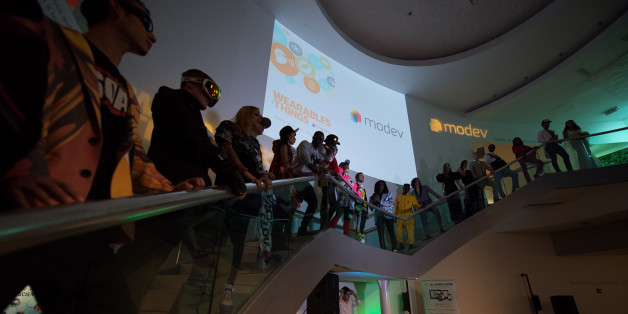 Wearable Tech is probably one of the hottest phrases out right now. Companies on both the fashion and tech side are racing to get into the game, each entrant hoping that it has the ticket to mass consumer adoption. Microsoft just announced this week that it will introduce a product shortly, and even the mighty LVMH has said that one of its luxury brands will is now planning the release of a wearable tech item. While I definitely know that this phenomenon will somehow deeply penetrate our culture and contribute to an even more disruptive, leaderful era where neo-humans are able to jump talk buildings in a single leap (or at least may answer that darn email more quickly, finally!), I think it's very early in the process. This means it's anyone's game. I think it will mean more than a watch and more than glasses, at least as we first see them now. But it's also about how individuals will actually feelabout these products and how/if they will truly elevate their lifestyle and at what price point. Recently I was asked to host what might be the first ever Wearable Tech Fashion Event that took place during a hot Wearables & Tech Conference in the Metro DC area. Naturally I got to peep some of the items close up while backstage, test out what even much of what would be seen for the first time by the public, and here's what I think.
Without giving props to companies that aren't yet paying me for endorsement, lol, I won't mention specific names but here's the skinny, overall. Yes, most all the biggies were pulled for this show, so you can imagine the companies. All the products work flawlessly; a testament to developers and engineers today. I'm not sure what I would do, say while skiing in Mageve with my bluetooth enabled, slick ski goggles; but it's nice to know that they exist, right? Off the slopes, some of the competitors to Google Glass seem to be taking a slimmer, darker, hipper vibe; which made me feel less imposing and geeky when trying them on. I have to say that the watches seem almost interchangeable at this point, and I couldn't help but thinking while I put them on my wrist that they were designed by males with males in mind. More variety, please -- oh except for a particular item that had a rubber, curved vibe as its band. Thank goodness for a little more edge. Though I didn't try them on, there were also actual clothes that had technology built into them and wearable items that monitored one's sleep patterns and wellness levels.
But here's what I think might actually end of being a surprise winner. Wearable tech that you don't know is wearable tech. I tested out a few necklaces and cuffs that actually have all the biometric fanfare hidden. Though a bit chunky, these items are intriguing. I felt kinda Wonder Woman-ish rockin' a few of these pieces before they went onto the models. I also think hidden wearable tech is bound to take the TMZ-ification of our culture to the next level.
Keep your eye on this arena, because it's one of the most intriguing and sexy around right now. Different demographics will most likely gravitate to different items and, overall, we'll all see uses and scenarios of which developers never even dreamed. It's a brave, new, leaderful world. See for yourself...
Photo by Paco Alacid