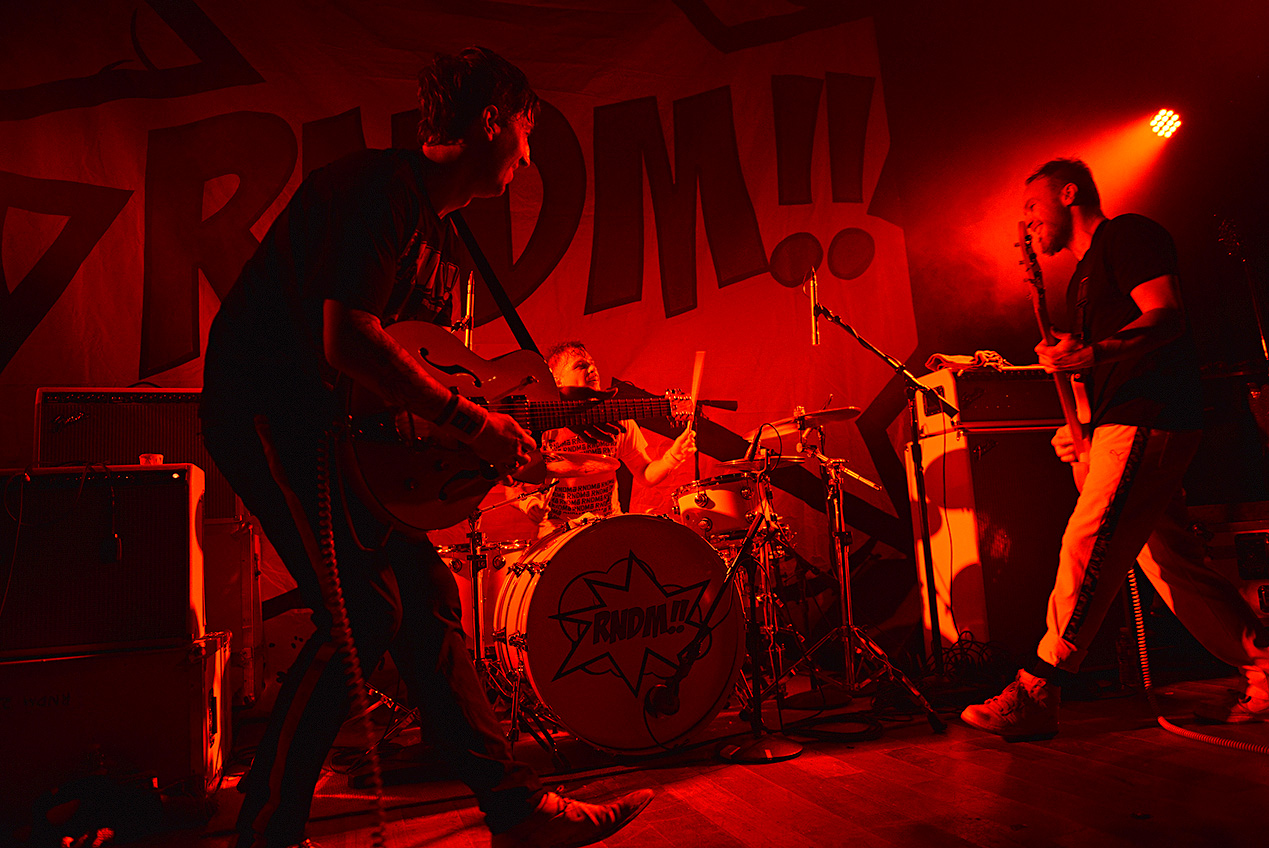 Photo by Lauren Drell
It's evident that Pearl Jam bassist Jeff Ament's new side band RNDM has made its way onto the radar of many locals who packed tightly against each other on Nov. 13 at Lincoln Hall, anxiously waiting to hear what the celebrated bassist has been working on when not in the studio recording Pearl Jam's next album, the follow-up to Backspacer. Sure, there has been a fair amount of buzz building from Pearl Jam diehards and Ament fans, but this is the first time that many got to see his new project unfold live, smack in front of their eyes. Aside from Ament, who walked on stage to ecstatic cheers, donning screaming bright orange track pants, this new "supergroup" features singer-songwriter Joseph Arthur and drummer Richard Stuverud, the latter who was a member of Ament's side project Three Fish in the mid-'90s, as well as the drummer in the '80s punk rock outfit, the Fastbacks.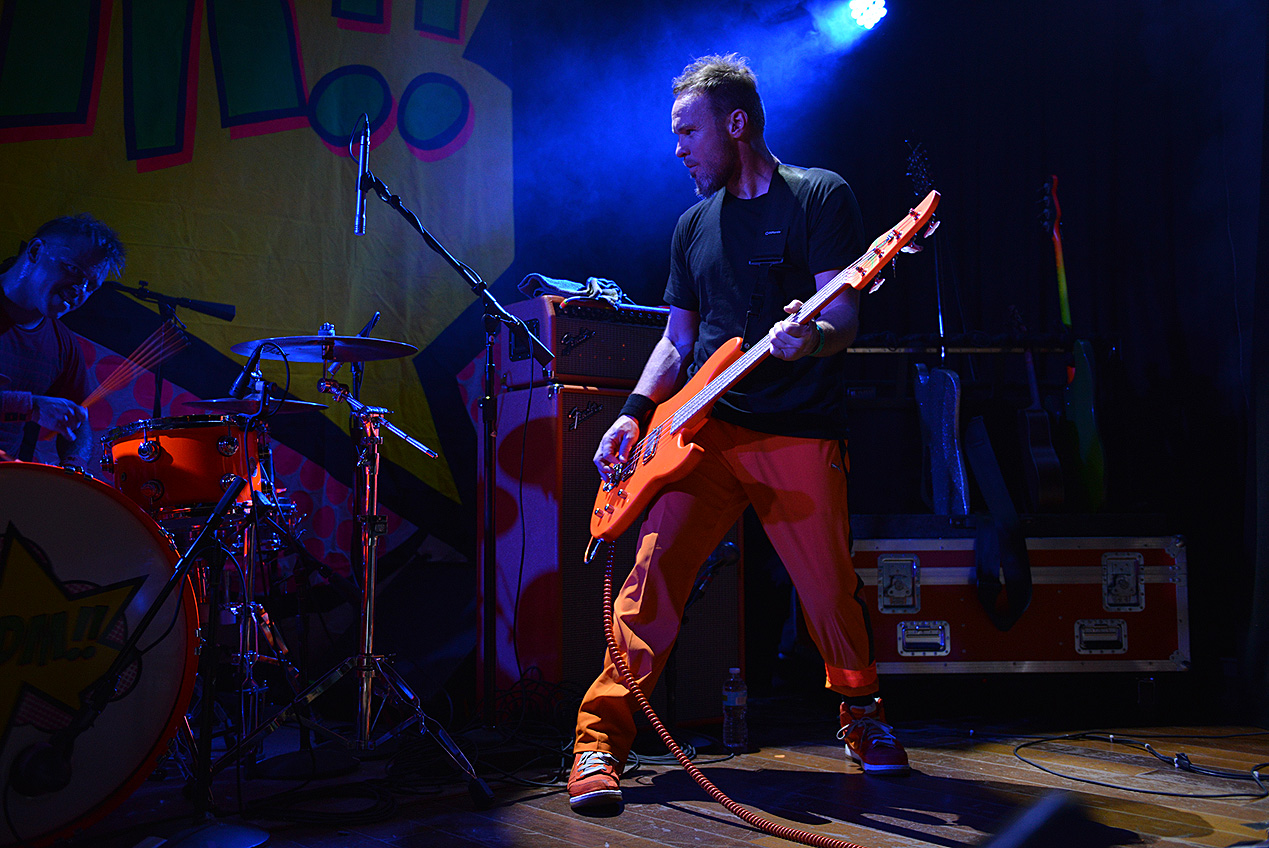 Photo by Lauren Drell
If Arthur's name rings a bell, it's likely, in part, because of his acclaimed solo performances, where he's made a reputation for himself with his poetic lyrics and artistic loop pedals. In fact, Peter Gabriel took notice of Arthur and signed him to his own label, Real World Records in the '90s. Pearl Jam fans may also know Arthur as he was listed on the roster of acts that performed at the Pearl Jam 20th anniversary shows last year over Labor Day Weekend at Alpine Valley in Wisconsin. It's here where the seeds were planted for RNDM; after Ament joined Arthur on stage and played "When the Fire Comes," (with PJ's Matt Cameron and Mike McCready), a track that was released in June on Ament's solo album, "While My Heart Beats." It was shortly after the commemorative PJ fest that RNDM was officially spawned; Ament extended an invitation to Arthur to jam with him and Stuverud in his Montana home studio. "We had six tunes after that first night and day. Everybody was just buzzed," Ament says. Subsequently, RNDM's debut album, Acts, followed and was created with the help of Pearl Jam engineer Brett Eliason in just four days. (It is noteworthy that Ament and Arthur had first crossed paths in June 1999, when Arthur played opener for headliners Three Fish at the lauded, now-defunct Wetlands in New York City.)
"Modern Times" Live on "Late Night With Jimmy Fallon"
But, aside from all that, most important is how RNDM delivers. The band's energy and chemistry combined were intoxicating to even the most sober in the venue. The setlist was filled with standouts including, "Modern Times," "Hollow Girl," "Throw You to the Pack," and the wistful, harmonica-kissed solo, "Cherries in the Snow," that Arthur sang to kickoff the encore. If it's any evidence, random pleas from audience members to the band to play longer even after the house lights had brightened, coupled with the sporadic, "You guys [insert expletive] rock!," then the band may just be going from a new blip on the radar to a creating a name for themselves, as witnessed by the droves of people packed in the venue's adjoining bar area after the show; waiting (and hoping) to get a handshake, autograph or an iPhone photo. One-man (masked) band Gull opened.
RNDM's 12-track debut album, "Acts," was released on Oct. 30 on Pearl Jam's Monkeywrench Records. The band's current 16-date tour kicked off on Halloween at the Badlander in Missoula, MT, and runs through Nov. 27, wrapping up in Seattle, WA, at the Showbox.
PHOTO GALLERY
Pearl Jam Jeff Ament's RNDM at Lincoln Hall in Chicago on Nov. 13, 2012
All photos by Lauren Drell
RNDM's "Cherries In the Snow" from the Lincoln Hall performance in Chicago.
RNDM singer-songwriter Joseph Arthur creates artistic visual clips on his iPad for "Throw You to the Pack."