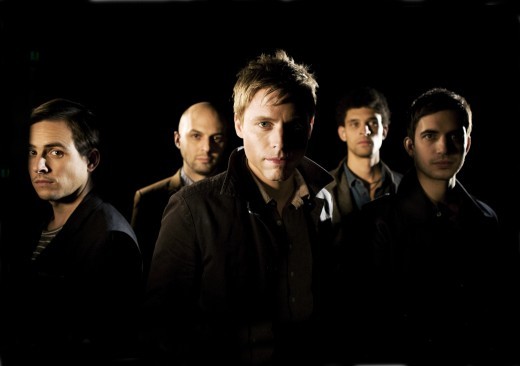 Photo courtesy of Derrick Santini
If you caught hyped indie darlings White Rabbits at Lollapalooza last Sunday afternoon at the Bud Light stage, you know that the band has the capability, much like a good magician does, of reaching into its bag of tricks and pulling out numbers to capture the attention of the crowd. Even more demanding that day, was the task of entertaining the exhausted, sunburnt and partially hungover, whose focus can be easily diverted on a dime. It was, after all, day three of Lolla, and with a slew of aftershows and parties the night before creeping into the wee hours of the early morning, it may have been hard for the sizeable crowd whom gathered -- dodging the slick mud puddles or sliding into them -- to, well, get out of bed for this early-ish (for Lolla) 2:30 p.m. set kickoff.
Those in attendance got a bit of a break from the dog days of Chicago's early August heatwave as they packed up tightly against one another and were treated to a 45-minute set that was injected with enough hypnotic moodiness and danceable samples to morph the soggy grass in Chicago's Grant Park into a temporary dance floor. Milk Famous gems like "I Had It Coming" that kicked off the set, along with "Temporary" and "Heavy Metal" that appeared a short while later, were the early afternoon's magic potion needed to alleviate the lingering reminder to the sleep-deprived and weary of the last night's festivities.
It's obvious that the band can draw. Often being compared to Spoon (Britt Daniel did produce the White Rabbits' 2009 It's Frightening and, more recently, the band worked with longtime Spoon producer Mike McCarthy on its latest album, Milk Famous), the Rabbits' darker, sinister alter-ego lurks beneath the surface -- doused with jagged guitars and enough reverb and oddity samples to collectively lace its speedy electro-pop with sonic adventure. I caught up with White Rabbits' vocalist Stephen Patterson and guitarist Alex Even shortly after the band exited the far north-end stage. They candidly spoke about the making of Milk Famous, the nerve-wracking experience of playing the late-night TV circuit, their current tour that includes dates opening for The Shins this fall, and what's on their must-do list before departing Chicago. (Hint: It involves a stop at a famed hotdog stand with a hostile reputation.)
Lauren Drell: I literally just came from your set at 2:30 p.m. You tore it up. What has it been like for you guys to play Lolla again?
Stephen Patterson: Thank you. We were here, I believe, it was 2008. It was right after our first record came out. I think we played at like 10 a.m. or something like that. It felt like 10 a.m. and that show is an absolute haze to me. We were a very very new band at that point. I think we had a show at like 2 a.m. the night before and our set, it was early the next day and I think we were on an hour of sleep if that and still kind of tipsy. That experience was just kind of a blur. Everything was new back then.
LD: What would you say is your favorite thing about playing Lolla (certainly not the mounds of Chicago heat dumped on fest-goers), and I have to ask, which artist that you've seen thus far has jumped out at you?
SP: We only saw Oberhofer play because we weren't around Friday and Saturday. Oberhofer was cool.
LD: Your blog is a bit of an Instagram diary, documenting your tour and even including a photo from the sound check at Late Night with Jimmy Fallon. A nifty way to give fans a snapshot into your touring life. Was that your idea?
SP: No, if we came up with Instagram we would... (laughs). I think we're, at least for me, it's hard for me to come up with stuff for the whole social media thing that bands are quote unquote supposed to do now. It feels kind of strange to me -- trying to come up with little things to say and stuff like that. It's just a part of being a musician that I'm not accustomed to at all. I definitely like just taking a photo and letting that be the thing that people can see. It's what we're doing instead of trying to come up with something clever every 10 minutes.
LD: While in the midst of a demanding tour earlier this year, you made a stop in Austin for South by Southwest. What was it like heading back in Austin, and given the size and ADD-filled options of the fest nowadays, did you find it somewhat exhausting, given your own tour?
Alex Even: South by Southwest I think has always been exhausting. I don't think that part has changed. While the festival may have grown, it's always been tiring.
SP: It was kind of a nice little boost of energy in the middle of our like month-and-a-half-long tour because every show was a raucous club show. We had like 10 minutes to set up and 20 minutes to play. You just kind of play loud and fast and then you leave.
LD: So you guys are soon going to hit the road with The Shins for several dates beginning October 7, making stops in Nashville's famed Ryman Auditorium and continuing to Atlanta, Houston and Dallas. You guys are good friends with the band, aren't you?
SP: We know Richard Swift well. He's the keyboardist in the band. He just recently joined. He actually took us out on one of our very first tours in the States back in 2007. I think it was before our first record came out, so we've known him for a long time. They're [The Shins] a fantastic band and I remember listening to their first record in our practice space as a group back in Columbia, Mo. in 2005 and thinking that record was great and all that and it's a trip to be opening up for them now, for them asking us to open up for them. I'm looking forward to being at the Ryman in Nashville, I've heard great things about that place.
LD: You cite Beyoncé as an influence for your latest album Milk Famous. Can you elaborate a bit?
SP: I think we wanted to go into this record with a sort of, for lack of a better term, a mix tape kind of vibe where each song feels kind of unrelated to one another, but as a whole, it kind of makes sense. That was kind of the feeling that I got out of her most recent record, 4, and she's so great at interpreting each song so differently and just always like shifting the tone of each thing, but still owning each sort of feeling in each song; there will be a party song or a very emotional song or whatever and use different sounds and arrangements for each song without any sort of care for a cohesive hold and I think that, for me, was sort of inspirational. That inspired me as a singer. She's one of the greatest singers of our time. I get the feeling that although she's one of the most famous people in the world, she still really cares about every small little detail that's going on and you have to appreciate that. It's hard to be at that level and still put out something that's such high quality. It's cool.

LD: You've got something a lot of bands don't have... two drummers. How did that come to happen?
AE: It was sort of by accident.
SP: We were in the middle of recording our first record Fort Nightly in 2005 or 2006 and we had never been in a proper recording studio before. We never knew that you could record one instrument at a time and put other tracks on top of it. We just always recorded stuff live and so we found once we were finally in the studio and could do all of this stuff, we kept adding drums and more drums and more drums and when we were finished with the record, we realized that there was no way in hell we were going to be able to pull any of this stuff off live and so it just so happened that our good friend asked if we would want to have two drummers and that's pretty much the story. It's kind of boring actually.
LD: You've made rounds at the late-night circuit, with appearances on the Late Show with David Letterman, Jimmy Kimmel Live, Late Night with Jimmy Fallon and Conan. How does it feel for the White Rabbits to play TV versus live shows?
AE: Television is a lot more stressful for sure. You get one shot to sort of make an indelible impression and that's nerve-wracking, whereas a show, there's like an in-the-moment-ness that once you leave all you have are the memories, but in a television performance, you have that exact thing.
SP: And you're just playing to a sympathetic audience whenever you're performing live, and then, I am that guy who will watch TV at home and turn the channel to whatever and see a band and just be like, 'I don't know what hell is going on' and you just don't have any context at all and so it just puts you into this really judgmental frame of mind; this is for me personally, whereas, if I'm going to see a band that I know, that I want to see, you're a lot more forgiving of mistakes and stuff like that. So, yeah, it's stressful. You get one shot and you get like two minutes to set up. I think I prefer playing live shows in front of crowds who want to see us.
LD: On Milk Famous, you chose to work with Spoon producer Mike McCarthy. How different has it been working with him compared to Spoon frontman Britt Daniel on It's Frightening?
SP: Mike McCarthy is a hard ass, that's the difference. Brit is -- we didn't really know him very well at first and then he became a great friend -- and making It's Frightening, it was just a really a great time. We spent a month recording it and everyday was a really fun time and that's what we wanted at that point. And with Mike, we wanted somebody who was going to whip us into shape and he totally did that.
LD: He was tough?
SP: He was tough. Yeah, yeah. I remember recording vocals with him; it was hell to say the least. He's a hard ass, but those kind of people are great to have because you don't want to get too comfortable.
LD: I read that a bad car accident led you to New York, which then in turn led you to playing your first gig there. After playing only one show in NYC, you got a record deal, which almost never happens. It seems almost serendipitous. Have you had other events like this -- call it luck or whatever -- that sort of happened by chance?
AE: Our current record label TBD is run by a gentleman named Phil Costello. He saw us perform at South By Southwest randomly because he wanted to see the band before [us] and he ended up liking us and consequently, we found out [he] grew up in the same town as three of the members and started a music venue in our formative college town and was really tied in to the stuff we grew up with and we just randomly met up with each other six years ago when he started putting out our records. That was pretty fortuitous.
SP: Our drummer, Jamie [Levinson], he accidentally sent a text message to Britt [Daniel] that was intended for somebody else saying, 'What would you think about Britt Daniel producing our next record?' He accidentally sent that to Britt instead of the person he intended to and that's how that all happened.
LD: Just curious. Anything thing on your 'must-do' list before leaving the Windy City? I can provide you with a few recommendations if needed.
AE: I want to go on the Chicago architecture tour. Would you recommend that?
LD: Yes, it's really good, especially the boat tour. It leaves from Navy Pier.
AE: And maybe go to the hotdog place where you yell at people.
LD: The Wiener's Circle! It gets a bit crazy there.
AE: I'm into that.
LD: Yeah. They do yell at you, especially when you go late-night weekends.
AE: I saw that Jack McBrayer & Triumph the Insult Comic Dog [sketch]. I want to have that experience.
White Rabbits will be playing at 9 p.m. on October 17 at Lincoln Hall.