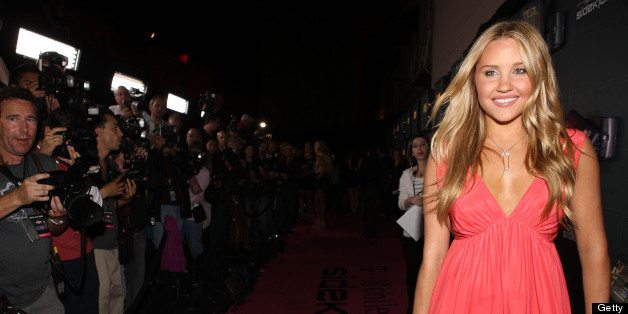 Amanda Bynes' first tweet in nearly six weeks was met with a troubling reaction. "I love Drake," her verified account proclaimed, and the sudden response (including over 22,000 retweets) exemplified the sort of pseudo-compassionate, schadenfreude-driven rubber-necking that amounts to a near-perfect replica of Bynes' media coverage in the months preceding her psychiatric hold.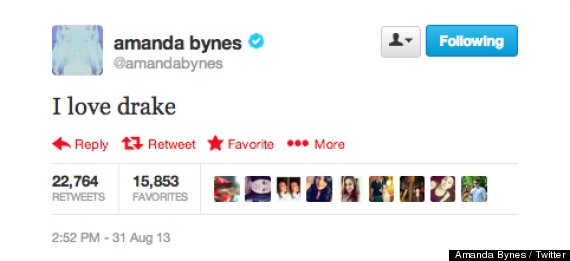 Even now that Bynes is confined to a hospital, a candidate for a conservatorship, clearly suffering from a severe mental illness and in need of medical attention, various media outlets responded glibly once Bynes' lawyer stated she had been hacked: "Drake will be relieved," the headlines read. The unsympathetic fascination with Bynes's case reflects not just aspects of celebrity culture or the parasitic tabloid industry, but a shift in the larger conversation about mental health. Our response to Bynes' behavior throughout her saga exemplifies the stigma surrounding mental health and the idea of Twitter as a symptom.
Unfortunately, derailed child stars are somewhat common, but what Amanda more closely symbolizes is the beautiful woman whose meltdown provides the gleefully distanced public with a cautionary tale. Anna Nicole Smith, Courtney Love and Britney Spears all come to mind. As Jill Filipovic put it, these women serve "a necessary cultural purpose: they're a warning against over-indulgence and narcissism." This trend is all the more problematic when juxtaposed with similar male breakdowns. Both Charlie Sheen and Chris Brown physically harmed people in their particular version of "losing it." Yet, Sheen's behavior was dismissed as "antics" and Brown (somehow) still has a thriving music career.
It is, of course, irrational to regard Bynes with this smugly moralistic condemnation. Unlike Smith and Love, the Nickelodeon starlet did not succumb to hard partying or drugs, but is, instead, quite clearly suffering from a diagnosable disease (most likely schizophrenia co-occurring with post-traumatic stress disorder, though no official statement has been released). At this point in the E! "True Hollywood Story," Bynes' struggles should be a source of sympathy, not shameless voyeurism, and the fact that the dire nature of her situation has not significantly altered our reaction to her behavior reflects the issues that continue to plague our perception of mental illness.
Amanda's very public case is distinct in the way her narrative quickly shifted from that of an attention-seeking former child star attempting to regain the spotlight to one of an isolated young woman in desperate need of psychiatric care. The difference between patterns of acting out and actionable mental illness were blurred at first. In her child stardom, Bynes was compared to such comedic actresses as Lucille Ball and Carol Burnett; she was a funny girl, and when she did things like tweet at Obama for help with her DUI, it was unclear whether she or not she was kidding.
For a while, fact and fiction were similarly confused. Unlike many other stars who appear to be going "off the rails," Bynes was without a talent agent or publicist, to steer her clear of scandal or answer questions about what was truly going on with the star. Clearly fabricated stories, like the account of Bynes stripping naked at a Beach Bum, were soon mixed with the often equally outrageous truth, and the media lost a clear view of what was truly happening to the starlet, due in large part to the simple fact that there was no one to call and ask.
Without adequate representation, Amanda's personal responses most frequently came in 140-character statements. The reception of celebrities using social media is a terrain much uncharted, but it has come to form an extension of stars' public personas. "Personal" posts are aggregated and reposted, and the medium becomes yet another deliberate form of exposure, where those stars who are already quite good at mediating their interaction with the public tend to excel. In the case of Amanda Bynes, however, it presented an additional venue for a troubled young woman to display symptoms of her ever more apparent struggle with mental illness.
The tabloid industry is flawed insofar as it directly profits from the misfortune of others. The questionable moral standing of gossip forums is no shocking revelation. Painfully aware of this fact, editors attempt to cloak their deliberate prostitution of bad things happening to famous people by feigning concern. As the seriousness of Bynes' situation became more prominent, politically correct outlets enacted restraint by shifting their adjective of choice from "crazy" to "troubled," and yet they continued to harvest clicks from Amanda's self-posted topless photos and nonsensical tweets, creating slideshows of her Twitpics, and noting they "hope she gets better soon."
Bynes' unexpected profession of love for Drake was, after all the fuss, the result of a hack. However, this issue extends beyond the most recent contribution of @amandabynes. The apparent frivolity of Twitter, perceived perhaps as a result of its brevity, requires some readjustment, if not only in light of the political scandals it is capable of launching. More importantly, it projects the personal behaviors of celebrities, once relegated to tabloids, into a far more public sphere. It is important to remember that our seemingly direct access to the stars does not alter the fact that we ought to have sympathy in the face of mental illness.
Yes, celebrities choose to be in the spotlight, and their fame is similarly extended into the Twittersphere, but that choice is questionable when it comes to child stars, and should be regarded as symptomatic of the same behaviors that characterize disease. A hashtag-able proclamation on the part of a young woman suffering from a mental illness is not fair game for indulgent vitriol or flippant regurgitation. It is important to be understanding of the struggles that characterize a lack of mental health, and those troubled souls that are in need of psychiatric care also deserve our sympathy, regardless of whether or not they are a household name. In and outside of the realm of social media, the lack of compassion with which we continue to regard mental health has emerged as the one aspect of Amanda Bynes' tragic story that is truly #ugly.