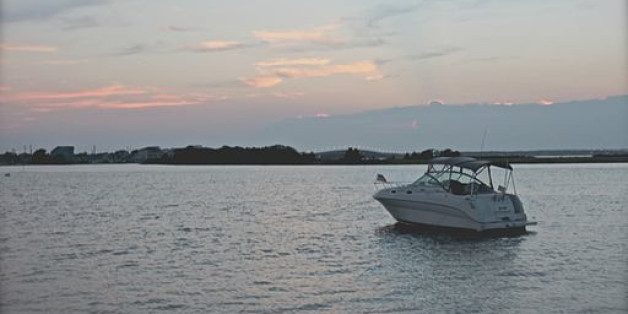 As another summer heads to the airport, my thoughts head back to 1982, when I was a secretary in the Artist & Repertoire (A&R) Department at CBS Records and the song "Goodbye to You" first aired on the radio.
Six months earlier, I said hello to my then-future husband, Jim, on the 68th Street subway platform after a Simon and Garfunkel concert in Central Park, a random meeting of someone I used to pass in the hall in high school. A week later, we went on our first date.
Jim visited me often at my A&R digs on 52nd Street and enjoyed the same perks I did -- free concert tickets and all those parties. At one party for Scandal, at a venue on the Lower East Side that looked like a cafeteria, I dragged Jim onto the dance floor; he was always a reluctant dancer.
In 1982, I weighed 110, had a perm and a key to the record room. Jim weighed 115, had shoulder-length hair and a Directors Guild card. Reagan was President, and I remained in the country despite threatening to move to Canada if he was elected. I'm glad I stayed.
There was a lot of excitement at my end of the A&R Department before the release of "Goodbye to You." I loved the song and thought it would be a hit, and in fact, "Goodbye to You" reached #65 on the Billboard Hot 100 chart.
My boss, Paul Atkinson, lead guitarist of the '60s band The Zombies, had signed Scandal after listening to their demo tape and watching their music video.
The two stars of Scandal, lead singer Patty Smyth and guitarist Zack Smith (I know, Smyth and Smith), frequented the loud, booming halls of A&R to meet with Paul Atkinson and the head of PR, who I'll refer to as "the one who shall remain nameless."
My desk stood across from Paul's office. In the chair next to my desk, many legendary artists sat waiting to speak with Paul: Michael Bolton, Steven Tyler, Wynton Marsalis and others my baby boomer brain cannot recall. But of all the artists that sat in the chair by my desk, I have the fondest memories of Patty Smyth and Zack Smith, and the first time I heard their song on the radio.
One morning, amid the cataclysmic pounding of rock music from the six or so A&R Producers' offices up and down the hall, "Goodbye to You" suddenly blasted from the radio on my desk -- its inaugural airplay in the New York market -- I immediately called Patty Smyth around 11 a.m. and probably woke her up in my heroic effort to inform her.
Several rings, then Patty rasped "Hello."
"Hi Patty. It's Lauren, from Paul's office," I said. "They're playing 'Goodbye to You' on the radio."
Silence and then rustling of phone. "Who is this?"
"Lauren -- from Paul's office."
"Huh? Who?"
"Lauren -- from Paul Atkinson's office."
Grunts of recognition. "Oh, hi, yeah... What's up?"
"'Goodbye to You' is on the radio!"
More rustling and Patty's now blaring radio shocked her into an awakened state of comprehension.
"Oh, sh*t!"
The rest is one-hit wonder history. Scandal broke up a year or two later due to creative differences. And I left CBS Records because Paul took a job on the West Coast. My transfer to the Public Relations Department didn't work out -- personality differences between me and "the one who shall remain nameless" ended my career at CBS Records.
The years passed, vinyl records became obsolete and Apple and YouTube changed the music industry forever.
Still, Jim and I have endured through 32 summers.
And now, as we say goodbye to the summer of 2014 and warm weather drifts off to South America, or wherever warm weather goes, we can look back fondly and recall the many one-hit wonder moments of summer we'll never forget.